Some customers, when they need to cut their spending, order either an appetizer or dessert with their entrée, but not both. Brett Corrieri, corporate chef of MAFIAoZA's in Nashville, Tennessee, and Birmingham, Alabama, prefers that customers order appetizers. "Desserts have a lower margin," he says. "For most desserts, the food costs run 50 to 60 percent, whereas appetizers run 15 to 25 percent."
Besides, if you can get guests to order an appetizer, they will still order an entrée no matter how filling the appetizer was. If they skip the appetizer and order an entrée, they might feel satiated with that. That means they will opt out of dessert, keeping your check average low. So, how do you get people to order appetizers? Operators say they market appetizers through a combination of suggestive selling and careful menu planning.
Corrieri says one tactic is to remind hungry diners they will begin eating sooner if they order an appetizer. "You greet the table, take the drink orders, and put down beverage napkins to show the manager you have been there. Then you mention, 'If you'd like to order an appetizer we can get that started in the kitchen right now.'"
Another tactic is to suggest a specific appetizer. "One server sold seven orders of the spinach lasagna rolls the other day at dinner, just by mentioning that particular appetizer," says Billy Lee, owner of Carlo's Pizza Oven Restaurant in Holbrook, New York.
Don't train servers to simply recommend the most expensive appetizer. Customers might perceive that as the server's attempt to increase the check total and, subsequently, their tip. Instead, train servers to figure out what items customers seem to be considering, or which items might match what they are thinking. "We encourage our servers to watch people's eyes, or look over their shoulders and see what they're looking at on the menu," Corrieri says. If they are looking at a certain wine, for example, the server can recommend an appetizer that matches that wine's price point.
Jonathan Fox, chef proprietor of the wood-oven pizza restaurant La Madia in Chicago, says customers use certain words that can clue the server as to what they could order. There are times when a customer wants to splurge, and there are times when the customer tries to watch their budget.
If they say, 'We want to order some of your most popular appetizers,' or, 'We are celebrating, what do you recommend?' that's your opportunity to recommend the $9 appetizer," Fox says. "If someone says, 'I want a little snack, I want something casual, we are going to split a pizza,' then I don't want them to sell the $9 appetizer." Instead, the server might talk up a $4 to $7 appetizer.
Another factor is menu planning. It's important to have a variety of appetizers in a wide price range. Lee, from Carlo's, says his menu contains 18 different appetizers, including many seafood items that are popular on Long Island. The prices range from $1 garlic rolls to the $14.95 antipasto for two.
According to the National Restaurant Association's "What's Hot" survey, chefs said appetizer combos/ platters are among the top five trends in appetizers. The other trends were mini burgers, amuse bouche (a single bite-size piece), edamame (soybeans), and appetizer salads.
Corrieri has noticed an increase in orders for larger, shared appetizers. He adds that MAFIAoZA's appetizers always have an odd number of items. "If there are two people, somebody has to have the last one. Then they are more likely to order another," he says.
Lee says as people cut back spending, they order more takeout so they won't have to pay for drinks or a tip. The challenge is getting those customers to order appetizers. Staffers who take the phone orders have a limited amount of time to suggest appetizers. So instead, Lee makes sure to hand menus to customers picking up their takeout orders, hoping they will order appetizers next time. "I am a big proponent of pushing menus on everyone," he says. "If I do not recognize a face, I offer them a menu."
Table tents might work too, depending on how you want your tabletop to look. "They have to be concept appropriate," Fox says. He explains that restaurants such as La Madia, which he describes as "casual plus," and fine dining restaurants don't use table tents because they expect their servers to spend more time with their tables. In casual dining, a server might work a station of six tables, and they don't have time to describe every appetizer. "In fine dining, you might have three table stations and a service team behind that," he says.
Pushing the expensive appetizer might be a good way to boost one day's sales, but Fox says it's better to think long term. You want customers to return. "They walk away from the experience, and they will feel good about it or not, based on a number of things. One of the things is value, which is not just what they spend, but the idea of, 'Was it good enough for what I spent?' If we drove the check average up, they will say, 'I expected not to spend a lot of money,' " he explains. ?
Book It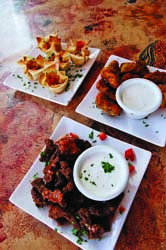 A themed happy hour can boost appetizer sales. Rick Stein, owner of Alba Osteria in Boulder, Colorado, has about 100 books about Italian travel, wine and cooking. He lets people read them during the restaurant's daily Library Hour, from 5:30 to 6:30 pm.
"A lot of times if you are planning a trip to Italy you go to the library," he says. "We'd rather people come here and order a glass of wine and a few bites to eat."
The most popular appetizers are large shared ones such as antipasto misto, or meats and cheeses, and fritto misto di mare (fried mixed seafood). Individual appetizers such as vegetable crostini and small pizzas also sell well.
Some Library Hour attendees aren't necessarily traveling to Italy. They simply want to eat out but can't justify spending a lot on a dinner these days.
Stein says he has not had any trouble with people stealing books, as far as he can tell. "One customer told me some book she had been looking at wasn't here any more, but the book she described didn't sound familiar to me."
Nora Caley is a freelance writer specializing in food and business topics. She lives in Denver, Colorado