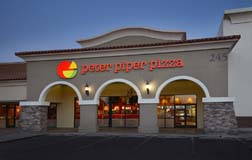 Peter Piper Pizza
Phoenix, Arizona
Founded in 1973, Peter Piper Pizza, No. 16 on Pizza Today's 2013 Top 100 Pizza Companies list, operates 139 corporate and franchise locations. New brand strategies have aided the franchise in experiencing a same-store sales growth for more than 45 consecutive months.
Charles lets us in Peter Piper Pizza's same-store growth and its marketing
Brands are how we create value for shareholders, opportunities for employees, participate in our local communities and contribute to the overall good of the markets where our stores are located. In order to remain relevant and effective, we have to re-evaluate our brand on an ongoing basis. We determined we were at a point where it was time to rejuvenate our venerable brand to meet and exceed changing consumer expectations to remain viable and relevant for many more years.
We looked at every aspect of our brand and how we present it to consumers through a message that resonates with them, which we deliver through the most effective forms of media that attracts their attention with great creative that engages them in a way they enjoy. Santy Integrated (Peter Piper's advertising agency) looked at our more analytical brand strategy and brought it to life in our advertising that has been very effective for several consecutive years.
The results are evident in several areas. First, we've just completed our 45th consecutive four-week period of same store sales growth.  Second, our guest counts are up. Third, our attribute ratings are higher. And finally, our customers tell our employees they like the Peter Piper Pizza experience.
The heightened role of technology is most evident in our new remodel design with our digital menus, enhanced sound system that can be controlled to create separate zones in the store, and flat screen TVs placed throughout the store. Technology is also the basis of our digital media strategy, and the role of technology will continue to increase in the future.
Our stores average 10,000 square feet in size and are a perfect and safe place for families and large groups to gather to enjoy great food and fun at very affordable prices, and those are benefits the Hispanic community is looking for. In addition, the Hispanic community is growing at six times the rate of the general population. We love and embrace the Hispanic community, its culture, and the richness it brings to our Southwest legacy. Peter Piper Pizza and the Hispanic community form a perfect fit.