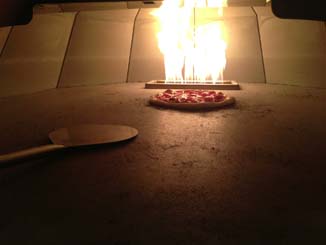 Flour & Stone
Chicago, Illinois
Chris Murphy and Shawn DeAmicis opened the Brooklyn-style pizzeria in 2012 in the Streeterville area.  Scott Gold is general manager.
Scott Gold lets us in on its Brooklyn style and menu simplicity.
We used "Brooklyn-style," as more of a source of inspiration than a strict definition. Friends Chris Murphy and Shawn DeAmicis were inspired by the pizza they loved from their East Coast upbringing and wanted to feature a tangier sauce and simple quality ingredients. A more rustic style thin crust pizza than you typically find in Chicago, they're not trying to replicate any one pizza parlor.
We've faced challenges explaining what differentiates our pizza from the others. People love to muse, "What is Brooklyn-style pizza?" We have a strong base of Chicago neighbors who love pizza, but find that the deep-dish style is more of a special occasion food for visiting guests. Our pizza is made-to-order from scratch ingredients and provides a quality pie that separates itself from the seemingly ubiquitous pizza shops around the city. We've tried to resist the pull to sell slices, as it's so difficult to manage quality with slices and we want our pies to come out perfect every time. We continue to experiment with different sizes and solutions, working to find the right mix of product for our customers, while keeping things simple and fresh. We're constantly trying to find a tasty gluten-free crust solution as there is plenty of interest/demand. But frankly, if we can't do it right and make delicious gluten-free pizza, we're going to hold off.
We use a gas oven and cook at high temperatures, over 600 degrees. We can only make so many pizzas at once, so when we get really busy we need our customers to bear with us. But it takes a hot oven to make our pizzas the right way. We experimented with wood as a fuel source, but in an urban environment, it was just too hard to get the consistency right with limited supply. We love our oven, even though we fight and we curse — at the end of the day we love.
We wanted to focus on a simple core menu to execute on what our customers like best — great pizza and salads. Our bacon and chicken are seasoned and roasted daily in our pizza oven and all ingredients are prepped fresh daily. We want to provide high quality and not sacrifice pricing with so many options. Our tomatoes, cheese, and pepperoni are some of the finest available. We currently have a loyalty program through spring, which allows loyal customers to link their credit cards for immediate cash back rewards with no loyalty cards to remember or phone numbers to provide. We are looking to make some updates to the menu and offer a larger size pie in the coming months, as well as ongoing new rotating specialty pizzas. We have focused our promotions on package deals vs. coupons to provide customers with discounts at lunch, Monday night specials and cash back through spring.
Right now, we have a delivery zone limited to the Streeterville area. We use a special pizza bag on wheels so our pizza stays as hot as possible and does not compromise its quality on arrival. We want to make sure people get the best product through delivery and also maintain a valuable price point. We can extend our delivery zone for large orders with
24 hours notice.