Building an Empire
Empire Slice House stands as a beacon on the Plaza District strip of NW 16th Street in Oklahoma City. An "EMPIRE" marquee dominates the storefront. Its intoxicating aromas waft down the block. Ellie, a pink elephant statue at the entrance, allures passersby into the metal door.
The New York-style pizzeria is anything but your average slice shop. It's an eclectic sit-down, full-service spot with a full bar. The hip pizzeria nailed its vibe in a single tagline:
"It's like Frank Sinatra and David Bowie had a pizza baby."
A red, white and blue splattered Lady Liberty stands at attention at the door, while a six-foot black and white poster of Rasputin with a third eye, pizza slice beaming from his chest, and an acknowledging arm raised greets each customer. Almost every wall is plastered in vintage and modern music, comic and pop culture posters. The rest feature funky graffiti and art murals that give Empire a New York subway feel. The music is a fresh collection of old-school and new-school sounds at a decibel that gives off an energy but is not overpowering.
The bustling open kitchen is at the front. Six team members maneuver through a narrow compact space, in a perfect rhythm, never impeding one another while cranking out massive 20-inch whole pies and large slices.
It's a restaurant experience that taps into all the senses, and that's what Rachel Cope, co-founder and CEO of 84 Hospitality, says they were going for when she and co-founder Avery Cannon opened Empire in 2013. "When people build a restaurant, I was taught you want to please all five senses," Cope says during a Pizza Today visit to Empire in late spring. "When you walk in, what do you hear, what do you smell, what do you see, how does it feel?"
With lines out the door, Empire has captured a tremendous following in Oklahoma City (OKC) and beyond. This year, the pizzeria made The Daily Meal's "Best Pizza in Every State" and the Food Network's "Best Pizzas in America's Biggest Cities".
Empire Slice House is poised to break into the Top 50 on Pizza Today's Hot 100 Independent Pizzerias list in 2018. With a staggering $3.9 million in gross annual sales with its single unit, the pizzeria ranked No. 58 in 2017, up seven spots from 2016. In the past year, Empire has added a sidekick slice shop and broke ground on its new home.
Empire's momentum and entrepreneurial drive have earned the slice house Pizza Today's coveted 2018 Independent Pizzeria of the Year. At 33 years old, Cope is the youngest operator to receive the honor and is the second woman to helm an Independent of the Year pizzeria.
"It's been a wild ride," Cope says. "I think it's grown so much more than we ever imagined. We also get to be a really cool hang out spot for people in the area."
The uptown pizzeria has built a loyal following in OKC. Its fan base has even found a permanent way to show allegiance to the pizzeria. Sixty-five people and counting have one of four custom Empire tattoos through a partnership with a neighboring tattoo shop, granting them half off pizza for life. An "I Love You" mural, once part of marriage proposal, has become an Instagram destination for couples.
Cope knew they had a hit on their hands when beloved Ellie the Elephant was stolen in year one, causing community uproar. News broadcasts and viral social posts demanded Ellie's return. "She's become quite the icon," Cope says, adding that she reappeared in her usual place the next morning.
Cope's vision for Empire can be traced to her backstory. She grew up an athlete in East Tulsa and dominated the softball field, earning her a spot on Oklahoma City University's championship softball team. She waited tables at casual restaurant chains around the city during school.
A server position at an Oklahoma City independent pizzeria gave her a first glimpse into an appealing ownership structure. "That was the first restaurant to work at where I really got to see a manager and staff make decisions on the owner's behalf, instead of 'this is the rule book,'" she says.
A winning tenacity she gained from athletics carried into a decade-long career in the restaurant industry. But managing someone else's vision wasn't enough for Cope. She was ready to take everything she had learned and create a concept and culture based on her ideas and values.
"I'm super competitive," she says. "I've played sports my entire life. I don't really have that bone in me that says I'm ever going to fail. I realize we might stumble at some point, but I know there is a solution."
Fateful Beginnings
"Call me. I'm going to change your life," Cope wrote to Cannon. That fateful text message to her friend and chef set Empire into motion. She had heard about a contest to pitch a restaurant to occupy a closed coin laundry, where Empire now resides. Their original European café pitch made the top five but wasn't selected.
Shortly after, Cope visited Austin's Home Slice Pizza. "I was sitting at Home Slice for the first time and I was just looking at the area and the vibe and I was like 'we should have done this,'" she says.
Luckily for Cope and Cannon, the winning pitch fell through. The landlords approached Cope about other visions they may have for the space. "We want to do pizza by the slice, whole pies, full bar," she said. The landlords agreed to do some tastings with the pair. One problem: neither Cope nor Cannon had pizza-making experience. After researching and testing dough recipes, they presented their menu to the landlords with a less than favorable response to the pizza. But, the landlords liked Cope and Cannon and gave them more time to develop their pizza recipe.
Cope went back to the drawing board, looking for dough formulas. "We'll figure it out" is such a common thread that Cope jokes about getting a tattoo of the motto. She noticed that Mike Bausch, owner of a popular Oklahoma pizzeria, Andolini's, attended a pizza school in San Francisco taught by World Pizza Champion Tony Gemignani. Fate stepped in again, Cope says, when she jumped at an immediate opening in the New York-style American class.
Armed with a new dough recipe, Cope and Cannon presented their pizza to the landlords, receiving rave reviews. The concept was a go. Just as they had achieved a workable dough formula, the two incorporated their styles into Empire.
Doing slices was a no brainer, Cope says. No one was doing New York-style slices in OKC. Empire had a one-price system for its six daily slices at $3.25 when it first opened. Cope has raised slice prices twice. Slices are now $3.75, a price point approachable to all budgets and that encourages multiple slice orders.   
Whole pies are a whopping 20-inch diameter. "I wanted to be so unique in the size of the pizza," she says. "So we are going to make this as big as possible." Empire does a 60/40 percent split on slice verses whole pie sales, respectively.
Empire's pies have cool names, like Foghorn Leghorn and the Fungus Among Us, two fan favorites. Foghorn Leghorn has a sweet marinara base and is topped with roasted chicken, bacon, jalapeño and a sriracha drizzle. Fungus Among Us features cremini, shiitake and button mushrooms; spinach and truffle oil. Other popular pizzas are named after rappers like the Notorious P.I.G. (a pork-themed meat pie), Doug E. Fresh (Empire's take on a margherita) and MCA (a three-cheese white pie).
A "figure it out" philosophy came into play again for the first-time restaurateurs as Empire gained popularity. When the pizzeria struggled to meet its demand for seating, an outdoor space was first turned into a patio and beer garden covered by a large special events tent, then converted to an all-seasons annex with heat and air conditioning. The addition gave Empire a total of more than 120 seats.
When Cope also discovered that the shallow single sink in the kitchen wasn't sufficient for its volume, Empire's small dough room was turned into a dish room and dough equipment was moved to the tight quarters of a three-foot by eight-foot closet.
Cope says it wasn't ideal but Empire's hardworking crew made it work until the dough-making process was moved three doors down to Easy E Slice Shop, a spinoff counter-service pizzeria that Cope refers to as Empire's sidekick restaurant.
Functionality into Reality
Opening a second pizzeria on the same block as Empire may seem an unconventional growth strategy, but Cope says it was the obvious choice. "I needed somewhere to make the dough," she says. "I needed somewhere where we could watch what was happening. I needed somewhere that we could create consistency and more refrigeration. We needed to be able to take care of these to-go orders and catering orders that were coming in."
Once a garage, Easy E opened in 2017 with Empire's look and feel. Another Ellie hangs out in the space, a foreground to its poster-filled walls. The carryout spot has limited indoor and outdoor seating. Easy E serves up Empire's pizza menu and slices of the day, as well as a small beer selection. Meanwhile Empire maintains its full menu that includes a gigantic house-made meatball and popular garlic knot appetizers and a handful of salads.
Using Easy E as a commissary for dough-making has helped both stores' pizza consistency and took pressure off the staff and space limitations at Empire. The full-service restaurant concentrates on its dine-in customers, while Easy E handles all to-go and catering orders before 10 p.m.
Operating as separate entities, Empire and Easy E have a symbiotic relationship where both thrive. "I thought it would slow Empire down a little, it made it run better," Cope says of Easy E, which she projects to generate $1.2 million in sales this year alone.
Empire and Easy E do not deliver. Instead, Cope contracts with a third-party delivery service at Easy E only, which does between $3,000 to $4,000 a week in third-party orders. "The fees are worth it because the fees are less than what it would cost us to do all of those other things."
As Empire and Easy E have streamlined their operations, Cope continually looks to other avenues to improve the businesses, like procuring a mobile notification app to help speed up the wait during rushes. "If there is anything I feel like I am good at, it's functionality and efficiency," she says. "I can stand in there and look around and say, 'I can do that
better.' A lot of it isn't about sales, it's just about how do we be better, period? How do we serve people better? How do I be a better employer and how do I keep people?"
Addressing functionality issues has also increased employee retention. "A lot of the issues we've had with turnover is the functionality," she says. "We rebuilt our whole training program to be way more in depth because it is a hard place to work in. It's very fast paced. It's grueling. It's difficult. There's a lot of stuff to learn.
"We've built a really good recipe book that has photos with step one, step two, step three so that they can see the finished product. And then we have the instructions in English and in Spanish in the kitchen. Putting some controls in place, we're probably running 24- to 27-(percent food cost) a lot of the time," Cope says.
Empire and Easy E's employee programs for their 90 employees is always top of mind with Cope. She says that at the center is showing employees that they care and pay appropriately. Cope is currently re-envisioning incentive programs to capitalize on areas where Empire has done so well, like finding perks that help employees grow. She says, "We're trying to get them to go do stuff together but also take better care of themselves mentally, physically.
"Some of the incentives that we are working on are some classes on how to manage your finances where some friends of mine from a bank speak to them about how do you build credit, what does it mean when you claim your tips or don't claim your tips — how can that benefit you or hurt you."
Cope is expanding her "Empire" by building a vibrant social food culture in OKC. She has constantly asked, "What are we missing in the city? How do we shape the dining scene?" Capitalizing on Empire's success, she opened two very different restaurant concepts, Goro Ramen and Revolucion Taqueria and Cantina, back to back in 2016.
Adding different concepts brought challenges and opportunities. "We have to build an umbrella to tie it all together," Cope says. "People say, 'I love Empire so I'm probably going to love Goro Ramen' because you are going to get the same kind of service. It's going to be fun. The food is going to be consistent. And it's going to be functional and it's hip."
Restaurant group 84 Hospitality was born to oversee a growing Cope-led restaurant portfolio. There are now five 84 "hangouts" around the city with a group management team of nine, including an area director, director of operations, social media and events coordinators and a senior accountant. Cope has even enlisted her father to lead construction efforts and sister to handle social media.
The management structure in the group, Cope says, "That's the heart and soul of it. They allow you to do more. If you don't have infrastructure you don't have anything."
Breaking Ground
As Pizza Today's August issue debuts, Cope is putting the finishing touches on Empire's new home just a block away from its original location with a grand opening later this month.
Cope gave Pizza Today a tour of the construction site, a mere shell of what the facility will take shape as. The two-story building will house Empire on the first floor and 84 Hospitality offices on the second floor. Building out the new space from scratch, Cope says will help correct some of the challenges the staff faces in the current location. The new footprint is 3,700 square feet and a 75-foot by 14-foot patio, double the current space. The new spot will double deck oven capacity and add a convection oven to better accommodate the rush. The bar and kitchen spaces will be flip flopped to give the kitchen crew the much needed space to maneuver.
Taking a shiny new space and making it have that worn-in Empire vibe is a challenge that Cope is up to. A drop ceiling will be added to high exposed ceilings and will be painted black, along with the walls. Since moving the art and posters would be virtually impossible, Empire has put a call out to its fan base to drop off any posters or art that they think would fit Empire. While Pizza Today was there, three people dropped off their treasured vintage rock and film posters.
As the new Empire takes shape, Cope's mind is on replicating the identity that they've worked so hard to develop. "It's got to smell the same," she says. "It's got to feel the same. When you are listening, it has to sound the same. All of those things are so important."
Denise Greer is associate editor at Pizza Today.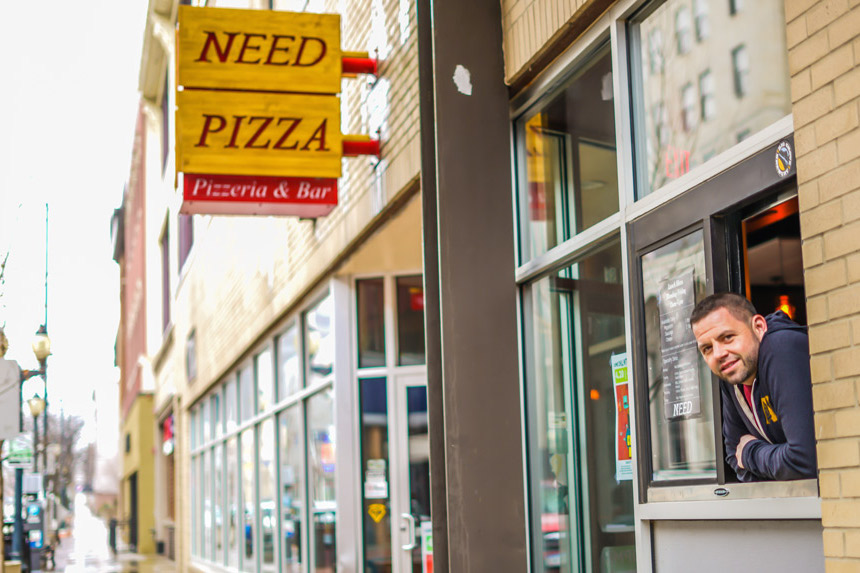 Need Pizza, Cedar Rapids, Iowa Need Pizza is a family friendly, thin-crust pizzeria akin to New Haven Style.... Read More ›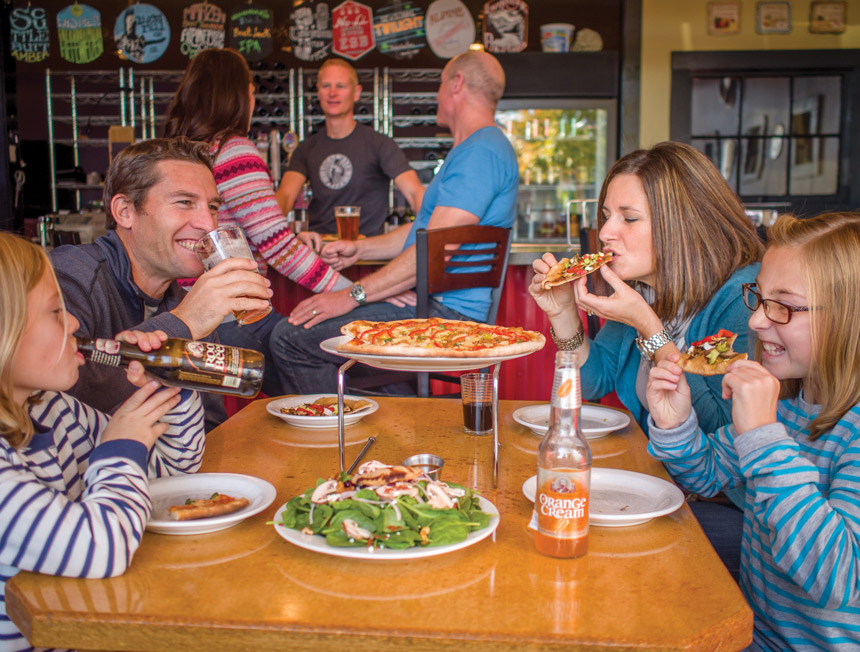 A look at pizzerias around the U.S. Local Myth Pizza | Chelan, WA Local Myth capitalizes on the lake... Read More ›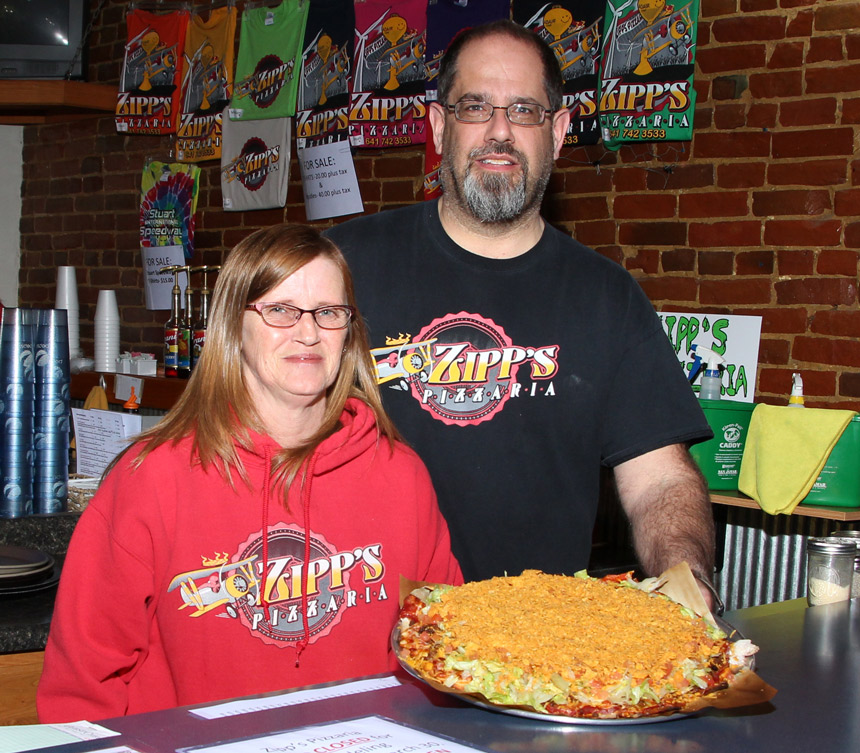 Zipp's Pizzaria Adair, Iowa We make everything ourselves (crust, three kinds of raw sausage, sliced provolone cheese, homemade... Read More ›