All the Right Moves
Andolini's 
hits the 
mark(et) 
in Tulsa
There are some powerhouse cities that are known for their culinary prowess: New York, of course, and San Francisco, Boston and Chicago. Pizzeria owner Mike Bausch is building a regional empire of impressive stores featuring a variety of pizza styles. Roman pizza in Tulsa, Oklahoma? Given the crowds mid-day at Bausch's downtown store, it's safe to say his brand is more than successful at $10.5 million, landing at No. 13 on Pizza Today's Hot 100 Independents list.
After graduating college, Bausch enlisted in the Marine Corps and went through training, but was turned down due to Type 1 Juvenile Diabetes. He thought about law school –– even went so far as to attend orientation –– but quickly realized the legal field just wasn't for him.
His brother had been transferred to Tulsa, Oklahoma, with Alamo Rent A Car, and encouraged Bausch to "check out this town that has like 30 people waiting outside a Chili's on a Wednesday at 5 o'clock. A line –– because there are so few restaurants," he says. "And then the economic boom of the Tulsa suburbs began. We took that on and started in a small suburb. A 22-year-old running a restaurant with no restaurant experience and working at it is not something I would recommend other people do.
"And then I went to Pizza Expo. I'm a success story of Expo."
Rather than hitting up the Vegas nightlife, Bausch went to every seminar he could, befriended (and later joined) The World Pizza Champions for advice and competed in the International Pizza Challenge. "I grew up in New Jersey and New York, and I would call pizzerias I grew up enjoying and knew would give me the time of day when I asked for tips or input," Bausch says, and opened his first store in January 2005. He picked the mind of Tony Gemignani, who owns a string of West Coast pizzeria brands, and by 2009 Bausch had solidified his own Midwest empire, now including seven pizzerias (with a food truck that operates as its own entity) and a gelateria.
"Only when I got rid of the canned music and put on songs I liked, and I went to Italy and made sure I got good photos that represented us –– only when I started to represent us did it start coming together."
The restaurants pay subtle homage to movies –– even the name "Andolini" refers to Vito Corleone's real name in "The Godfather".
"And back in 2004 when the phone book mattered, (it was) A for 'Andoloni's' and we were first," Bausch says.
One location feels like a 1920s bar because Bausch feels that is a timeless ambience. "We want to be comfortable without being trendy," he says. "I didn't want to have some super nouveau light on every table, because whatever it is, it's going to look dated in three years. Brick isn't going out of style. Wood isn't going out of style. Stamped tin isn't going out of style. That's what I sought to do. My brother and I basically built this out by hand. We had no money. The bank basically said this should be a $2 million build-out, and we did it for under half a mil."
When it comes to Andolini's food, "Something you won't find at any Andolini's are freezers, microwaves or rolling pins," Bausch says. "When we first opened, we said, 'Well, we're going to make pizza from scratch.' That's kind of the price of entry. It doesn't really set you apart."
The slice shop uses a custom wood-fired oven, but the full-service Tulsa location uses a rotary oven for high volume.
"If we don't make it, slice it, cut it or mix it, it's not in this store," Bausch says. "We're staying ahead of whatever's out there. We're leading the pack. I don't want to say 'this is really on-trend right now so we need to buy that. If I'm going to do that, it's because it's on-trend in New York or San Francisco or in Italy. Short of that, I'm not into following a trend. I want to lead in the front and not be two weeks behind everything."
The company's gelato business makes enough revenue to stand alone. "All the gelato is made in our gelateria in Broken Arrow," Bausch says. "Long story short, everything that you would order and do in Rome to a T, with STG we do the same exact thing. We guarantee it's the same ingredients, processes, we've had the same training as any great gelateria. We sell so much that we have a wholesale firm that we could live on alone."
The pizza industry has become inundated with clichéd words, so Bausch opted to just stick with a fairly simple menu of classic and artisan offerings. White-label menu toppings include ground beef, bell peppers, pineapple and artichoke hearts, but the "Black Admiral's Club" toppings take it a step further with speck, roasted garlic, smoked mozzarella and San Marzano tomatoes.
If customers are ready for a gourmet experience, they can try "purple label" pizzas –– no substitutions, please –– like the stunning 14-inch Santino Colazione with pancetta, Parmesan, chives, house-made Italian sausage, Canadian bacon, red onions and mozzarella that is topped with three cracked eggs ($20).
"I think menus are a lot like music," Bausch says. "It's curating a playlist."
Much of that creativity is credited to Andolini's employees. Bausch takes pride in treating his employees well, and they, in turn, give back to Andolini's in more than one way. "By the time I came to Cherry Street, or Tulsa proper, it was just like shooting fish in a barrel," Bausch says. "It was mainly our staff, and how to treat our staff in the sense of making sure you have type-A personalities that are allowed to flourish, but they're not dinged for going to their kids recital or if they have finals.
"We have a program for servers called IRPT –– incremental revenue per transaction," Bausch says. "That means if a normal customer spends $13, if a server has an average customer run rate of $15, then that server is on average selling $2 above. They're presenting dessert. They're offering drinks. They're presenting a better experience without being pushy. So for that $2 overage that that server has created for us, they will get 10 percent. Let's say that server represented an extra $5,000 in incremental revenue over the course of the month. Then that server is getting a $500 check at the end of the month."
He has a dedicated e-mail for ideas from his employees, which he then samples before adding them to the menu. The same applies for the bar, where bartenders create signature cocktails. All but one of the stores have full liquor licenses and were definitely designed with classic speakeasies in mind. "We have our own beer, and I call it the Roman. It's basically what you'd get if you were in Italy," Bausch says.
"It's a lot cheaper for you to be your brand than it is to pay someone else to be a spokesperson. It's a lot more effective as well. Being your brand is knowing your business, loving your business and having that passion permeate others because both passion and apathy are deeply contagious. … I say this every time I'm at Pizza Expo: you're either impressive, or by default you're unimpressive.
"The biggest takeaway is that this business is not for the faint of heart," Bausch says. "You have to give all of yourself, or it's worthless to even attempt to do this. On a finite level, it's food, service, ambience and systems. Food is the price of entry now. Above that, you've got to have great systems." 
Mandy Wolf Detwiler is managing editor at Pizza Today.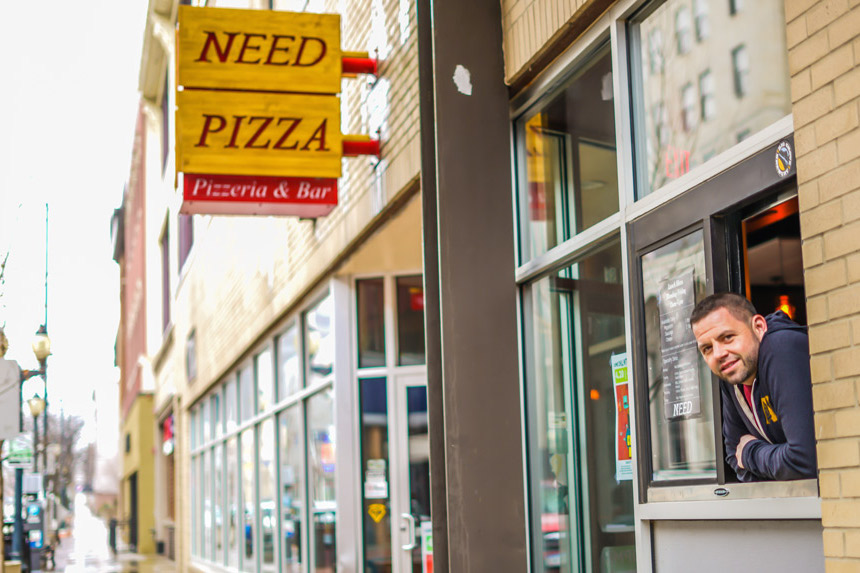 Need Pizza, Cedar Rapids, Iowa Need Pizza is a family friendly, thin-crust pizzeria akin to New Haven Style.... Read More ›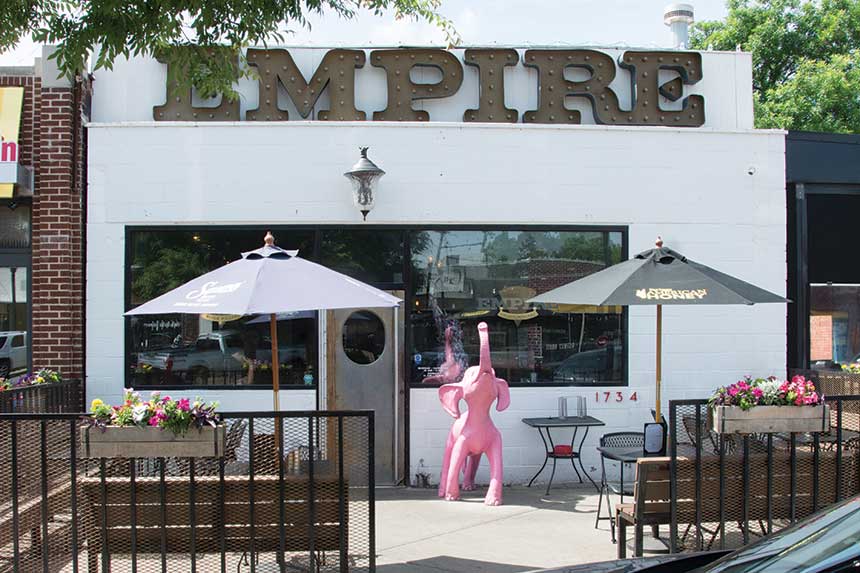 Building an Empire Empire Slice House stands as a beacon on the Plaza District strip of NW 16th Street... Read More ›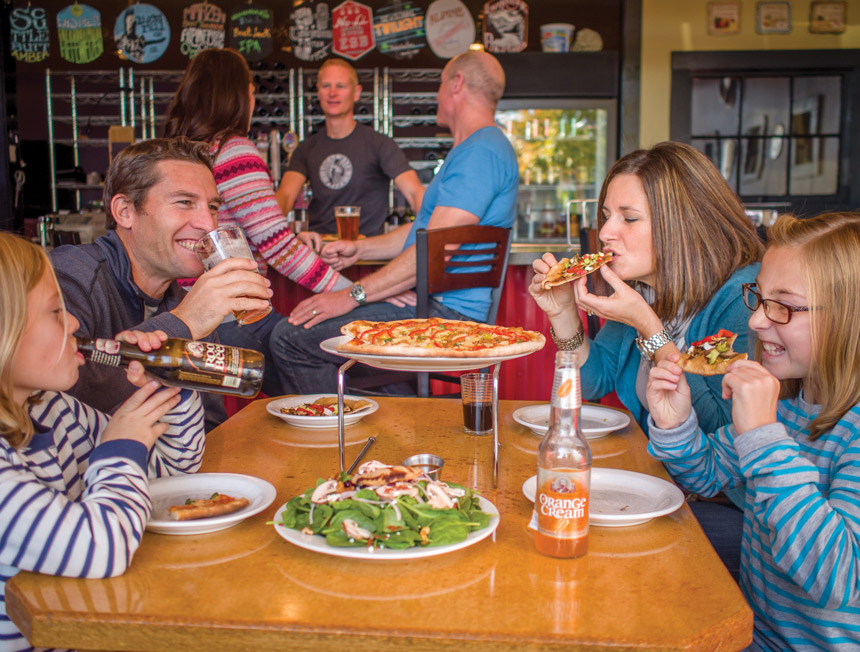 A look at pizzerias around the U.S. Local Myth Pizza | Chelan, WA Local Myth capitalizes on the lake... Read More ›