The Long Haul
Bazbeaux celebrates Midwest longevity
The downtown Indianapolis location of Bazbeaux Pizza has the kind of line other restaurants envy when we visited on a cold winter afternoon.
Slices, small salads and breadsticks were sold one right after another through the lunch rush and then BAM. The place quieted down and owner Jeff Berman and I got the chance to talk about how his three restaurants have become institutions in the Indianapolis marketplace.
Berman himself has been in the restaurant industry for decades, having covered everything from bartending to cooking and serving. He was bartending downtown and shucking oysters at another local restaurant when he saw a restaurant for sale in the daily newspaper in the mid 1980s. Could he own his own restaurant?
"We started on a shoestring budget in 1986 (just $15,000 with $300 in rent) and felt that in Indianapolis, there was a lack of more innovative pizzas that were beginning to pop up in cities like Chicago and Los Angeles," Berman says. "They were getting a lot of notoriety. (Wolfgang) Puck was doing his thing, and places like Edwardo's in Chicago were inspirational to us.
"We saw a void in the Indianapolis market for interesting pizzas. We put two and two together, and we were so popular. That little shack, people would line up. It was the buzz of the city. Now, people are putting insects on pizza and all kinds of crazy stuff, and doing well. We stick to what we know. We've had a few additions and deletions from the menu, but the bulk of it has stayed the same."
Three years later, a broker invited them to move to a newly redeveloped district in downtown Indianapolis, and in 2005, a third store opened in the upscale suburb of Carmel, Indiana. Within the past few decades, Bazbeaux's locations moved around a bit in their immediate areas as larger spaces opened up and provided much-needed seating for both lunch and dinner. There's heavy competition around the downtown "Mass Ave" location, with at least nine restaurants and bars within just a block or two.
"It's certainly made it tough," Berman admits. "We're all fighting for parking and we're all fighting to fill seats. There're just so many options now. To stay current, we've been doing what we do really well, the best we can. We are more family friendly, probably, than most of the other restaurants, and then the fact that we have in-house delivery –– we don't use third-party delivery people –– we control that pretty closely and that's pretty important to us."
Dough is made fresh daily at the store level, as are sauces. They grate their own cheese, slice their own meats, roast vegetables, make some salad dressings –– including a signature creamy basil –– and even spice their own chorizo.
"We try to use fresh ingredients. We have some interesting toppings that people weren't using. Off and on, we've had about 50 toppings and we offer a wheat dough crust, which I think is still unusual," Berman says. Sure, there's bacon and ham, but there's also albacore tuna and andouille sausage available.
Popular at the downtown location is the daily lunch special, which is only available Monday through Friday from 11 a.m. until 1 p.m. On the day we visited, just about every seat was filled during that lunch period.
"I like to think there are people who come in and eat with us two and three times a week because for five bucks, you can get in and out," Berman says. "You can get a slice of pizza and a soft drink and a salad. I like the repeat business.
"And, I have to say we are trying to stay ahead of the curve with the shrinking labor pool by retaining our employees. We have good people, we pay them well so hopefully they will stick around. We have very little turnover."
Berman attributes that to the general manager at each store, many of whom have been with him for more than 20 years. "Those guys are just rock-solid," he explains. "They're level-headed and they know how to run the business, and I think that employees respect that when they have a manager that they know is going to be fair and is very good at what they do. That's something that you can look up to. And I've become very close friends with my managers, too."
That symbiotic relationship has allowed Berman to take a step back and leave behind the hundred-hour weeks on which he founded his company. Still, he'll often pop-in at the store level to make sure the dough is as he likes it. The general managers "are coming in every day, and they'll sometimes miss something, like general housekeeping," Berman says, adding that he's able to spot problems with a fresh eye.
At the core of Bazbeaux's business are the local charities and events that the company often sponsors. It's not unusual for Berman to field hundreds of e-mails a week seeking donations in both time and product.
"We try to be active participants in the community," Berman says. That includes fundraising for local schools, working with a modern dance company and Berman participating in state and local chambers of commerce.
After three decades in the industry, Berman has seen his fair share of restaurants come and go throughout the years, and he doesn't take his longevity in the industry for granted. "I think we're fighting a shrinking labor pool," he says. "Unemployment is very low right now. Also, we have been fortunate that the prices of cheese, which is our biggest commodity, has not gone up significantly. Obviously, wages have gone up, and rents are really salty. I think that maybe because of where we are –– high traffic areas –– that contributes to the (higher) rent. But that's something we have to do. I like being in the higher traffic areas."
Most recently, the company has begun a foray in the popular craft beer market. All three stores offer beer and wine, but they've increased the number of interesting beers on tap and "you won't believe what people are willing to pay for beer," Berman says. "It's like coffee. People are willing to pay $4 for a cup of coffee." A curious consumer, when paired with an educated bartender or server, makes craft beer a talking point at the table, and restaurateurs find it easier to source local beers even outside of big cities.
When Baxbeaux first opened, they offered buckets of bottled beer, which sold well (especially in the summer). But today's consumer immediately wants to know what's on draft. "That's been huge," Berman says. "We've found that most (employees) who step behind the bar, they want to know, and they're constantly going to learn. The suppliers that come in, they keep everybody understanding what we're offering.
"And we always try to offer affordable wine, too. Good quality, with very reasonable prices. When people go out, I'm going to ask them to spend $20 on pizza, but add glasses of wine –– let's not make it $40. Let's keep it at $30." Keeping check averages low also helps repeat business.
"The bulk of where we make our money is on our pizza," Berman adds.
After more than three decades in the industry, "The biggest thing that kind of took us by surprise was THAT third-party delivery companies have taken Indianapolis by storm," Berman says. "In the past, the only way to order a pizza was to open up the Yellow Pages, find the number and order. Now, diners have the ability to order from just about everywhere –– and that isn't always a good thing." Bazbeaux's still employs its own drivers and pays them competitively, all the while understanding that their product could be delivered by a driver that is not their own. Delivery is still an important aspect at all three locations.
Customers in general are more educated, "but I do think people still like some of the old classics," Berman says. "Our No. 1 topping is still pepperoni."
Mandy Wolf Detwiler is a managing editor at Pizza Today.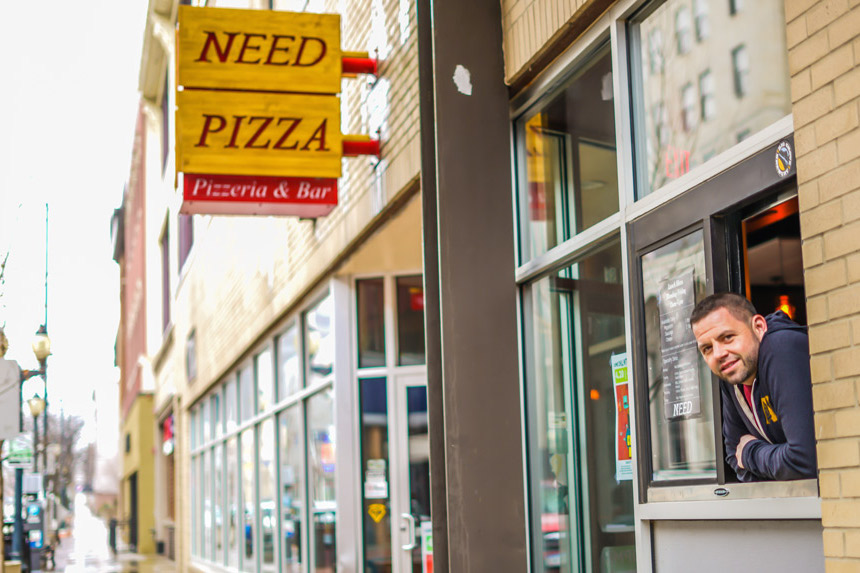 Need Pizza, Cedar Rapids, Iowa Need Pizza is a family friendly, thin-crust pizzeria akin to New Haven Style.... Read More ›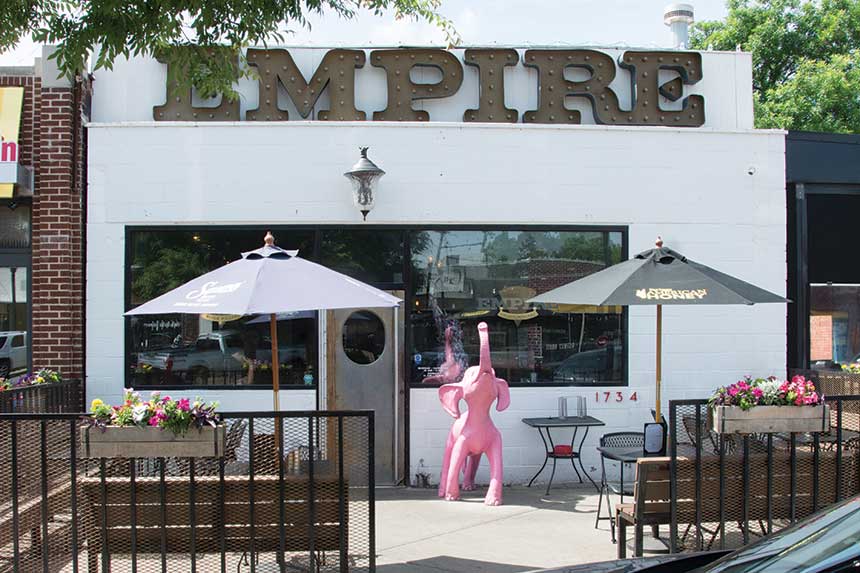 Building an Empire Empire Slice House stands as a beacon on the Plaza District strip of NW 16th Street... Read More ›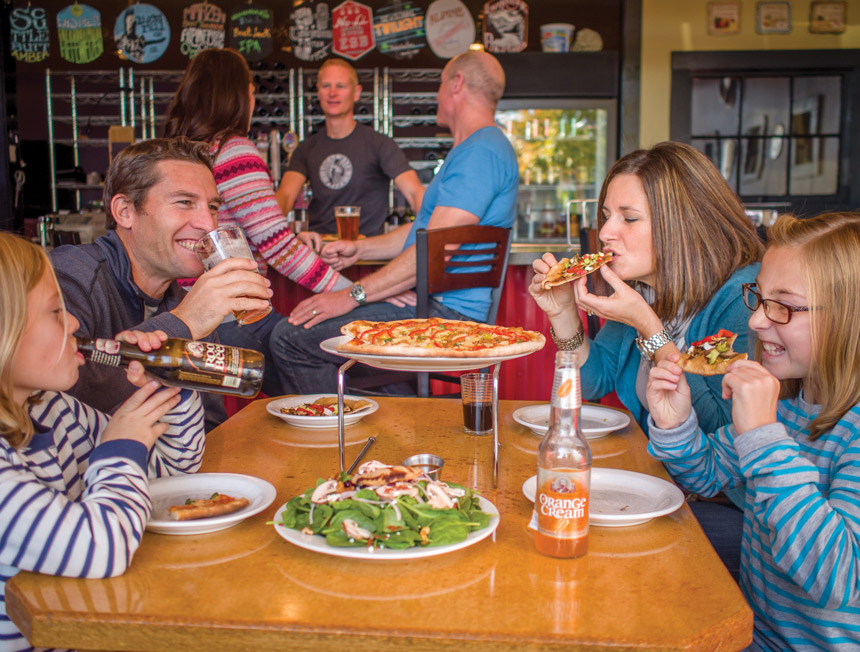 A look at pizzerias around the U.S. Local Myth Pizza | Chelan, WA Local Myth capitalizes on the lake... Read More ›