Pizza Without Limits
Peter Campbell introduces his vision of pizza to the Twin Cities
Peter Campbell grew up making pizza with his mom and his "Pop-Pop" (grandfather). Pizza meant family. While he went on to pursue other career interests, he had already developed his vision of pizza.
After years behind a desk, he says, "I just decided I'm done. I need to be around people." One of the last straws for Campbell? "Calling pizza a vegetable just sent me over the edge," he says. "This just has to change.
"It's time for a modern American pizza with no regionality — take a couple pieces from New Jersey, take a couple pieces from Detroit, a couple pieces from pizza Napoletana and just kind of put together what I think pizza should be in my humble opinion. That's what we did."
Pizza Today toured Red Wagon Pizza Company in Minneapolis and sat down with Peter and his wife Jacquie in the fall to learn how this once-mobile unit turned into a million-dollar business.
Red Wagon spent its infancy as a part-time mobile trailer, setting up at local farmer's market and events in Minneapolis until its brick-and-mortar restaurant opened in late 2014. "It was really easy to just dip our toe into the pool," he says. "So we didn't pull the trigger fully. We didn't build out a half-a-million-dollar restaurant in one day. You build it slow and you get the support. You build that plan that can support a business.
"I had a lot of help within the community and my friend, Steven, let me prep in his (restaurant's) basement. I had a free commissary. I had storage at the church walk-in cooler. We had this amazing support from the community."
That strong base also grew into partners as the Campbells readied to open a storefront.
Red Wagon found a home in a small 1950s commercial center in South Minneapolis. Half of the space had been a fine-dining restaurant, the other half a retail shop. The build out was a culmination of the Campbells' sweat and ingenuity. "It was a fun build out," Peter says. "I did it with my wife, Jacquie. It's been pieced together with blood, sweat and tears. Everything when we built it was just bootstrapped. How do we get this done? Where do I get this equipment? Two grand, that's the magic number on this tour of my build out. Everything was $2,000." He says that's what he had to spend when shopping for each element, from lighting and seating to countertops.
The Campbells meticulously selected dining-area details that fit a timeless 1940s to 1950s feel. A large black and white family photograph (circa 1955) is a focal point. The open kitchen offers make-line seating. The bar stools mimic the cozy booths banked on one side.
The end result is a sleek, classic and comfortable space that seats 50 inside and 50 outside seasonally.
The space is only part of the guest experience. The Campbells' team of 47 and the exquisite way food is prepared are also key components. Red Wagon's culture is very family oriented. "We have that mentality that we are going to take the mountain," he says. "We're going to do it together.
"In the kitchen, specifically, I would definitely say there is a little bit of that 'Yes, chef' mentality, which I appreciate and encourage because it fosters respect." He has instituted policies, like not scolding team members publicly, to avoid some of the stereotypes prevalent in chef-driven kitchens.
"We take (guests) on a journey when they come here, so those (employees) that we have like Joe here on the (make) line, he's going to be talking to guests all day long," he says. "We put on a show. Our kitchen staffs are tipped out by the servers because we are part of the guest experience."
That is why hiring is so vital. "Staffing is easily one of the most difficult things we do — finding people that really impact the guest experience."   
Another notable contribution that customers rave about in reviews is Campbell's presence on the floor or wherever else he needs to fill in. "I'm always washing dishes," he jokes. "My philosophy with my team is I won't ask you to do a job that I won't normally do." His passion and enthusiasm is noticed and appreciated by Red Wagon's customers.
During Pizza Today's visit, Campbell kept his keen peripheral view on the day's prep and service.
Red Wagon made its debut on Pizza Today's 2017 Hot 100 Independent Pizzerias list at No. 100 with gross annual sales of nearly $1.96 million. Campbell says there are several factors that go into the restaurant pulling big sales numbers in a small space. "A concise menu is definitely a huge element," he adds. "It's really important to be smart on how you build that menu. Like we have our Popeye. It has sausage on it, and then we have sausage here and here (on the menu). So there is that economy of scale when you start prepping out things.
"It's not a massive menu. We have two fresh pastas. The salads are super, super simple but delicious, emulsified on the line to order. The pep rolls are made ahead of time and just warmed through in the oven. Bar chips are French chips that we fry."
The pizza menu features 10 pies, all 14 inches. Campbell's most popular pizza from his former farmer's market days became the house Red Wagon Pizza. It features soppressata ribbons, banana peppers and sausage and is finished with chili flakes (that Campbell says they "buzz" into a dust) and a fig balsamic drizzle.
The creative pies on the menu are a prime example of a core Red Wagon food philosophy. "Just think if there are no rules and you could do whatever you want with food and you can do whatever you want on a pizza."
Red Wagon is a scratch kitchen. Pies like the Banh Mi and The Dayton Delmonico demonstrate the skill and artistry the team puts into the food. The Banh Mi features 12-hour sweet soy-glazed pork over cheese and finished with ginger pickled carrots, radishes, julienne cucumber, jalapeño, cilantro and a sriracha aioli. The Dayton Delmonico is topped with ribeye, au jus, cheese, roasted red pepper relish and garlic mashed potatoes and finished with scallions, crispy potatoes and Bearnaise sauce.
While pizza is in the name, Red Wagon is more than a pizzeria. It is as famous for its pasta, specifically its Tortellini Alla Panna. The house-made pasta is filled with spinach, ricotta and lemon and then tossed in a creamy white wine sauce with peas and ham.
Campbell sources flour locally and he also sits on the mill's board, which provides a collaborative partnership. "It's a partially whole-grain, organic local milled flour," he says. "It's a heritage wheat, so we don't really scream about that on the menu because I feel like if you don't want to sell something on a menu, put it under healthy options — if you just make everything a little better, source it responsibly."
With attention to ingredient sourcing, food costs stay under
25 percent. "How I built the business really lends itself to how well we do with regard to food costs," he says. "It's seeing the long game and understanding that relationships matter. You have to foster those relationships. You have to respect those relationships. Figure out a way so everyone wins."
While Campbell anticipated having multiple locations when he opened, "I realized very quickly it's super hard. It doesn't mean it's not fun and it's not worth it, but it's super challenging."
Red Wagon has expanded to an unconventional second location inside Pryes Brewing with a slightly different program. The menu is considerably smaller and pizzas are nine inches. Cornmeal adds a textural difference. The operation also has its own staff.
Catering offers a substantial boost for Red Wagon. "A lot of our success is attributed to our catering operation that is also in this," Peter says. "That is why we invested in that transit van so we could do more than one run a day. So originally we would only do one event a day. We were doing four events a week, 20 weeks of the summer. Average events anywhere from $1,500 to $2,000. We put up numbers quick with that and it helps the business."
Catering has been an effective marketing vehicle. Red Wagon also markets through social media. A key to Campbell's social strategies is mouthwatering and captivating photography.
In 2016, Red Wagon made national attention on the Food Network's Diners, Drive-ins & Dives. "Being so fortunate to be noticed by the Food Network to get on that show, it was just a game changer for us," he says. "I'm honored to be part of it. And people see and they see how the food is made and the level of integrity that is put into it everyday."
When it comes to marketing, Campbell applies a simple approach. "I just believe put the best product you can out there and see if people like it. And if people like it, people are going to talk about it. If people talk about it, people are going to notice and want to try it." n
Denise Greer is associate editor of Pizza Today.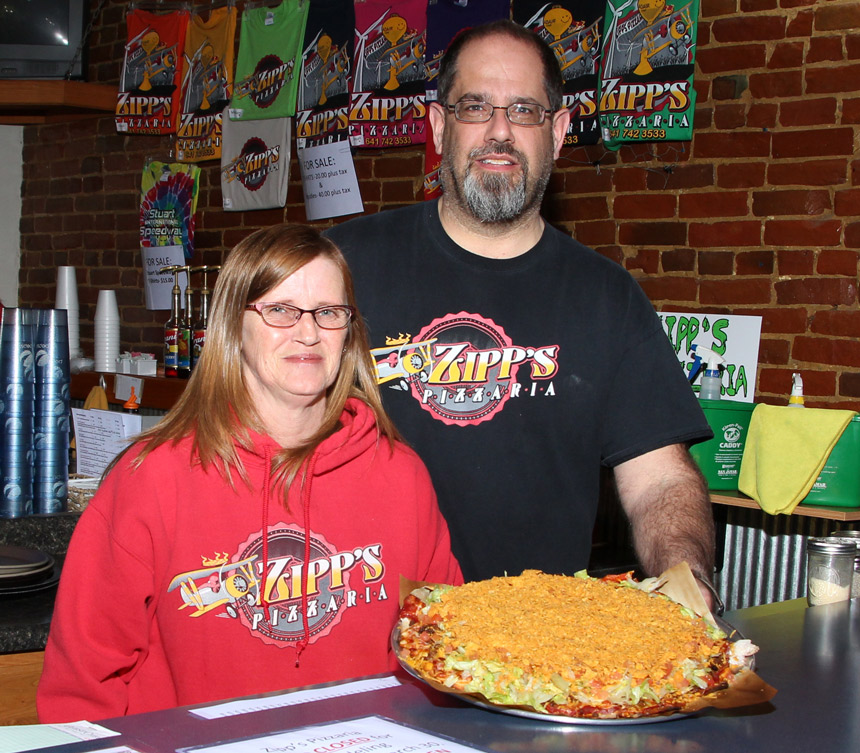 Zipp's Pizzaria Adair, Iowa We make everything ourselves (crust, three kinds of raw sausage, sliced provolone cheese, homemade... Read More ›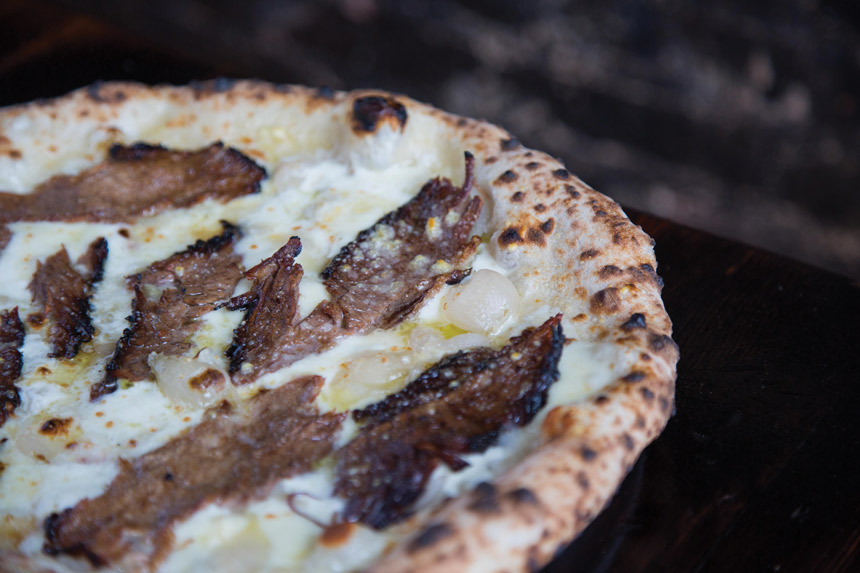 Forcella | Brooklyn, NY The Williamsburg pizzeria serves up Neapolitan pizzas and fried pies along with a full menu... Read More ›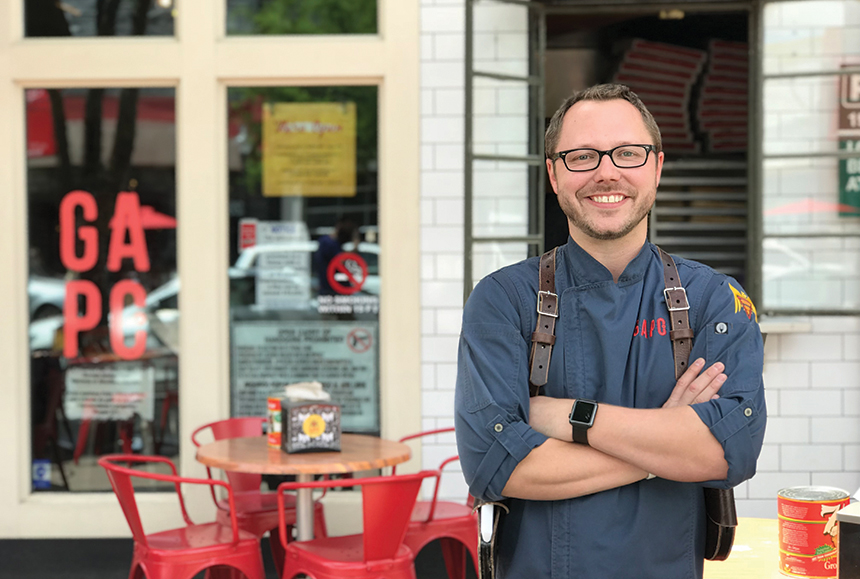 The Original Pizza Slayer A Look Inside Dallas-based Greenville Avenue Pizza Company (GAPCo) Sammy Mandell sat arms folded... Read More ›