Windy City South
Chicago transplants take their hometown flavors to Nashville
What happens when a trio of Chicagoans can't find their beloved pizza styles in their new city? The short answer: they take on a fresh challenge by opening a pizzeria.
In a nutshell, that's how it went down with husband and wife team Dan and Staci Bockman, along with Staci's sister, Kim, the owners of 312 Pizza Company in Nashville, Tennessee.
"We actually moved here without jobs," explains Kim. "I'm into music and I moved for music. We all moved without jobs and then ended up missing Chicago-style pizza. We kept looking for places that were like home and didn't find it. Since we had these great recipes in our family and Dan had a background working in pizza places before, we just decided to do it. It's something that was missing here."
Adds Staci: "When we first moved here, we were on the quest just to find pizza that met our expectations. There are a lot of great New York options here, and we love that, but when you're looking for your Chicago cracker-thin crust pizza or your deep-dish and you can't find it, it gets frustrating."
Craving a taste of home, Staci started making pizzas in her kitchen and experimenting. She eventually moved on to feeding friends her new creations to gauge their take.
"Our recipe is an old family recipe that goes back to Little Italy in Chicago," she says. "We cooked for friends, and when friends from Chicago came down to visit and said it was great and people would pay for it, then we got to the point where we had the confidence in the idea to move forward with it."
Wanting to open a restaurant and actually doing so are two very different things. The checklist of items necessary to get a pizzeria off the ground can be daunting, and things get further complicated when you opt to place your business into an empty shell that needs to be built out. But this is a group with a do-it-yourself mentality, so that's exactly what they did.
Thankfully, they had the help of Kim and Staci's late father, William Wolff.
"We didn't have to hire a contractor because he did all the work," says Dan. "I think he worked in here every single day. He even worked on Christmas. I would guess that saved us a couple hundred thousand on the buildout, easy."
As opening was drawing near in 2014, Staci was out networking the city hard to promote 312 Pizza Company.
"My background is sales and marketing," she explains. "I made it a specific point to do a lot of grassroots marketing leading up to the opening. I did a lot of social media and a lot of in-person networking. I go to everything around town. I made sure to meet everybody I could and made some friends in the right industries. We got written up a lot and were able to cultivate a buzz and get people's attention."
They made another seemingly brilliant move: they put a Chicago-style hot dog cart out front as buildout was nearing completion as a way to highlight the fact the restaurant would offer various Chicago-centric foods. As they served hot dogs they talked up 312.
On opening day, they were flooded. As in too busy for their own good.
"Unfortunately, it just destroyed us," says Dan. "It was a nightmare. We couldn't even open for lunch the first week because we were so busy at night and just needed to re-boot. But we managed to figure it out and we've grown ever since and are fortunate that we've been profitable since day one."
312 Pizza Company serves both cracker-thin and deep-dish pizza, along with Italian beef sandwiches, hot dogs and a host of other Chicago staples. The menu is truly a representation of the Chicago dining experience.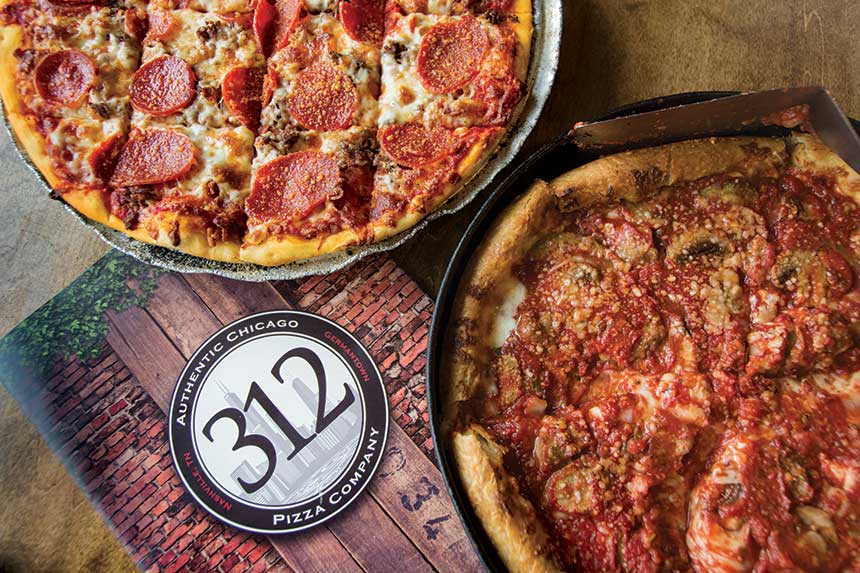 "We even make pretzels," says Dan. "So we have three different doughs to manage — the thin dough, the deep-dish dough and the pretzel dough."
Each dough has its own unique procedures, naturally.
"The dough recipes are very, very different," says Kim. "The deep-dish dough is really oily and the yeast is more for flavor development and not so much the rising capacity. They are just so vastly different, so that's why you'll get some people who are the die-hard thin-crust eaters and some who are die-hard deep-dish eaters."
Dan says 312 sells more deep-dish as Nashville natives equate that style to Chicago.
"All the Chicagoans who come in here judge us by our thin crust, but the locals think of the deep-dish first when they think of Chicago pizza," he explains.
He adds that everything in the 312 kitchen is scratch-made.
"Our entire restaurant is made from scratch," Dan says. "We do our own dressings, our own ketchup — everything. We roast our own beef and slice it. We won't buy anything frozen or pre-made. That's kind of one of our guarantees."
While 312 has a bar that contributes nicely to sales, Dan says alcohol — while profitable — takes a backseat to the food.
"We're a restaurant first, but there are times when the bar is packed," he says. "It's not too often that we get people who just come to drink."
And when they do, beer is the drink of choice. Followed by Tennessee whiskey and Kentucky bourbons.
"Probably 70 percent of our alcohol sales are beer," he says. "About 25 percent is whiskey and five percent wine."
It's unusual to see wine so low as compared to other alcohols, but Staci says "We've tried to do more with the wine market, but that's just how it has worked out."
If it ain't broke, don't fix it, right? Even better — expand it. That's exactly what the trio of owners are doing. Their second location is set to open any day now.
"It'll open in either April or May," says Dan. "We're going into a brand-new development. It's a complex with five units in it and we're the anchor tenant. We got significantly delayed in the plans. We basically had to start over at one point. We've had to hire a contractor on this one. But we're hoping to be open in April or May."
The new location will be much larger — 4,000 square feet as compared to 2,300 square feet at the original shop.
"We're giving more space to the kitchen," Kim says. "We quickly realized that was something we needed."
Jeremy White is Editor-in-Chief at Pizza Today.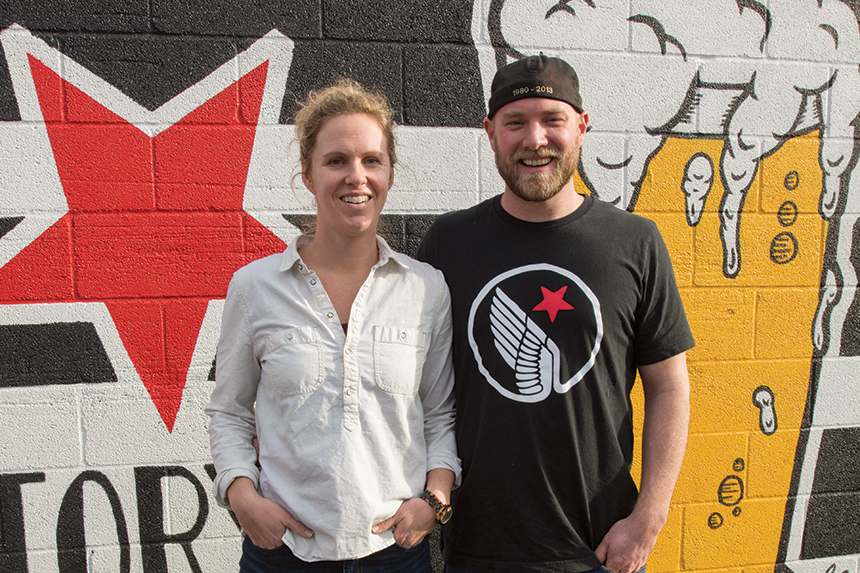 Post-modern Transformation Former VFW post reborn as popular local pizzeria While walking a few blocks from their home in... Read More ›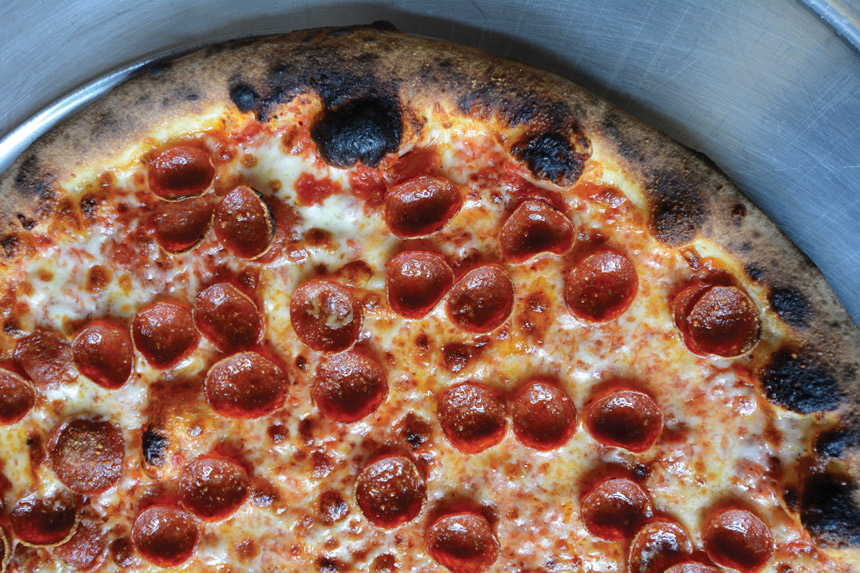 Breathe new life into your pizzeria with these tips If you're running a pizzeria, especially one that is successful,... Read More ›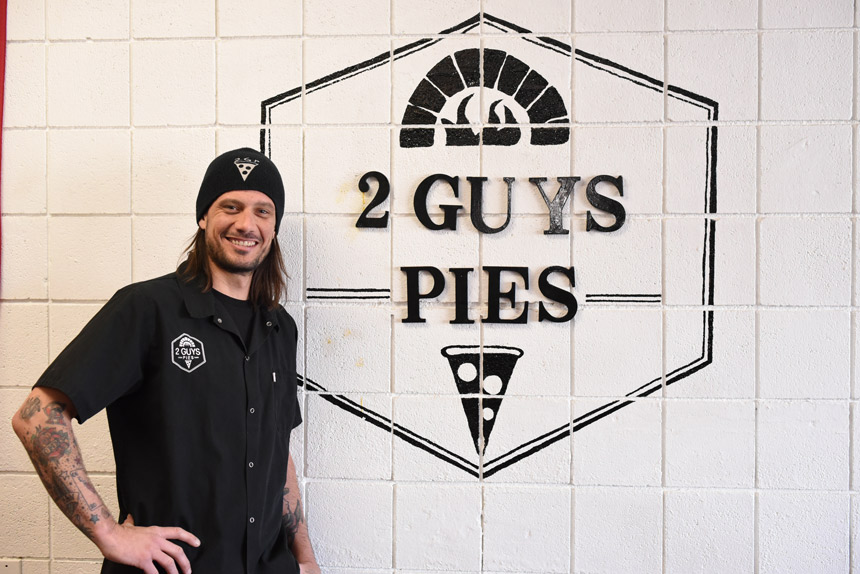 2 Guys Pies Yucca Valley, California Here at 2 Guys Pies we live by a plan, the P.I.E.... Read More ›