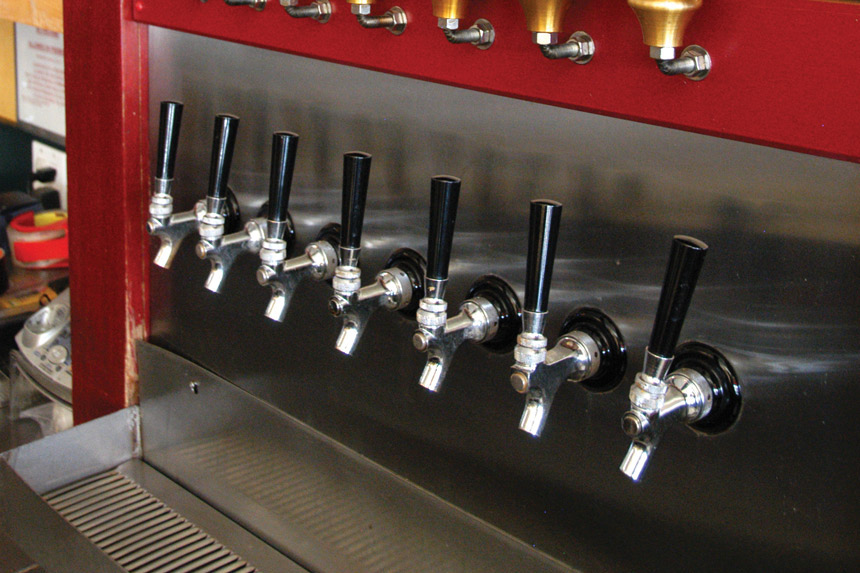 Amid the Great Depression, Peoria, Illinois, tucked neatly between Chicago and St. Louis, served a regular stop for the nation's up-and-coming vaudeville acts.
Given its Midwestern roots and melting pot demographics, "Will it play in Peoria?" emerged a popular phrase. If a show enjoyed a successful run in Peoria, entertainers reasoned, it could succeed elsewhere. Eventually, the phrase and its related ideology moved from vaudeville acts to corporate boardrooms and political campaigns as Peoria came to symbolize the ideal American test market.
Three years ago, Knute Landry, owner of Brienzo's Wood Fired Pizza in Peoria, embarked upon his own "Will it play in Peoria?" test case.
When Landry opened his 62-seat fast-casual pizzeria in 2014, he turned to wine on tap, a novel option unavailable anywhere else in or around Peoria.
"Really, all I knew about wine on tap is that I was interested in it," Landry admits.
After researching equipment and distributors and overcoming some initial apprehension, Landry invested in four temperature-controlled lines, two for red wines and two for white.
And today, Landry has an answer to his "Will it play in Peoria?" question.
"It's been a win for us," Landry says of wine on tap. "Customers like it, the profit margins (compared to bottled wines) are higher and our system has more than paid for itself."
Though wine on tap currently represents but a fraction of restaurant wine sales, its prevalence is growing, largely driven by a mix of curiosity, cost savings and convenience that continues generating industry intrigue.
When chef Benard Tamburello opened Vecchia Pizzeria & Mercato in Hoover, Alabama, in 2013 alongside his wife, Brianna, wine on tap was as much a necessity as an Italian-constructed oven.
"Wine on tap is just cool as hell," says Tamburello, who, in a fit of self-reliance and with an assist from YouTube, constructed his own wine-on-tap system.
Today, Vecchia offers four imported Italian wines on tap, beverages it also sells in 32- and 64-ounce growlers. Though Tamburello stocks nearly 75 bottled wine options at Vecchia, wine on tap remains his top seller.
"The customers 100 percent love wine on tap, which helps us be on top of the curve and special in our niche," says Tamburello, who serves the wine in jelly jars for an added dose of memorability and charm.
According to Bruce Schneider, co-founder of the New Jersey-based Gotham Project, one of the nation's largest wine-on-tap suppliers, wine on tap reached a tipping point in the U.S. "about three to four years ago" as a rising crop of distributors and restaurants peddling the wine toppled longstanding negative perceptions. For years, Schneider explains, wine on tap was considered "lesser than," hampered by general consumer distaste for non-bottled wine options and the subpar wines that flooded tap handles in Europe, where wine on tap is more commonplace.
"But wine on tap is closely akin to what has been going on in wine regions around the world for generations in which the choice of white or red is pulled straight from the barrel," Schneider says. "People are beginning to see that you can have some high-quality wines on tap."
To that point, Gotham Project offers a diverse array of authentic wines from heralded wine regions –– Rieslings from New York's Finger Lakes, Chardonnays from northern California, a Pinot Grigio from Italy –– while its wines can also be found at celebrated eateries such as Epicerie Boulud and The Breslin in New York City.
All in, a four-tap wine dispensing system runs about $3,000 to $4,000. It's a sizable upfront investment, Landry admits, but one he'd make again at Brienzo's.
"We've seen the ROI and know that every pour from the tap is as fresh as opening a new bottle," he says.
Assuming sales of one keg per week from a four-faucet kegerator installed for $3,200, Schneider pegs the typical payback on equipment at about seven months. Yet more, Schneider contends that product costs will drop about 10 to 15 percent as well with less shrinkage and waste from oxidized wines.
"You could be looking at a 25- to 30-percent difference versus bottled wine," Schneider says.
Beyond the dollars-and-cents argument, however, wine on tap also delivers operational benefits. The tap systems expedite service and inventory, erase concerns about optimal temperature storage and save space. One 19.5-liter keg, after all, is much easier to handle than 26 bottles, its equivalent.
"It's super practical," Tamburello says. "Just plug in and serve."
And don't discount the pure novelty play, Tamburello adds. When customers see a chardonnay or merlot pouring from a tap instead of a lager, stout or pilsner, it attracts interest.
"Customers are surprised and excited by the novelty of this and they want to try it, which gives us an opportunity to talk up the quality and freshness of the product," he says.
Though Tamburello acknowledges that many customers remain enamored with bottles and labels, he sees attention turning toward the tap.
"If you taste it for what it's worth, it's phenomenal and always fresh," he says. "Really, the biggest challenge is educating people that it works." 
5 ways to make the most of wine on tap system
Plan ahead. Gotham Project co-founder Bruce Schneider suggests restaurants install their system as early as possible with a wine-certified installer. "There's some fine-tuning at the start because this isn't like opening a bottle," he says.
Tout the environmental benefit. Over its lifetime, one wine keg is estimated to eliminate more than 3,000 bottles, closures and labels from the waste stream, and that reduced carbon footprint represents a compelling marketing play.
Offer samples. Despite wine on
tap's growing mainstream acceptance, negative perceptions still linger. Brienzo's owner Knute Landry addresses that by offering samples. "Let them taste the freshness for themselves," he says.
Don't muddy the waters. Resist calling wine on tap cask wine or draft wine because doing so, Schneider contends, "makes the delivery system more important than the wine itself."
Think beyond the glass. Offering the wine in a carafe or quartino can increase the average ticket and drive more wine sales.
Chicago-based writer Daniel P. Smith has covered business issues and best practices for a variety of trade publications, newspapers, and magazines.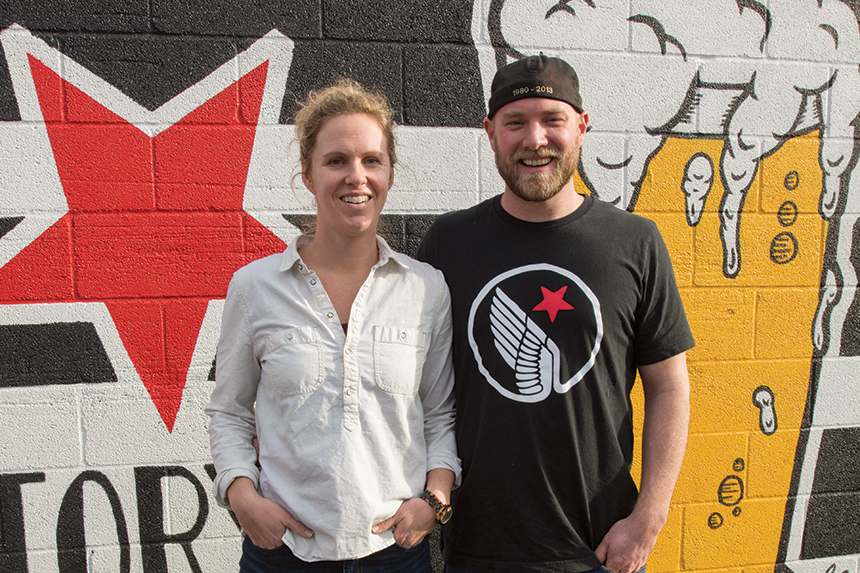 Post-modern Transformation Former VFW post reborn as popular local pizzeria While walking a few blocks from their home in... Read More ›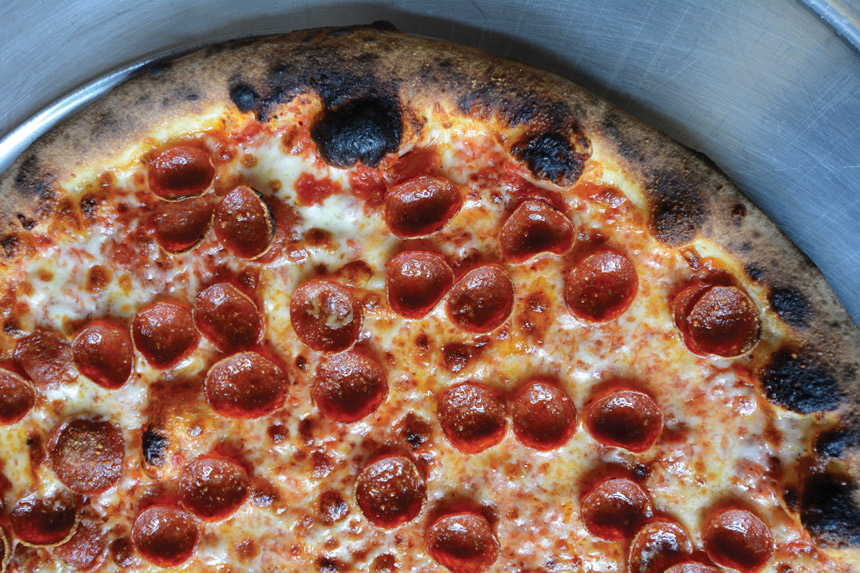 Breathe new life into your pizzeria with these tips If you're running a pizzeria, especially one that is successful,... Read More ›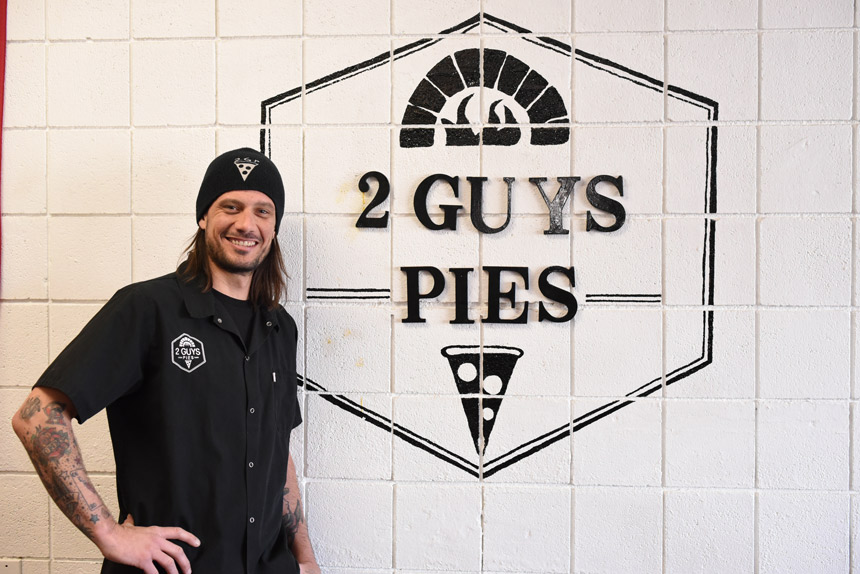 2 Guys Pies Yucca Valley, California Here at 2 Guys Pies we live by a plan, the P.I.E.... Read More ›