What to do when winter takes its toll on fresh vegetables
Between winter and spring, the availability of summer vegetables has gotten tremendously better. But as a penny-pinching restaurateur, the frightening prices are enough to give a snowman the shivers. As a pizzeria owner, I have to keep certain hot-climate menu items in play, but every winter I brace myself before looking at those inflated invoices. A few years ago I realized that a new crop of winter vegetables is readily available in these cold winter and pre-spring months. Some of these are traditional winter vegetables, while others are the product of a new breed of farmer who is equipped with green houses and "High Tunnels" that protect winter herbs and vegetables from freezing.
Here are is a menagerie of winter products to spice up your menu mix:
Baby Kale.

This tender youngster doesn't need to be cooked before placing on a pizza; and it's great with Parmigiano cream, cheddar, feta and Gruyere. Beet and walnuts with pecorino and mozzarella is a great pizza combination. Chilies, barley, apples, chives, leeks, garlic, onion, mushroom and potato are also great accompaniments to kale.

Swiss chard. Chard is best de-stemmed and blanched before topping. Great with lemon zest,
onions, garlic, chili flakes, cumin, pine nuts, raisins, potatoes, mushrooms and lots of beans. Chard is brilliant baked with stilton, gorgonzola, creamy ricotta, feta and my favorite combo of Taleggio-Chard-Persimmon jam and pecan.
Pea Shoots.

Easy to grow, crunchy and sweet. These tendrils are best served after the oven on a pie with Parmigiano, feta or chevre. Great with garlic and mushrooms or tossed with olive, sesame or peanut oil with pears and radishes. Good with kale, corn, chives, shallots and lemon.

Collard Greens.

These strong leaves can be sautéed or long-braised before topping. I love them with bacon, garlic and lemon with chilies and fontina cheese. Ricotta, bell peppers, sesame, leek and pork are traditional pairings. Peanuts, fish sauce, morel mushrooms and chicken are all great here.

Radicchio.

It's a best pizza topping in my view, and it lends a bitter counterpoint when topped after the oven or sautéed with garlic, lemon and anchovy for a raucous, colorful crunch. Radicchio is fantastic with gorgonzola, Asiago, Fontina, goat and Parmigiano. Don't forget pairing with apples, pears, mushrooms, fennel and garlic. Walnuts, pistachio, pine nuts, balsamic and pecans finish this off nicely. 
Let's face it: large, dense vegetables are always the best value. If you have a lot of great prep people like me, these vegetables can be an asset to your restaurant. If you are a freezer-to-oven place and you pride yourself on saving labor at all costs, you may just look for the time when these are pre-prepared.
Leek.

I cannot get enough of running chopped leek through my conveyor ovens with a little olive oil. It is perfect with artichoke, ricotta, Parmigiano, potato, Jerusalem artichoke, Gruyere, halloumi, cheddar and pecorino. Throw in potato, crème fraiche, mushrooms, lemon, mint and sweet peppers. One of my best selling breads is the "Leek-a-Choke." (You can easily figure that one out.)

Daikon.

Pickling daikon of all colors is my favorite after-oven activity. It's like putting a carnation on my lapel. Thinly sliced and quick-pickled with salt and sugar is enough for these, although thin threads with cucumber and scallion brings a cool element to pizzas. Some people have an aversion to cooked daikon.

Radish. Like daikon, these are a colorful, thinly sliced after-oven display that especially pair well with lemon, fava, cabbage, celery, chives, cilantro, cucumber and dill. Cheeses pair well with radish like Jack, bleu, Gouda, Manchego and creamy cheeses. Pistachio, pecans, macadamia nuts and
almonds pair well as textural counterpoints.
Beets.

I use beets often because the cost is very economical. I've found the best way to cook them is to roast five to six in a long foil boat. Seal and cook at 425 F for 30 to 40 minutes. Keep sealed after cooking until cooled. When cooled, the skins come right off because of the steam. Beets are great with feta, walnuts, dill, chives, spinach, carrots, Monterey Jack, ricotta salata, queso blanco, gouda and dill Havarti. Apples, caraway seeds, balsamic, orange and fennel are great on a beet pizza.

Sweet Potatoes.

In the depth of winter, farmers practically give these away. Apples, sage, maple syrup, cinnamon, orange, parsley and walnuts are great with these monsters. I like to small-dice this potato because large, thin slices tend to break apart on a pie. Puréeing sweet potatoes with cream, cinnamon and maple syrup goes great with rosemary, Asiago and pork products like prosciutto di Parma or Serrano ham.

Butternut and acorn squash.

These flesh-rich numbers are a favorite of my market customers. I braise them in chunks and either purée or cut in small dice. Cinnamon, onions, bacon, maple, ginger, sage, ricotta, Parmigiano, allspice, spinach, arugula, soppressata, thyme, nutmeg, cilantro and ginger are great additions.

Delicata.

This torpedo-shaped squash is perfect for stuffing with sausage, beets, mushrooms, spinach, fennel, sage, bacon, apples, onions or nuts. It is perfect thin-sliced and par-baked before the delicate rounds adorn a pizza like mandarins. Chipotle chilies, orange and rosemary would fit well with smoked mozzarella, manchego, feta and aged mozzarella. I love maple syrup and some stinky cheeses with walnuts and this great squash, but that's just me.

Pumpkin.

I call this "big meat." For all the struggle to cut the small, more flavorful and thick-walled "pie pumpkins," it's worth it! Gorgonzola with blueberry jam and pecans is dynamic in color and taste, but Romano, Roncal, fontina and feta are also great with pumpkin. Fatty meats like guanciale round out this beautiful taste with cinnamon, sage and vanilla, Gruyere, cream and nutmeg.
"Orange you Fabulous!" Sweet Potato Pizza with Mandarins, Charred Poblano and Cheddar
Sweet potatoes are the best value in winter vegetables. With this preparation I've paired them with punchy, crunchy radicchio, sweet mandarins, sour feta and salty baked ham, along with the moderate heat of a roasted poblano.
Get the "Orange you Fabulous!" Sweet Potato Pizza with Mandarins, Charred Poblano and Cheddar recipe.
John Gutekanst owns Avalanche Pizza in Athens, Ohio. He will headline Pizza Expo as a keynote speaker at the end of the month.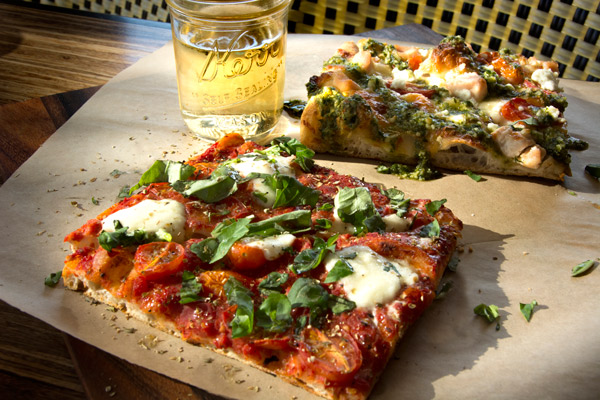 Roman-style pizza is taking off — here's how to nail the dough Are you looking for the next trend... Read More ›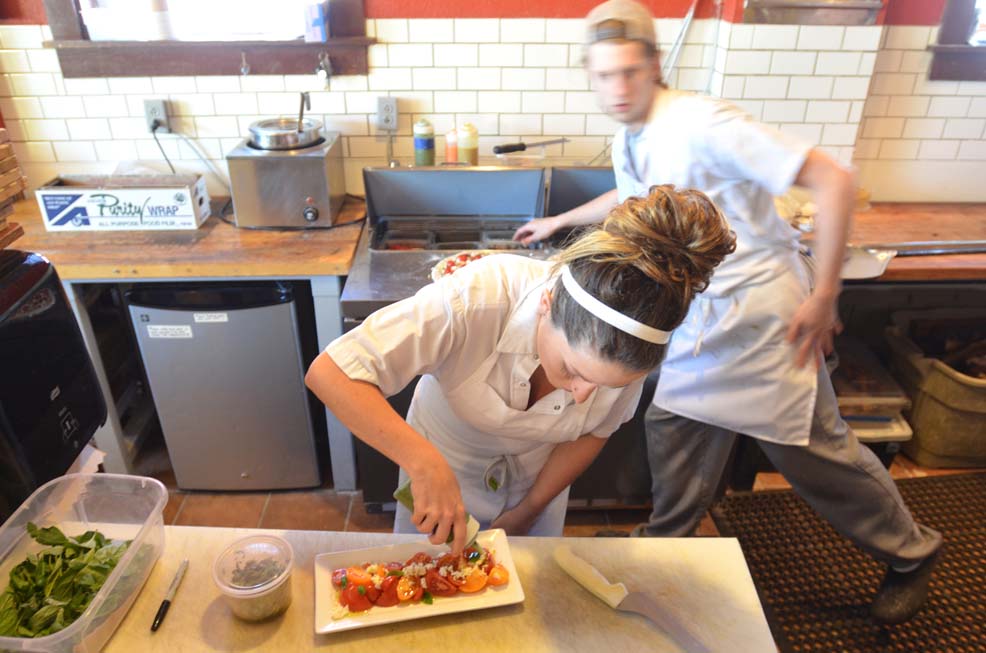 Get Moving During my college summers I worked my restaurant job at night and did construction during the day.... Read More ›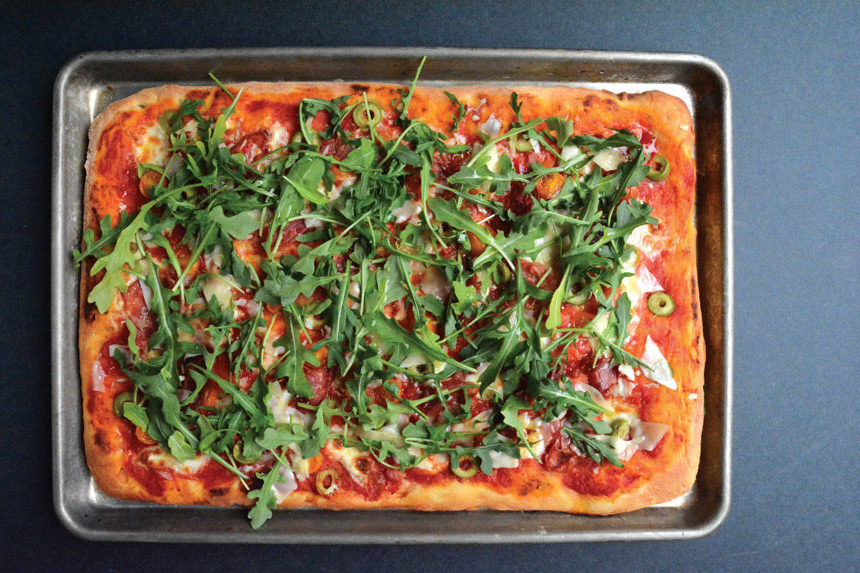 A Roman invasion is imminent: What you need to know Walking the aisles at International Pizza Expo last year,... Read More ›