Put these flavorful fruits to work in your kitchen
The marriage between olives and modern Americans is complicated. Olives are either loved or hated. (Some of my staff can't even get past the word "olive" by saying immediately: "I don't DO those.") Olives (and anchovies) are the toppings that people feel either disgust for or fantasize about. But because of a small but passionate following for these toppings, almost every pizzeria in this nation has olives as an option.
Olives have been cultivated by humans as early as 6,000 years ago. The ancient Syrians and Palestinians are credited for ramping up production in the Mediterranean and the trees of these little orbs virtually changed the landscape of Greece. By 52 B.C., Italy had many plantations of excellent olive groves, although many thought the Spanish olives of Andalusia and Grenada were more sweet and delicate in flavor. Most Romans enjoyed a breakfast (jentaculum) consisting only of bread and olives or raisins, but the poor Romans living in the tall insulae (tenements) usually were sustained with raw beans, figs and olives bought from grimy street stalls.
Curing olives produces a giant flavor and easy storage, which is why people have eaten them for centuries on the go. The Romans, according to Cato, treated 25 pounds of olives with quick lime, oak ashes and water and were left to soak for 10 hours in lye. After this, they were washed and immersed with fresh water, then a hot water bath salted enough to float an egg with fennel fronds. This was the brine after cooling. Today's "ripe" olives are a far cry from the artisanal olives enjoyed da tavola (or at the family tables) in Italy and Spain, but the variety and tastes offered in today's market is tremendous. Here are a few easily attainable by any restaurant owner:
Kalamata.

These black, salty Greek beauties can now be found pitted and sliced by most food purveyors. These are a "must" on feta and Greek salads and stand up well with high-temperature baking. These are great with basil, chilies, artichokes, oregano, garlic, mushrooms, cucumbers, cumin and even miso.

Castelvetrano.

These immature olives from southern Italy are mild and buttery with a brightness of green apple. Shockingly green on a pizza. Beware, these are popular and have many fakes. (check provenence.) I've seen many chefs win pizza competitions with these on top of bright red spicy charcuterie as a finishing touch to Sicilian pizzas. 

Arbequino.

These are very small, purple when ripe and nutty. Used mostly in extra virgin oils, the nutty flavor is worth the pain of pitting these.

Cerignola.

Large, firm flesh but pit tends to stick to flesh at the ends. Great look just pitted and crushed on a pizza. These are great for mixing with a tapenade or with ricotta. (See recipe.)

Nicoise.

Another small black and deep tasting olive is the highlight of a Nicoise salad and tapenade. Sour and nutty so it's perfect with potatoes, rosemary, romaine, thyme and citrus like orange and even romaine lettuce.

Gaeta.

Tasting much like the Kalamata with a less salty, more meaty, earthy flavor. This is great table olive with lemon zest, oregano, rosemary and/or anchovy with extra virgin olive oil and red wine vinegar.

Manzilla.

These green, meaty olives are nutty and almost smoky with a firm and rich flesh. Usually stuffed with pimento (although a lot of companies "fake" the pimento for red gelatin). These are perfect stuffed with anchovy, garlic or almonds and fried.
Olives can be served in many ways. Some are easy to make while others take time and a passion for the olive to shine. Here are some combinations:
Marinate ripe olives using two cups of California ripe black olives with two tablespoons extra virgin olive oil, juice of half a lemon, five leaves sage and a ¼ tablespoon each of chopped rosemary, cracked fennel, oregano and red pepper flakes. Keep under refrigeration for 24 hours. Variation: add pickled carrot and fennel to the bowl for a very nice crudité for guests.

Deep fried, stuffed olives in the style of Ascoli Piceno, (Olive Farcite all' Ascolana). These special olives were a favorite of Nero. If you cannot get the Ascoli olives, they are the same size as Cerignola or Castelvetrano. Just peel around the pit leaving a flesh wrapper with one slit. Fill with cooked ground beef, pork, bacon (or prosciutto di Parma), chicken livers, egg, cinnamon, nutmeg, Parmigiano, tomato paste and soaked breadcrumbs. (Variations abound with Marsala, truffle oil, lemon zest and truffle oil.) Roll in flour, beaten eggs and breadcrumbs and deep fry. Serve hot.

Vegan Greek salad is so easy with pitted and halved Kalamata's paired with cubes of vegan feta and cubes of extra firm tofu. Just add sliced cucumber, tomato, red onion, red wine vinegar, extra virgin olive oil and a spritz of lemon on a bed of romaine and fresh spinach and topped with chopped almond.

Cerignola citrus salad is another nice combination of oranges and mandarin oranges that are skinned and cut across the lobes to produce nice slim rounds. Add to this cracked and pitted Cerignola olives, Chopped Calabrian chilies, chopped basil and parsley, toasted pine nuts. Drizzle with extra virgin olive oil and a dash of red wine vinegar.
---
Olive Lime Chicken Pizza with Avocado-Olive Salsa
This pizza is a favorite for catered events. If cut tavern style (squares), each square can be topped with the delicious salsa. This bold, flavored pie is a cross between historical Greek flavor profiles and southwestern cumin chicken, all brought together by green and black olives.
Get the Olive Lime Chicken Pizza with Avocado-Olive Salsa recipe.
---
Green Goodness
This flavorful cheese can be made from your makeline ingredients and placed on pizzas either before or after the oven bake. Because of the combination of cream, garlic, spice and salty olives, it is well suited for dipping or just adding flavor to ordinary pizzas or breadsticks. If you add cream and a little vinegar, it makes a great salad dressing. Also, if you're looking for a flashy finish, place a mound of chilled Green Goodness on a pizza and top with crushed pistachio nuts.
Get the Green Goodness recipe.
John Gutekanst owns Avalanche Pizza in Athens, Ohio, and is an award-winning pizzaiolo, baker, teacher, speaker and author.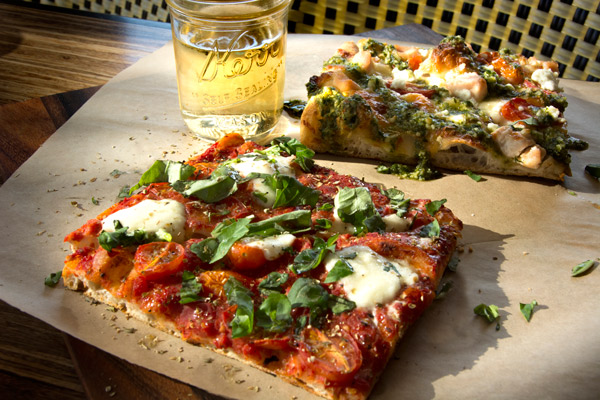 Roman-style pizza is taking off — here's how to nail the dough Are you looking for the next trend... Read More ›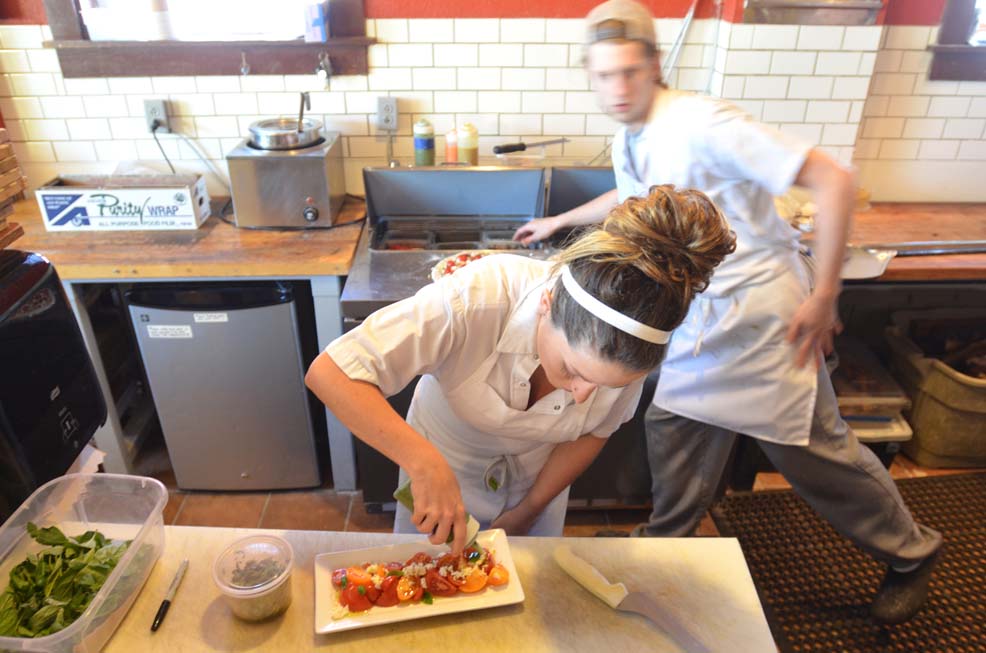 Get Moving During my college summers I worked my restaurant job at night and did construction during the day.... Read More ›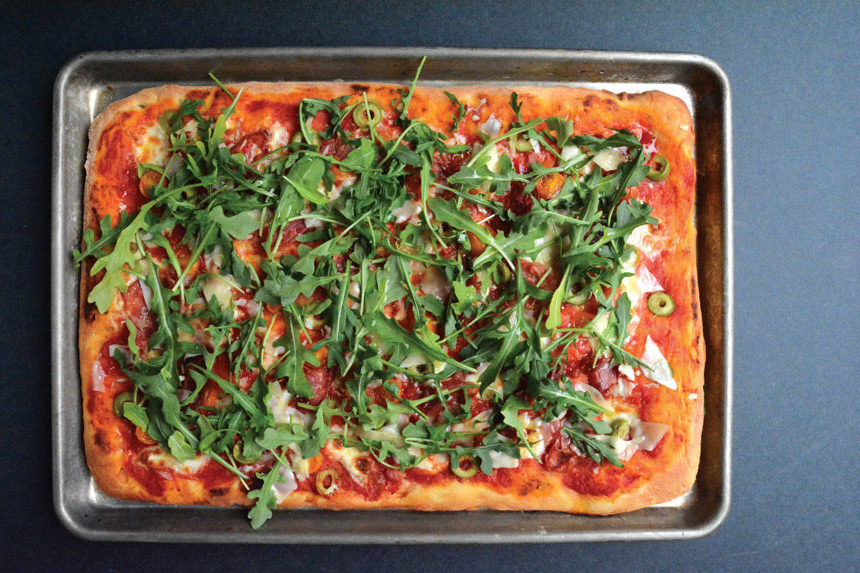 A Roman invasion is imminent: What you need to know Walking the aisles at International Pizza Expo last year,... Read More ›