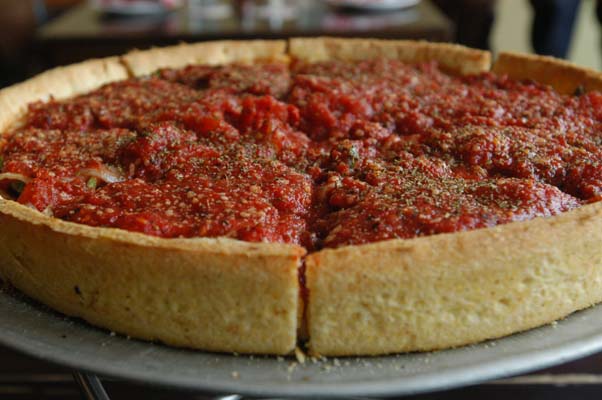 Naples. Chicago. New Haven. New York City. Since the dawn of time, they have been the most important pizza cities on the planet. It's completely understandable because these locales each have a long history of Southern Italian habitation, so their pizza scenes reach back further than others. But as time rolls on and we step further from pizza's humble past, I'm noticing that more cities are upping their pizza games.
The realization hit me hard on a recent trip to London, a city that isn't exactly known for its cuisine. My expectations were frighteningly low in London. That's why I was so blown away by the variety and quality I experienced. Just as we're seeing across the US, London is all about wood-fired ovens. I guess they don't call it the Big Smoke for nothing! The best part was that I didn't just find a slew of identical pizzerias –– each place was honing its own unique style. One pizzeria called Homeslice is all about large-format pizzas –– sort of a cross between New York style and Neapolitan. Franco Manca does a riff on fast-baking Neapolitan with the addition of a tart and tangy sourdough crust. Pizza East, the last pizzeria I hit before leaving town, makes a hybrid crust that combines the tender crisp of a Midwestern pizza with the airy stature characteristic of Southern Italian bases.
All three of these restaurants use wood-fired ovens to achieve completely different results, but the legitimacy of London's pizza potential proved positively potent once I tasted a Pizza Margherita at L'Antica Pizzeria Napoletana in Hampstead. Not only was it delicious, also it tasted exactly like the best pizzas I've had in Naples.
How could this be? Don't you need century-old ovens and indigenous water to replicate a crust quality so perfectly? Not at all. These notions have been holding pizza back for decades and the time has finally come to put them to bed. I have a strong feeling we're witnessing the end of "We import all our water from New York" and "This is my grandmother's uncle's cousin's yeast starter." Rather than proving our worth with magic potions, we're doing our homework and educating ourselves about the actual science and techniques that make good pizza. I get e-mails every week from prospective pizzaioli and they aren't looking for a consultant to come tell them what to do. They're asking for classes and training so that they can learn for themselves. The techniques they'll learn are way more important than knowing what flour and tomatoes to buy. This spread of knowledge means pizza is going to get better everywhere!
So what about our venerated pizza cities? In 20 years will we still take pizza pilgrimages to Pizzeria da Michele in Naples, Lou Malnati's in Chicago, Frank Pepe's in New Haven, and Lombardi's in New York City? Absolutely! The value of history can't be ignored — but I'd rather have a tasty pizza than a dusty one.
Scott Wiener owns and operates Scott's Pizza Tours in New York City.