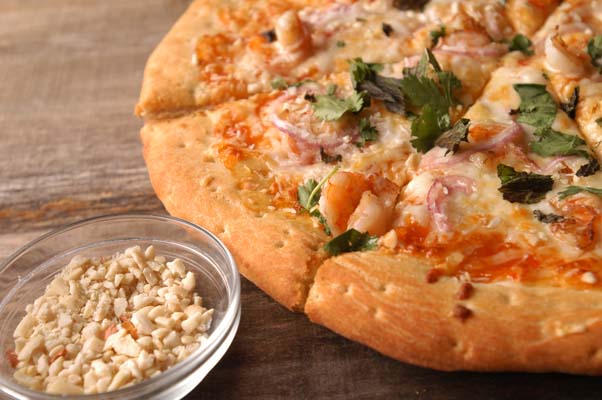 When was the last time you added a new topping to your menu? I'm sure you're busy enough with the usual pepperoni, sausage and mushrooms, but sometimes customers like me are ready to venture out into unknown flavors and textures in search of new and unusual. I've been noticing a new trend at pizzerias lately, and it's clear that there's a new genre of topping that is exciting a fan base. Nuts of all shapes, sizes and configurations are making their way onto pizzas across the country and it's time you took a closer look at how they're being used to jazz up sleepy pies.
The first time I ever noticed nuts on a pizza was about 10 years ago at a restaurant in Chicago called Beat Kitchen. It was a Thai chicken pizza with spicy peanuts and sesame carrots. It was quite a departure from my familiar simple pizzas on the East Coast, and I will never forget the unexpected flavor and texture of the peanut.
Just last week, I was at a pizzeria in Baltimore called Homeslyce. It's a casual restaurant with a sports bar vibe (one long table only has seats on the TV-facing side) — not the kind of place I expect to see anything approaching gourmet. But their Homeslyce Classic pizza is a powerful combination of mozzarella, goat cheese, eggplant, spinach, caramelized onion, roasted red pepper and walnuts. The walnuts add a crunchy counterpoint to the softer texture of the other toppings and I found bites without them were less thrilling. The price for a 14-inch pie was under $13, so very reasonable for something that's clearly beyond the standard pizzeria fare.
I first witnessed a pistachio pizza at Pizzeria Bianco in Phoenix on a pizza called the Rosa. It's an incredibly simple pie with thinly sliced red onion, Parmigiano Reggiano, rosemary and crushed local pistachios. It's a brilliant flavor that adds a salty counterpoint to the sweet onion. Bianco is a wood-fired pizzeria but pistachio works just as well coming from a deck oven, as I learned at Iggie's in Baltimore. They used the same lineup of toppings as Bianco, but served the nuts whole instead of crushed. My favorite use just might be the Pistachio e Salsiccia pizza at Kesté Pizza & Vino in Manhattan's Greenwich Village. The nuts are crushed into a pesto that perfectly delivers a savory base to underscore the rich sausage.
Nuts are way more than just quirky topping; they can also be used to approximate other foods for those with dietary restrictions. I've seen several vegan sausage recipes that use nuts, such as one with sun-dried tomato and pine nuts and another with onion and walnuts. Paulie Gee's in Brooklyn has a fantastic vegan pizza with cashew ricotta. It's a great cheese alternative that will satisfy customers with dairy issues and tastes great while doing so!
Just when you thought nuts were to be relegated to the realm of bar snacks and trail mix, here they are changing the face of pizza as we know it. Don't fear change: embrace it. In fact, go nuts.
Scott Wiener owns and operates Scott's Pizza Tours in New York City.