I watched an interes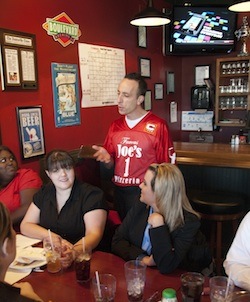 ting pattern in my parents' small business. My father's customers loved him, knew him by name. He had a knack for interacting with his clientele. On those rare occasions when he would take a day off, the business was a ghost town.
The problem was not that he took time away — everyone needs a break. The challenge was that patrons didn't know the other two managers and they chose to devote their frequency of visits to times when my father was there.
Customer services goes far beyond a guest's contact with a hostess, server, and phone receptionist or delivery driver. Management plays a vital role in return visits.
Recently, I visited a local restaurant. The dining area was about half filled. Our server was excellent. But, what really set the dining experience apart was the shift manager. As we finished up our meals, the manager came over to say hello. Of course, he asked how our entrees were. But he went beyond a scripted interaction. Noticing that I was sipping on a craft beer, he shared news of a new craft beer menu that was to roll out in a week. The exchange took less than a minute, but I remember him and I will be back next week when its new menu launches.
By simply surveying our table, he was able to relate specifically to us. It's that easy. Finding common ground, your managers are building relationships with customers. When I return to the restaurant next week, if that manager remembers me, it's going to knock the customer service experience out of the park.
Train every manager to go beyond scripted "how was your meal" table visits and find a way to really connect with a dining party. Go a step further and ask them to remember those returning guests and let them know that you appreciate their business.