How to celebrate National Pizza Month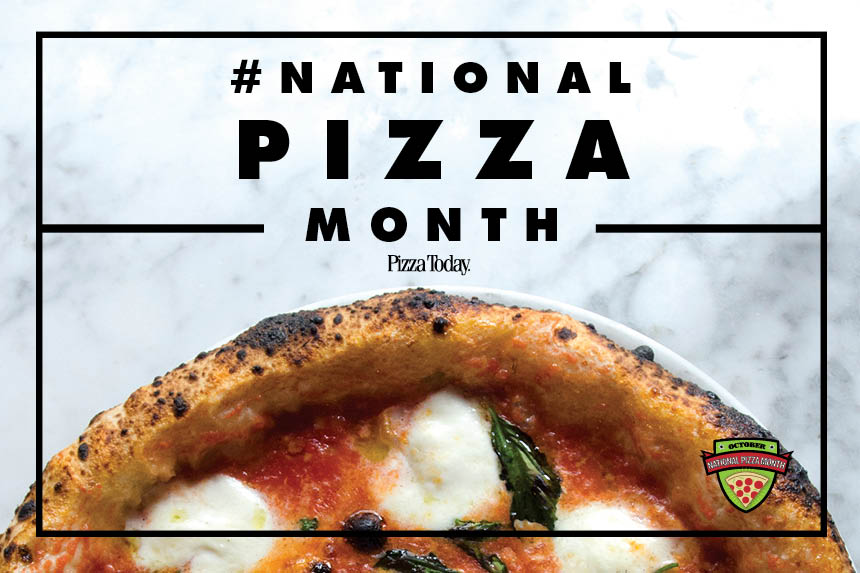 Pizza Today has you covered this October
Let's collectively have the biggest pizza month ever and celebrate America's favorite food. We've pulled together resources to help you mark the occasion and promote your National Pizza Month campaigns in your store, in the community and on social networks. October can be anything you make it. The tools and tips below are provided to assist you with your unique efforts to promote your pizzeria's National Pizza Month celebrations.
Blast the National Pizza Month hashtag on everything. Use the hashtag on social media posts, in store and on external marketing and promotional signage.
#nationalpizzamonth
Go further and add a unique hashtag specific to your brand to track its shares. Don't forget to hashtag @pizzatoday so we can follow your NPM campaign.
20 Ways to Celebrate National Pizza Month
We've put together a list of low-cost to no-cost marketing ideas for your pizzeria make the most of National Pizza Month. Get the full list.
The skinny on National Pizza Month
Pizza Today's founder Gerry Durnell created the National Pizza Month observance in 1984 to mark the debut of the first issue of Pizza Today magazine. The U.S. Congress officially designated October as National Pizza Month in 1987.
Read Editor-in-Chief Jeremy White's Pizza History 101.
---
Download Marketing Assets for Your Pizzeria
√ — National Pizza Month Logo
Download high-resolution PDF for printing
---
√ — National Pizza Month Declaration Social Sharing Art/Images
We've created images to declare National Pizza Month for social sharing. Click to enlarge each image and drag it to your desktop or save to your mobile device.
---
√ — Customizable Media Release
We've provided you the framework to add in your specific information about your National Pizza Month festivities.
Download .doc (Microsoft Word 94 or later,)
Don't forget you can pitch your National Pizza Month event directly to reporters or even partner with traditional or digital media in your area. Take a look at this how-to on getting media coverage.
---
√ — Pizza-related Infographics 
Click each infographic to enlarge and drag it to your desktop or save to your mobile device.
---
NPM Spotlights:
What: World-renowned pizza makers and chefs will showcase their talents on the street of Crescent Avenue in Bronx. The first New York Pizza Festival is expected to draw 20,000 pizza fans for pizza tastings from more than 20 U.S. and Italian pizza makers, as well as wine, beer and music.
When: October 6-7, 2018
Who's behind it: The festival is hosted by the Belmont Business Improvement District and the Pizza Academy Foundation. Master pizzaioli include: Roberto Caporuscio, Kesté Pizza & Vino, NYC; Gino Sorbillo, Sorbillo Pizzeria; Tony Gemignani, Tony's Pizza Napoletana, San Francisco; Mark Dym, Marco's Coal Fired Pizzeria, Denver; Jonathan Goldsmith, Spacca Napoli, Chicago; Giorgia Caporuscio, Don Antonio, NYC; Giulio Adriani, The Local Pizzaiolo, Atlanta; John Arena & Chris Decker, Metro Pizza, Las Vegas; Nino Coniglio, Williamsburg Pizza, Brooklyn and more.
What: NYC's biggest pizza party is an annual $1 slice event bringing together over 5o pizzerias under one roof with 100 percent of proceeds from the event going to New York City hunger relief organizations.
When: October 10, 2018
Who's behind it: Scott Wiener, our Man on the Street and founder of Scott's Pizza Tours. He launched the event in 2009 and the event has raised more than $175,000 to help fund hunger relief efforts. He has taken the idea nationally with a Slice Out Special campaign that takes place during the month of May.
More on Slice Out Hunger, visit sliceouthunger.org
Submit your National Pizza Month campaign for NPM Spotlight consideration. Include campaign title, when it is, how it works and who's behind it. Email us.