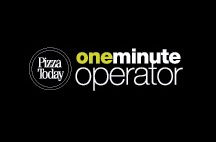 We've been hitting the road this summer and sitting down with successful pizzeria owners to film a new video series. "One Minute Operator" is designed to provide you with quick insight from your peers and will launch next Wednesday, July 2, right here on the PT.com video spot.
From Indiana to Minnesota to Oregon, we've had fun filming the series and know the advice and input your fellow operators have to offer will be beneficial to you in a variety of ways. We plan to launch a new video each Wednesday throughout the summer and fall. We'd also like to invite you to submit your own videos for our consideration. Keep them under 2 minutes (we can be a little generous with our series title, after all) and e-mail them to me (jwhite@pizzatoday.com).
This is just the beginning of some other fun projects we have for the summer and fall. Stay tuned!