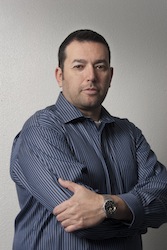 In the restaurant industry, I truly believe the difference between owning a job and owning a business is catering. The difference between eking out a living and living a great life is catering.
Before I sold my interest in my restaurant at the end of 2006, I had built my sales to over three million dollars a year out of a hundred and four seat restaurant. Over a million dollars of those sales were in catering. Roughly two thirds from drop-off/self-service catering and a third from full service events.
Not only did catering contribute the lion's share to our profits, but each and every catering job was a free advertising opportunity for us. There's no other way to get paid to market your restaurant.
I learned this lesson the hard way. In the beginning, I trusted every . . . ad rep. I bought tons of television, radio, magazine and newspaper ads. Unfortunately, they knew less than I did.
If my sales did not improve they'd advise, "You need to advertise longer. It takes time to build a brand." I didn't have the time or the bankroll of Coca-Cola or Nike to wait that long or to waste dollars reaching prospects across town that were never going to buy from me.
I learned to cater not die! Catering is proactive, not reactive. You do not have to wait for a customer to walk in your front door. You can go to them. I catered many five figure events an hour or two outside of Nashville.
Say what you want about his hair, but Donald Trump's "Apprentice" is one of the best shows on television today for the entire family. If you are in any type of business, each season offers up a mini-MBA on a silver platter with valuable lessons showcased each episode.
My two sons have no problem catching the moral and lesson each week. I remember an episode where two competing teams set up Outback Steakhouse concession stands at opposite ends of the Rutgers' campus before a football game. They were each given space on a parking lot and turned loose to get the word out about their stand.
The all male team was off to a fast start. They went about creating an "Event" to draw in visitors. They were able to land an exclusive to have the cheerleading and dance team perform at their venue. They were always a step ahead of the all female team when it came to promotions: getting flyers out, hitting fraternity row and the school's pep rally.
The women appeared doomed from the outset. Once the concession stands opened, the line was long at the men's tent. The women's was short and they started to get concerned. Well if necessity is the mother of invention, then spiraling sales is the mother of out-of-the-box marketing.
One of the women decided that if the customers weren't coming to the concession stand, they'd bring the concession stand to the customers. They loaded up aluminum pans and went to each tailgate party and sold nose to nose and toes to toes. Wasn't pretty, booth was dead, but they sold 50 percent more than the guys. They humiliated them.
Sort of reminds me of the first summer my barbecue restaurant was open. We had a concession stand in downtown Nashville, for the Fourth of July celebration.
We sucked wind. Jack Cawthon, a friend now, but not then, owned a little BBQ joint 50 feet away from us in the middle of all the action. He had an unfair advantage. Because of his beer permit, he was the only one selling beer on that sweltering July day. Made no difference how good my "Q" was, he had what people wanted, beer.
As a result, they bought their food at his place and sat outside on picnic benches polishing off cans of Bud and Miller Lite. He raked it in.
To salvage the event, we took trays, loaded them up with large Cokes and went into the crowd selling drinks like the hawkers at a baseball stadium. We never got rich, but it prevented the day from being a total massacre.
What's this have to do with you and your restaurant? You can't always easily change your circumstances, like location or competition, but you can change how you look at your challenges. There are multiple profit and sales centers you can add to your restaurant (like catering, my specialty).
I have helped hundreds of restaurants keep their doors open. Layla Gambs comes to mind. A major road construction project was obstructing access to her restaurant. With sales down 28%, she was close to locking the doors for good. After hearing me speak in Phoenix, she rolled up her sleeves and started catering. Catering gave her the sales she desperately needed to stay in business and ultimately thrive when construction was completed.
She chose to cater, not die!
I believe we are at a time in the life cycle of restaurants where most operators are forced to add or expand their catering profit centers or risk going out of business. At minimum, failing to cater hampers your ability to make more than just a living.
I see franchises, chains and independents embracing the catering profit center. They all realize the potential to double profits without doubling overhead. Realistically, most concepts from ice cream to Italian restaurants can easily add ten percent to their top line sales. It is not uncommon to see twenty to thirty percent of a restaurant's sales in catering, but they must develop the systems to make it a reality.
My presentation at Pizza Expo is dedicated to helping you cater, not die. You'll learn the same system responsible for me building a seven figure catering profit center. You'll see actual examples and learn real techniques from my archives; promotions responsible for building my catering sales.
You will see a very detailed marketing flow chart of growing, servicing and retaining your catering business. As opposed to a book full of disconnected ideas, you will walk away with a plan you can use, step-by-step to build and better manage your catering profit center.
Lack of knowledge may be a reason for failing, but lack of trying is no excuse. After reading this book, you'll be armed with knowledge and asked to leave your excuses at the door.
Listen. Can you hear it? It's getting closer, ever louder. It's the sound of your competitors jumping on the catering bandwagon. Failing to lay your claim can be costly.
Now is the time to cater or die!

Michael Attias will be presenting his seminar at Pizza Expo, "Seven Steps to Maximize Your Catering Sales," on Wed., March 20, once in a morning session and again at 2:30 p.m. You can obtain an advance, free copy of his book "Cater or Die!" at the website RestaurantCateringSoftware.com.
For more details on International Pizza Expo 2013, visit www.pizzaexpo.com.
August 14, 2018 | Pizza Headlines
A dog-friendly patio is more than a checkbox I take my hound dog everywhere. At least once a week or so, you can find me and my Beagle having dinner at one of Louisville's dog-friendly patios. In fact, I keep a running list of the best patios with the best food and craft beer. After… Read More ›
---
August 9, 2018 | Videos
Watch our first episode of the Pizza & Pasta Northeast Update Show. Time to get excited about PPNE in Atlantic City October 3-4! Read More ›
---
New Port Richey, FL. – August 9, 2018 – Welbilt, Inc. (NYSE:WBT), announced today that Hubertus M. Mühlhäuser is resigning as a Director, President and CEO of Welbilt, effective August 31, 2018, to become the Chief Executive Officer and a Director of CNH Industrial N.V. (NYSE:CNHI), a $27 billion global manufacturer of capital goods comprising… Read More ›
---