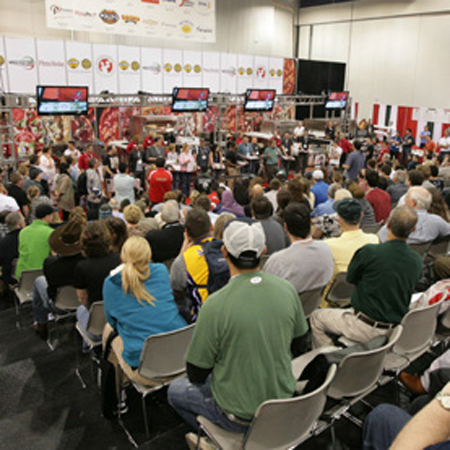 This year we're expanding our education program to include more than 85 business boosting seminars, demonstrations and workshops. We've also added 20 new industry speakers who will address the hot-button issues facing pizzeria operators today.
In the current environment, it's more important than ever to discover new, innovative ways to boost profits and improve efficiencies. How do you implement a winning social media strategy to maximize exposure and generate bottom-line results? How do you make the most from your online and delivery orders? How do you build a profitable craft beer program? At this year's International Pizza Expo, you'll find solutions to these problems and more.
Designed for pizzeria owners and operators, Pizza Expo is an all-industry event — whether you're a veteran or just opening your first pizzeria. Can you imagine a show fl oor larger than six football fields with nothing but pizza-related goods, equipment and services? International Pizza Expo — the "Show of Shows" for the pizza industry — is THE place to do business, learn, network and make deals.
To close the show on Thursday, March 27, we're going to give away $20,000 in cold, hard cash. All you need to do to win is pick-up a $20,000 MEGA BUCKS Giveaway™ game card and visit all of the participating sponsors. Remember: you can't win if you don't enter — and you won't win if you're not present.
If you haven't already registered to attend, then you should stop reading this now and call (800) 489-8324. Or, better yet, pre-register online at PizzaExpo.com and SAVE $10. For those of you who have already made plans to attend the industry's premier annual event, it's a good idea to start planning your show strategy now: Map out a list of education seminars to attend and start thinking about questions to ask at the Beer & Bull™ Idea Exchange.
Please take a few minutes now to review the attendee brochure mailed with this issue or visit our Web site for a detailed listing of exhibiting companies, seminars and demonstrations. If you've seen or read about a product or service you'd like to have for your pizzeria, then chances are you'll fi nd it on our show floor. Did I mention we have more than 70 new exhibiting companies that have already signed up for this year's show?
The bottom line is there's always something new at Pizza Expo that can improve your pizzeria. As always, our commitment to you, our partners, is to produce the biggest and best show ever. In fact, I guarantee attending Expo will be the single best investment of time and money you'll make in the next year, or we'll refund your registration fee. Remember International Pizza Expo is a tax-deductible working vacation.
See you in Las Vegas!
Bill Oakley Executive Vice President
July 16, 2018 | Videos
Editor-in-Chief Jeremy White discusses what wines to pair with pizzas, pastas and desserts. Read More ›
---
July 11, 2018 | Pizza Headlines
Based in Belgium, unique library is dedicated to cataloging and saving sourdough from all over the world It's a Monday morning on Bainbridge Island in Washington State. The spring sun is trying its best to break through stubborn Pacific Northwest storm clouds and, except for the sound of commuters making their way to the Seattle ferry,… Read More ›
---
July 10, 2018 | Pizza Headlines
Go inside the anti-plastic straw trend Starbucks is the latest company to announce that the coffee giant will eliminate single-use plastic straws in all of its stores by 2020. That adds up to the elimination of more than one billion plastic straws per year. In Starbucks' official release, President and CEO Kevin Johnson said, "For… Read More ›
---