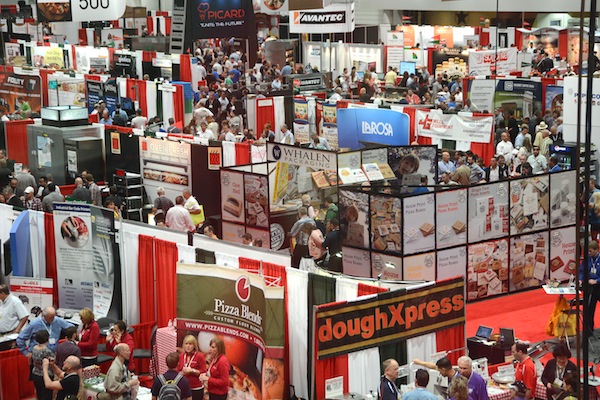 If you're looking for new ways to create revenue or just want to find out about the latest industry trends and products, then International Pizza Expo, March 23 – 26, 2015, is the show for you! International Pizza Expo is the only industry event where you'll find more than 90 industry-specific seminars, workshops and demonstrations, not to mention 475 exhibiting companies and 1,100 booths. Throw in the School for Pizzeria Management, as well as the great contests and competitions — such as the World Pizza Games, International Pizza Challenge and the $20,000 Mega Bucks Giveaway — and it's no wonder Pizza Expo is now one of the Top 200 trade shows in the country.
In today's business environment, you must do more than just create a great pizza to be successful. Now, more than ever, you have to understand your customers' needs and desires to grow your pizzeria. Attending Pizza Expo is the single best way for you to obtain new knowledge, insight and ideas that can help position your pizzeria for future growth.
Ask anyone who's attended a past Expo and they'll tell you: If you're looking for new ideas, products and techniques to improve your bottom line, then International Pizza Expo is the place to be. At International Pizza Expo you'll also have the ability to negotiate great programs and deals on the show floor by taking advantage of show specials, deep discounts and incentives being offered by our exhibiting partners.
Re-order products that you're currently using or find something completely new that catches your eye. Remember, you can find everything — from Web development and POS systems that will drive more business to your pizzeria to new menu ideas, and lots more — on the Pizza Expo trade show floor.
The long and short of it is there's always something new to learn or see at Pizza Expo. In fact, I guarantee it. If you're not satisfied with any aspect of the show, simply put your thoughts and concerns in writing to me and I'll send you a prompt refund of your registration fee.
Last, but not least, International Pizza Expo is a tax-deductible working vacation.
It's all pizza and it's all for YOU!
Sincerely,
Bill Oakley
Executive Vice President
September 22, 2018 | Pizza Headlines
Conversations with three seminar and demo presenters: Tony Gemignani, owner of Tony's Pizza Napoletana and Pizza Rock; Nick Bogacz, owner of Caliente Pizza & Draft House; and Eric Shepherd, Director of Marketing & Communications for OTTO Pizza Pizza & Pasta Northeast will take over the Atlantic City Convention Center next month. The show is October 3 and 4 and… Read More ›
---
September 21, 2018 | Pizza Headlines
Educational program kicks off Pizza & Pasta Northeast before show floor opens We are a few weeks away from Pizza & Pasta Northeast in Atlantic City. It's time to start planning your schedule. The Exhibit Hall opens at 11 a.m. on both days of the show, Wednesday and Thursday, Oct. 3 – 4. But opportunities… Read More ›
---
September 19, 2018 | Videos
Josh Keown takes a look at the workshops offered on October 3rd and 4th at Pizza & Pasta Northeast. Read More ›
---