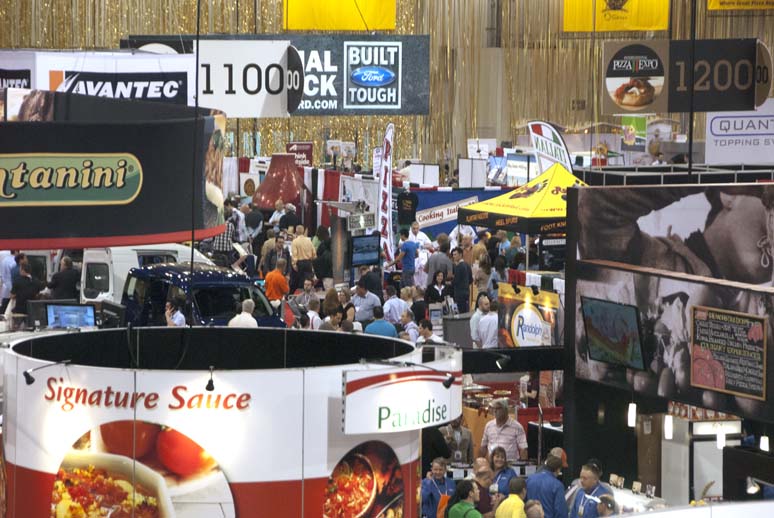 I want to personally thank all of the pizza professionals who attended International Pizza Expo 2014.  This year's show was undoubtedly the biggest and best show ever held, with a show floor the size of nearly six football fields, 470 exhibiting companies and 1,100 booths all devoted to America's favorite food — pizza.  Industry professionals from all over the world packed the exhibit hall and seminar rooms in search of new products and information.
You could feel the excitement and electricity coming from our contest and demonstration areas, where the World Pizza Games and the International Pizza Challenge were being held.
This year we had a record 11 World Titles up for grabs between the World Pizza Games and International Pizza Challenge.  Throw in the $20,000 MEGA BUCKS Giveaway and the New Exhibitor Treasure Hunt and we had nearly $70,000 in total prize money awarded this year. If you couldn't attend this year's show and were wondering who walked away with the hardware, cash and bragging rights, please make sure to read the Expo wrap-up article in the May issue of Pizza Today or visit pizzaexpo.com.
The great thing about Pizza Expo is no matter how many times you've attended past shows, there's always something new you can learn or implement that will help improve your pizzeria. In fact, I know it seems a long way off right now, but it's never too early to start making plans to attend next year's Expo, which will be held March 23-26 at the Las Vegas Convention Center. There's no telling what we'll come up with to top this year's show, but I'm sure we'll plan several exciting new twists for 2015.
As always, we want you to know that we are committed to improving and increasing the number and quality of exhibits, demonstrations, events and seminars at our trade shows. You'll see this commitment now more than ever as we look towards 2015 and beyond.
When deciding on which trade show to attend, remember general foodservice shows are precisely that … even if they claim to have a pizza pavilion, contests and a few pizza exhibitors. Remember, if you're looking for new pizza products, suppliers, networking opportunities or just a few ideas on how to improve your pizzeria, then International Pizza Expo is the ONLY show for you!
For more information on Pizza Expo, please feel free to give me a call at (800) 489-8324.
It's all PIZZA and it's all for YOU!
Kind regards,
Bill Oakley
Executive Vice President
September 19, 2018 | Videos
Josh Keown takes a look at the workshops offered on October 3rd and 4th at Pizza & Pasta Northeast. Read More ›
---
September 18, 2018 | Pizza Headlines
America's Favorite Pizza Topping Has its Day National Pepperoni Pizza Day is Thursday, September 20. Let's celebrate a beloved pizza topping that has reign supreme for the past several decades. What's in pepperoni? Typically cured pork and beef seasoned with paprika, other chili pepper, anise, garlic, salt and sugar. The Look Standard size, thin-sliced Large… Read More ›
---
September 17, 2018 | Pizza Headlines
Educational program kicks off Pizza & Pasta Northeast before show floor opens We are a few weeks away from Pizza & Pasta Northeast in Atlantic City. It's time to start planning your schedule. The Exhibit Hall opens at 11 a.m. on both days of the show, Wednesday and Thursday, Oct. 3 – 4. But opportunities… Read More ›
---