October is National Pizza Month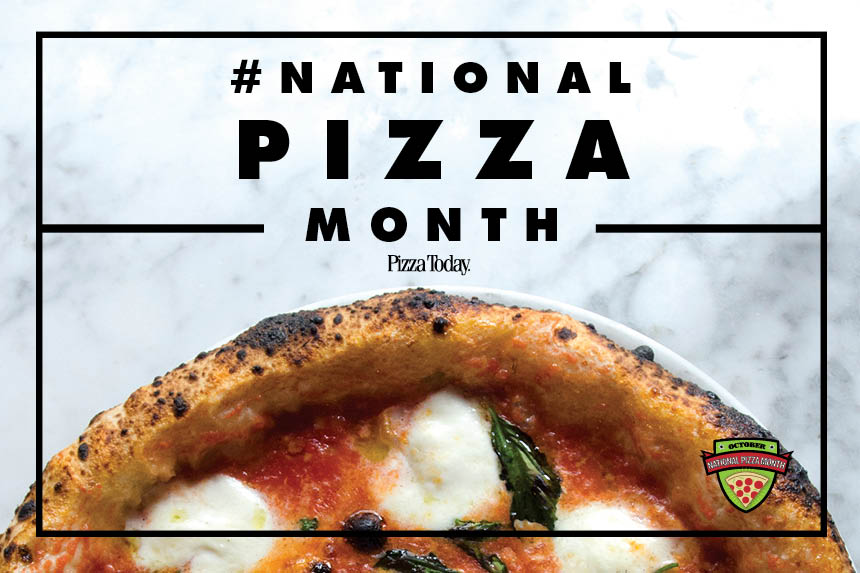 We've put together a list of low-cost to no-cost marketing ideas for your pizzeria make the most of National Pizza Month. They include:
Original pricing from when the pizzeria opened if it's a legacy pizzeria.
Giveaway for 1 free pizza a month.
Partner with another pizzeria for a charity challenge. Whoever sells the most pizza wins a "trophy" or something until the next year.
Kids eat free during the month of October!
Celebrate with 3,000 pizza professionals at Pizza & Pasta Northeast on October 17 & 18 with 300 booths, 150 exhibiting companies and 35 seminars, workshops, demonstrations and networking events.
Eating challenge. Get entrants to compete for t-shirts or other swag. Do a wall of fame.
GET ON TV! Do pizza for local news stations in the morning. Then do a promotion for that day.
Random Pizza Giveaway (store customer info and randomly give away a year of free pizza to a customer who orders during Nat'l Pizza Month)
Pizza History Night (sell a dinner for $X per person. During the event, tell your patrons about the history of pizza)
School Field Trips (encourage Elementary schools to bring kids in for field trips during the month. Let the kids touch and play with dough as you explain how pizza is made).
Press Night (Invite local food writers, bloggers, etc. in for a free dinner during which you hit key talking points that differentiates your pizzeria … i.e. expand on whatever it is that makes you special and unique in your city, whether that be locally sourced ingredients, gluten-free, organic, beer in your dough, etc.
Run a customer recipe promotion. Invite your patrons to create your next big hit! Have customers submit recipes for topping combinations, etc. Winner gets the pizza named after them on your menu or free pizza for a year or a $500 gift card, etc.
Tie in other unique October observances, like National Disability Employment Awareness Month or even Friday the 13th and Halloween
Offer a National Pizza Month one-of-kind offer to your loyalty club members. Think swag, secret menu item, etc.
Go for a local, regional, national or world record. Guinness World Records offers several pizza-related opportunities.
Create a 31 Days of Pizza menu featuring a different specialty pizza each day.
Host a Guest Chef Takeover Night, where a local or regional chef creates a menu with pre-sale dinner event tickets at $X per person.
Create games for each day of October with a drawing where winner receives free item or offer. (Think small games, like guess the number of pepperonis on a pizza; guess the ingredient; answer questions related to your pizzeria; in-store scavenger hunt; photo with a specific item social contest, etc.)
Crown an Ultimate Pizza Fan by inviting customers to submit on social media why they should be the winner.
Go big and raise money the entire month to support a local cause.
Go to our National Pizza Month Operator Toolkit to get marketing assets — official NPM logo, art, infographics, media release and more.
July 16, 2018 | Videos
Editor-in-Chief Jeremy White discusses what wines to pair with pizzas, pastas and desserts. Read More ›
---
July 11, 2018 | Pizza Headlines
Based in Belgium, unique library is dedicated to cataloging and saving sourdough from all over the world It's a Monday morning on Bainbridge Island in Washington State. The spring sun is trying its best to break through stubborn Pacific Northwest storm clouds and, except for the sound of commuters making their way to the Seattle ferry,… Read More ›
---
July 10, 2018 | Pizza Headlines
Go inside the anti-plastic straw trend Starbucks is the latest company to announce that the coffee giant will eliminate single-use plastic straws in all of its stores by 2020. That adds up to the elimination of more than one billion plastic straws per year. In Starbucks' official release, President and CEO Kevin Johnson said, "For… Read More ›
---