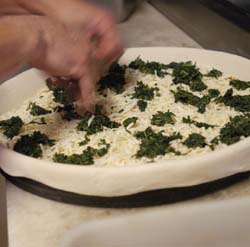 The rush to replicate Chipotle's service model in the pizza industry began five years ago, but it's really hitting a fevered pitch now. Many experts agree that we'll see an explosion of units dedicated to duplicating the concept in 2014 and beyond for some time time come. Take this pizzeria, for instance, which made headlines earlier this week when it opened in Nashua, New Hampshire. This article on Crush Pizzeria Napoletana claims the shop is the first of its kind in the Boston vicinity.
This piece from The Motley Fool, aptly titled "Pizza Stores Copy Chipotle Mexican Grill", cuts right to the point — this trend is about to explode. Why? This story in Slate theorizes that pizza is the cuisine best suited to the Chipotle model.
While being crowned "The Chipotle of Pizza" seems to be the prize many upcoming small chains covet, the fact of the matter is that the model can be adapted by independent operations as well as chains.
What makes Chipotle so successful? Founder Steve Ells details his thoughts on the matter in this in depth and well-thought-out exploration of the brand.
Essentially, it boils down to this: set your expectations high, let enthusiasm permeate everything you do and make quality the focal point.
July 16, 2018 | Videos
Editor-in-Chief Jeremy White discusses what wines to pair with pizzas, pastas and desserts. Read More ›
---
July 11, 2018 | Pizza Headlines
Based in Belgium, unique library is dedicated to cataloging and saving sourdough from all over the world It's a Monday morning on Bainbridge Island in Washington State. The spring sun is trying its best to break through stubborn Pacific Northwest storm clouds and, except for the sound of commuters making their way to the Seattle ferry,… Read More ›
---
July 10, 2018 | Pizza Headlines
Go inside the anti-plastic straw trend Starbucks is the latest company to announce that the coffee giant will eliminate single-use plastic straws in all of its stores by 2020. That adds up to the elimination of more than one billion plastic straws per year. In Starbucks' official release, President and CEO Kevin Johnson said, "For… Read More ›
---