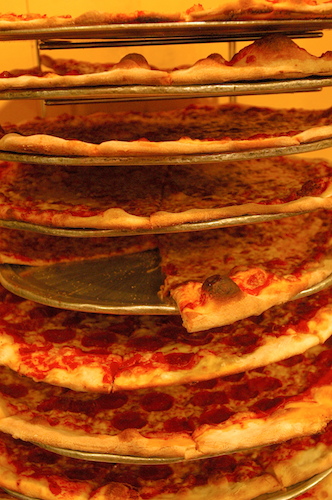 Collegiate resource site Great Value Colleges selects "50 Great (and mostly cheap!) College Town Pizza Shops." The ranking is based on proximity to a college, awards won, and Yelp ratings, as well as consideration for late hours, low prices and novelty.
Great Value Colleges' top 10 pizzerias include:
10. Frank Pepe Pizzeria Napoletana — New Haven, Connecticut
9. Antonio's — Amherst, Massachusetts
8. NeoPapalis — Ann Arbor, Michigan
7. Little Italy Pizzeria — Athens, Georgia
6. Milto's — Austin, Texas
5. Sliver — Berkeley, California
4. Italian Pizzeria III — Chapel Hill, North Carolina
3. Todaro Pizza — Clemson, South Carolina
2. Pizza Shuttle — Manhattan, Kansas
1. Benny Marzano's — Blacksburg, Virginia
Check out Great College Value's complete list and why each pizzeria was selected.
July 19, 2018 | Pizza Headlines
CHD Expert releases its 2018 Takeout, Delivery and Catering 5-Year Outlook for North America This week, CHD Expert, a foodservice industry data and trends company, released its findings on off-premise sales 5-year projections. In the "2018 Takeout, Delivery, and Catering 5-Year Outlook for North America," researchers found that total off-premise restaurant sales will surpass $300… Read More ›
---
July 16, 2018 | Videos
Editor-in-Chief Jeremy White discusses what wines to pair with pizzas, pastas and desserts. Read More ›
---
July 11, 2018 | Pizza Headlines
Based in Belgium, unique library is dedicated to cataloging and saving sourdough from all over the world It's a Monday morning on Bainbridge Island in Washington State. The spring sun is trying its best to break through stubborn Pacific Northwest storm clouds and, except for the sound of commuters making their way to the Seattle ferry,… Read More ›
---