And celebrates with an anniversary menu and free trip to Italy
(New Orleans, LA; August 1, 2016) – Reginelli's founder Darryl Reginelli just returned from Italy as passionate as ever about pizza. "What Italian boy doesn't grow up dreaming of owning his own pizzeria?" His special brand of enthusiasm and humor jump off the menu with the new New Orleans Italian favorite: Gumbo Pizza – andouille, spicy smoked tomato sauce, Crystal marinated shrimp, roasted eggplant, holy trinity & pickled okra.  His passion for great food expanded Reginelli's menu to include innovative appetizers, like the Summer Boil – crab boil marinated burrata on bruschetta with a ragu of roasted corn, oyster mushrooms, vidalia onions, roasted garlic cloves and andouille.
Reginelli's has been setting trends in the pizza business for 20 years.  "Back when we opened in 1996 there were no upscale, casual pizzerias around," explains Reginelli.  "We introduced New Orleans to a more innovative style of pizza.  We wanted to offer diverse toppings like kalamata olives, pancetta, and prosciutto.  Now these are staples around the city."
20 years later Darryl still loves pizza and New Orleans loves Reginelli's.  "There has been a lot of dough between 1996 and now," says co-owner Bruce Erhardt.  To celebrate this milestone along with their 400 employees at 11 locations spanning New Orleans, Baton Rouge, and Houston, Reginelli's is offering a special 20th Anniversary Menu.  Ten unique dishes appear as options on this 3-course menu.  Some long-time Reginelli's fans may recognize two of the dishes, as they are items from Reginelli's past.  Spinach Manicotti with a creamy lemon tarragon béchamel sauce and Boston Salad loaded with fresh vegetables including hearts of palm and marinated artichokes hearts were guest favorites that Reginelli was happy to have the opportunity to serve again.
The 20th Anniversary Menu also features brand new dishes that showcase the versatility of Reginelli's, including a Watermelon Salad garnished with feta cheese, fresh mint and candied southern pecans.  Refreshing!  And of course pizza made it onto the menu, with some innovative and exciting topping combinations.  The Figgin' Pizza features fresh figs, prosciutto, ricotta and fontina, baked and topped with arugula and aged berry balsamic.  And an inventive take on a familiar dish reimagined is the BLT Pizza, topped with pancetta, fresh spinach and roma tomatoes.  The 3-course menu is available starting August 8th and includes an appetizer, entrée, and dessert for $20.  Dessert options include the perfect New Orleans-Italian treats: Angelo Brocato's Spumoni or Lemon Ice.
The 20 year celebration continues as Darryl shares the source of his inspiration with a giveaway for a free trip to Italy!  The winner of the giveaway will receive roundtrip airfare for two to Italy, a 6-night stay in a four star hotel in Rome, guided Roman Adventure tours, and a $500 American Express gift card.  "We could not have made it to 20 years without the love and support of all of our fans," says Reginelli.  "We wanted to give back with a trip to the birthplace of pizza."  To enter the contest, visit reginellis20th.com or dine in at any Reginelli's for even more chances to win.
Cheers to 20 years!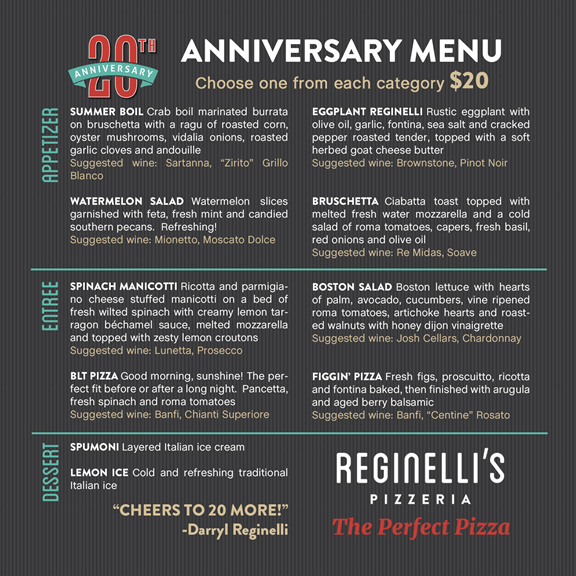 Reginelli's Pizzeria is an upscale, casual dining establishment featuring hand-tossed pizzas, boldly flavored appetizers, signature salads, calzones, baked pastas, and sandwiches made with focaccia and grill-pressed pita. Reginelli's has 11 locations throughout New Orleans, Baton Rouge and Houston. Reginelli's is open daily and offers full-service dining, take-out, delivery and catering. Find out more about all locations at reginellis.com. Reginelli's is also at facebook.com/reginellispizzeria and at Twitter @ReginellisNOLA.  Enter to Win a Trip to Italy at reginellis20th.com.  No purchase necessary.  Contest rules apply.  Reginelli's 20th Anniversary Menu begins August 8th.  View the full menu at reginellis.com/menus.
June 21, 2018 | Press Releases
ESCALON, CA, June 20, 2018 – Escalon Premier Brands and Polly-O Cheese would like to thank everyone who visited their booth at the International Pizza Expo this year. Show attendees were invited to scan their badge to enter to win the "Capture a Better Slice" giveaway. Pinthouse Pizza from Austin was the lucky winner of… Read More ›
---
June 19, 2018 | Press Releases
Elgin, Ill. (June 18, 2018) –Mark Easterday has been promoted to the newly created position of Executive Vice President of Middleby Brand Sales. Mark will be responsible for oversight of the Middleby Representative Groups in the U.S. and Canada.  Mark will direct the sales efforts and coordinate activities across the entire sales representation organization, working… Read More ›
---
June 18, 2018 | Press Releases
TROY, Ohio (June 14, 2018) — Hobart, the premium commercial food equipment manufacturer known for designing and building some of the most reliable, must-have equipment, hosted two food equipment giveaways recently and has announced the winners of both a custom-painted mixer and a food processor. Auniessa Asta, owner of 414 Pub & Pizza in Tempe,… Read More ›
---