If you notice an influx of customers ordering your larger pizzas, NPR might have something to do with it. Its report, "74,476 Reasons You Should Always Get The Bigger Pizza," has gone viral with its pizza math rationale.
According to the Planet Money article, 74,476 prices from 3,678 pizzerias in the U.S. were analyzed on GrubHub. The graph below shows that a 16-inch pizza averages nearly eight cents per square inch, while an eight-inch averages about 17 cents per square inch.
The findings also indicated that it would take four eight-inch pizza (priced at $33) to equal one 16-inch (at $16.59).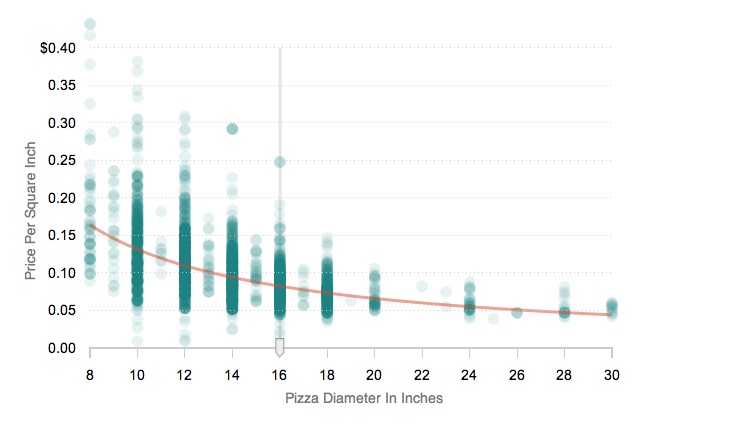 Planet money also produced a counterpoint, One Reason To Get Whatever Size Pizza You Want, citing negative marginal returns on pizza. Give it a read.
Pizza size pricing can be a complicated process. Remember, a 14-inch pizza will contain nearly twice the amount of sauce, cheese and toppings of a 10-inch pizza. When setting your menu pricing, this is a critical point. Read more about pricing pizza sizes.
June 21, 2018 | Press Releases
ESCALON, CA, June 20, 2018 – Escalon Premier Brands and Polly-O Cheese would like to thank everyone who visited their booth at the International Pizza Expo this year. Show attendees were invited to scan their badge to enter to win the "Capture a Better Slice" giveaway. Pinthouse Pizza from Austin was the lucky winner of… Read More ›
---
June 19, 2018 | Press Releases
Elgin, Ill. (June 18, 2018) –Mark Easterday has been promoted to the newly created position of Executive Vice President of Middleby Brand Sales. Mark will be responsible for oversight of the Middleby Representative Groups in the U.S. and Canada.  Mark will direct the sales efforts and coordinate activities across the entire sales representation organization, working… Read More ›
---
June 18, 2018 | Press Releases
TROY, Ohio (June 14, 2018) — Hobart, the premium commercial food equipment manufacturer known for designing and building some of the most reliable, must-have equipment, hosted two food equipment giveaways recently and has announced the winners of both a custom-painted mixer and a food processor. Auniessa Asta, owner of 414 Pub & Pizza in Tempe,… Read More ›
---