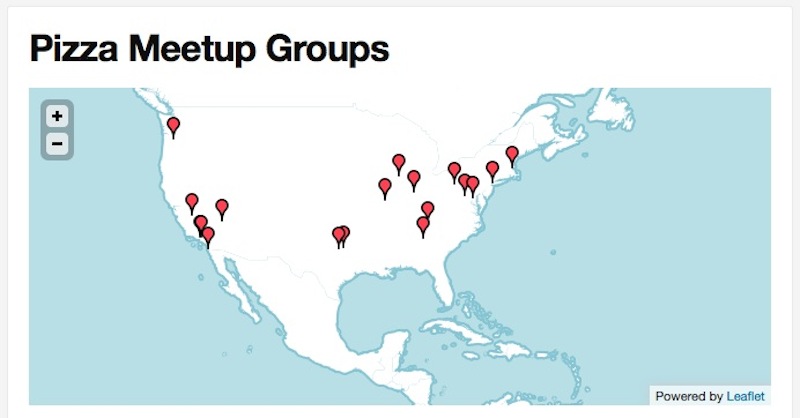 A Temple Hills, Maryland couple has founded Pizza Addicts Anonymous,  a group of 150 members who share their love for pizza. The club, which formed in April, travels to various pizzerias each month, as well as gathering to celebrate pizza-related holidays. Check out more about this club at Gazette.net.
Pizza Addicts isn't the first club of its kind. We found pizza clubs in Chicago, New York and Pittsburgh, etc. On the popular group site, Meetup.com, we discovered dozens of pizza groups across the country, visiting pizzerias once a month or even once a week.
So you've found a pizza club in your region. What's next? Contact the group's leader or administrator and invite them to try your pizza. These groups often blog about their pizzeria visits. Not only are you getting a new, paying customer, you are also getting a word-of-mouth ambassador and broadening your online identity and reputation.
Be warned: Pizza fans will also be your harshest critics. Be consistent and on top of your game every time. You never know when a pizza club will drop in on your pizzeria.
September 22, 2018 | Pizza Headlines
Conversations with three seminar and demo presenters: Tony Gemignani, owner of Tony's Pizza Napoletana and Pizza Rock; Nick Bogacz, owner of Caliente Pizza & Draft House; and Eric Shepherd, Director of Marketing & Communications for OTTO Pizza Pizza & Pasta Northeast will take over the Atlantic City Convention Center next month. The show is October 3 and 4 and… Read More ›
---
September 21, 2018 | Pizza Headlines
Educational program kicks off Pizza & Pasta Northeast before show floor opens We are a few weeks away from Pizza & Pasta Northeast in Atlantic City. It's time to start planning your schedule. The Exhibit Hall opens at 11 a.m. on both days of the show, Wednesday and Thursday, Oct. 3 – 4. But opportunities… Read More ›
---
September 19, 2018 | Videos
Josh Keown takes a look at the workshops offered on October 3rd and 4th at Pizza & Pasta Northeast. Read More ›
---