Teenage Mutant Ninja Turtles-inspired pizza features 101 cheeses
On Sunday, April 23, Scottie Rivera and his crew at Scottie's Pizza Parlor in Portland, Oregon, set a new world record with its Centouno Formaggio (101 Cheese Pizza). The pizza has been submitted to Guinness World Records for the "Most Cheeses on a Pizza".
"This pizza is inspired by a scene in a recent Teenage Mutant Ninja Turtles film which features a 'Noventanove Formaggio' 99-cheese pizza, which the turtles marvel at as a 'culinary impossibility,'" Rivera says. "World Champion Pizzaiolo Johnny Di Francesco made a 99-cheese pizza the year of the film's release, and we have 'topped' his pizza record and earned our own title!"
What's on the Centouno Formaggio? Some of the long list includes: aged, part-skim mozzarella stuffed in its crust; a shredded 55-cheese blend (including Abbaye de Belloc, Asiago Mezzano Forma, Bethmale Traditional Chevre, Black Betty Gouda and Fontina val d'Aosta Alpeggio); a blend of Scottie's house ricotta and 36 soft cheeses (including Brie Mon Pere, Bonde d'Antan, Rosies Roboila, Crescendo and Enchante); and a blend of nine grated cheeses (including Grana Padano, Manchego Media Curacio and Pecorino Maschio). To top it off, the pie is finished with a frico crisp of baked Parmiggiano Reggiano. See the full list of cheeses.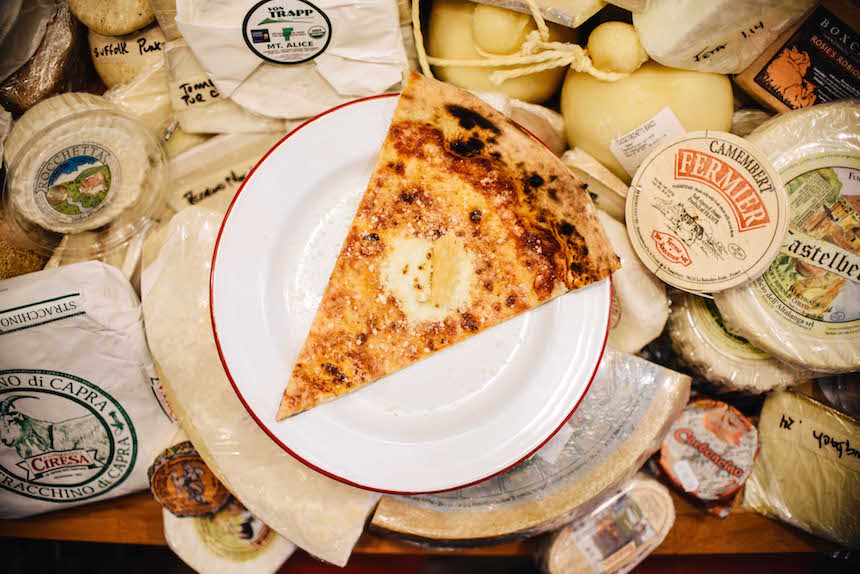 Customers were able get a slice of the 101 Cheese Pizza for $2 or $16 for the whole pie (Sunday only). Scottie's also sold commemorative T-shirts for $20.
To pull off the event smoothly, the pizzeria instituted some limitations: first come, first serve (no phone orders, no delivery); limit two slices per person, whole pies only if four people are present; no in-house delivery of regular menu; Centouno Formaggio was the only slice offering for the day, with no substitutions; whole-pie orders from the regular menu were filled, with wait times around 20 to 30 minutes; and limit on the number of grandma-style pies.
Congratulations Scottie's Pizza Parlor!
July 11, 2018 | Pizza Headlines
Based in Belgium, unique library is dedicated to cataloging and saving sourdough from all over the world It's a Monday morning on Bainbridge Island in Washington State. The spring sun is trying its best to break through stubborn Pacific Northwest storm clouds and, except for the sound of commuters making their way to the Seattle ferry,… Read More ›
---
July 10, 2018 | Pizza Headlines
Go inside the anti-plastic straw trend Starbucks is the latest company to announce that the coffee giant will eliminate single-use plastic straws in all of its stores by 2020. That adds up to the elimination of more than one billion plastic straws per year. In Starbucks' official release, President and CEO Kevin Johnson said, "For… Read More ›
---
July 1, 2018 | Pizza Headlines
Don't let 'em sleep on you — shake things up from time to time If you enter your restaurant through the front door every now and again, instead of the back door, you'll probably see a litany of things you want to change: how the front door is cleaned, how the lights hit you when… Read More ›
---