Super Bowl XLIX means big business for the pizza industry. From dips and wings to unique pizzas, Pizza Today's recipe collection is filled with crowd-pleasing Super Bowl recipes. Check out five Super Bowl recipe ideas:

Are those kettle potato chips on a pizza? Yes they are. We thought it was a little unorthodox until we tried it in the Pizza Today Test Kitchen. Michael Shepherd, owner 600 Downtown in Columbus, Ohio, may have created one of ultimate game-day pizzas. Other ideas include: the spicy capicola Yo Pauly; Chicken Wing Pizza; and Buffalo Chicken Pizza. Check out more creative pizza recipes.

Sliders make a great game-day offering as appetizer or even as a meal with a side. Give sliders an Italian flair with this Caprese meatball version. Fresh mozz and basil leaf separate this slider from the ordinary.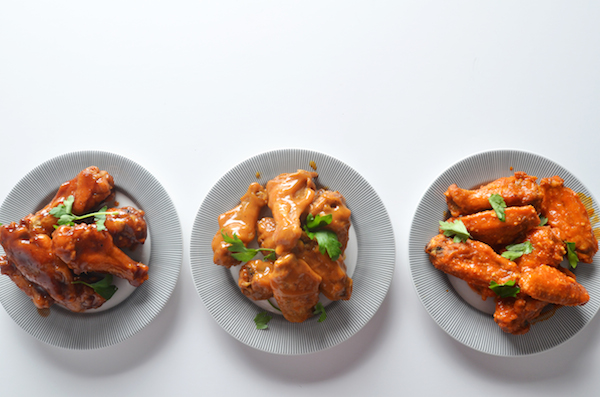 During Super Bowl XLVIII, the National Chicken Council (NCC) estimated that 1.25 billion wings were consumed during the championship weekend. Whether fried or baked, get creative with these chicken wing recipes:
Coal Fired Limoncello Chicken Wings
Italian Wings
Mexican Wings
Wings with Mild Garlic Sauce
Jerk Chicken Wings
Cuervo Gold Boneless Chicken Wings

Watching the big game is an occasion that screams for a large platter of chips or bread and dip? Cold or warm, dip appetizers are sure to be on football fans' tables. Give these a go: Buffalo Chicken Dip, Artichoke & Spinach Dip and Roasted Red Pepper Dip.

Take the idea of breadsticks to another level with this crowd-pleasing appetizer. The East Coast favorite Garlic Knots are also low-cost, quickly devoured apps.
Still looking for more inspiring Super Bowl recipes, go to Pizza Today recipes.
February 22, 2018 | Pizza Expo News
Our first episode of the Pizza Expo Update Show will get ready for International Pizza Expo next month. Managing Editor Mandy Detwiler sits down with show director Bill Oakley to give you the skinny on what to expect on the show floor. Bill outlines this year's show floor changes. Pizza Expo will take place in… Read More ›
---
| Videos
Find out what to expect on the show floor at International Pizza Expo, March 20-22. Managing Editor Mandy Detwiler interviews show director Bill Oakley on show floor changes and its new location in the South Hall of the Las Vegas Convention Center. Read More ›
---
February 21, 2018 | Pizza Headlines
By Jeremy White Want a first-hand glimpse of what's going to be happening at International Pizza Expo 2018 in Las Vegas? Well, you're in luck — Pizza Today is launching the Pizza Expo Update Show tomorrow! From an interview with show director Bill Oakley to a look at the competitions and everything in between, the… Read More ›
---