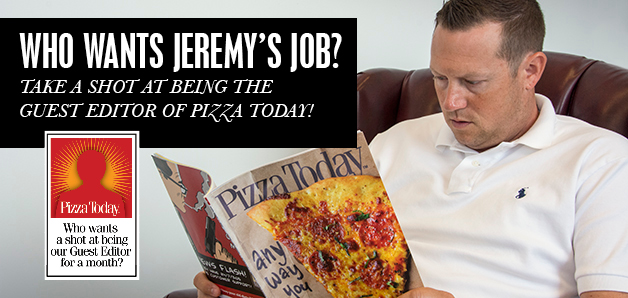 We work hard all year long to bring Pizza Today magazine to you. We need a break!
Who wants to be EDITOR-IN-CHIEF of Pizza Today
for our September issue?
As our guest editor-in-chief, you will get to:
visit the Pizza Today offices
choose stories
pick the cover
be our food stylist in the Pizza Today Test Kitchen
write the Commentary on page 3 of the September issue
oversee our September issue photo shoot
select magazine photography
be the star of our Conversation page
host your own Pizza Today video or two
Other great benefits include:
A round-trip coach flight to Louisville, Kentucky during the week of July 20, 2014
Three-night stay in downtown Louisville
Meals are provided
Transportation to and from Louisville International Airport
Who's eligible to enter?
All contestants must currently own a pizzeria in the continental United States and supply proof of ownership.
Entrants agree to travel the week of July 20th, 2014 to our offices. Strict adherence to this schedule is required (Hey, we've got deadlines!).
Pizza Today and Pizza Expo writers/columnists are not eligible.
To enter:
E-mail managing editor Mandy Detwiler at mdetwiler@pizzatoday.com and tell us why you deserve to oversee the production of the September issue of Pizza Today. Please include a photograph of you at your pizzeria for use on the PizzaToday.com online balloting, along with full contact information (including a cell phone number!).
All submissions must be received by Monday, June 23, 2014 at 5:00 p.m. EDT to qualify for entry.
How a winner will be selected?
Potential candidates will be chosen by the PT staff based on creativity, originality, interest and ability to travel within the parameters of our publishing schedule.
Select entries will be featured online at PizzaToday.com. Visitors to the Web site will vote for Pizza Today's September issue Guest Editor-In-Chief.
Online ballots at PizzaToday.com will open on Wednesday, June 25, 2014 at 12 noon EDT and online voting will close on Monday, June 30, 2014 at Noon EDT.
Voting is limited to once per day so get your friends, family and customers in on the action.
The winner will be announced on Monday, June 30, 2014 at 3:00 p.m. EDT
August 14, 2018 | Pizza Headlines
A dog-friendly patio is more than a checkbox I take my hound dog everywhere. At least once a week or so, you can find me and my Beagle having dinner at one of Louisville's dog-friendly patios. In fact, I keep a running list of the best patios with the best food and craft beer. After… Read More ›
---
August 9, 2018 | Videos
Watch our first episode of the Pizza & Pasta Northeast Update Show. Time to get excited about PPNE in Atlantic City October 3-4! Read More ›
---
New Port Richey, FL. – August 9, 2018 – Welbilt, Inc. (NYSE:WBT), announced today that Hubertus M. Mühlhäuser is resigning as a Director, President and CEO of Welbilt, effective August 31, 2018, to become the Chief Executive Officer and a Director of CNH Industrial N.V. (NYSE:CNHI), a $27 billion global manufacturer of capital goods comprising… Read More ›
---