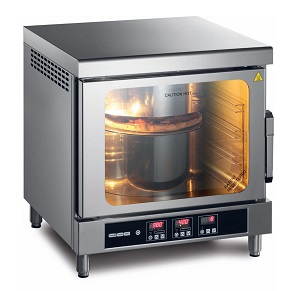 Scandicci (Fl), Italy (December 27, 2013) – Giga Grandi Cucine, a leading global manufacturer of professional cooking and catering equipment, is proud to announce the rollout of its newest product, the Mithiko Fast Oven.
"Mithiko is the most versatile counter-top pizza oven on the market, with consistent results comparable to those from a traditional wood-fired oven," said Najib Maalouf, President of Giga.
"Its unique design delivers rapid cooking, meaning it can turn out a fresh dough pizza in as little as 90 seconds. The oven also delivers a consistent bake that will produce delicious food every time."
The versatile Giga Mithiko Fast Oven can also be used as a standard convection oven for baking or grilling. This, combined with its compact footprint, makes for perfect use in bars, pubs, restaurants, hotels, snack bars and any business wishing to serve an authentic product without a heavy investment in equipment, specialized staff, or training.
Lower power consumption and double glazed doors are two new innovations designed to save operators money and energy. It is easy to operate and the computer controlled temperature and cooking times produce consistent results. The counter top unit is also perfect for baking lasagna, croissants, cakes, pies, pasties, potatoes and oven chips, and for toasting English muffins and all types of bread products.
Giga Grande Cucine is a division of The Middleby Corporation, a world leader in commercial cooking, information on Giga is available at www.gigagrandcucine.it.
Contact: Jon Schroeder (847) 429-7777
August 14, 2018 | Pizza Headlines
A dog-friendly patio is more than a checkbox I take my hound dog everywhere. At least once a week or so, you can find me and my Beagle having dinner at one of Louisville's dog-friendly patios. In fact, I keep a running list of the best patios with the best food and craft beer. After… Read More ›
---
August 9, 2018 | Videos
Watch our first episode of the Pizza & Pasta Northeast Update Show. Time to get excited about PPNE in Atlantic City October 3-4! Read More ›
---
New Port Richey, FL. – August 9, 2018 – Welbilt, Inc. (NYSE:WBT), announced today that Hubertus M. Mühlhäuser is resigning as a Director, President and CEO of Welbilt, effective August 31, 2018, to become the Chief Executive Officer and a Director of CNH Industrial N.V. (NYSE:CNHI), a $27 billion global manufacturer of capital goods comprising… Read More ›
---