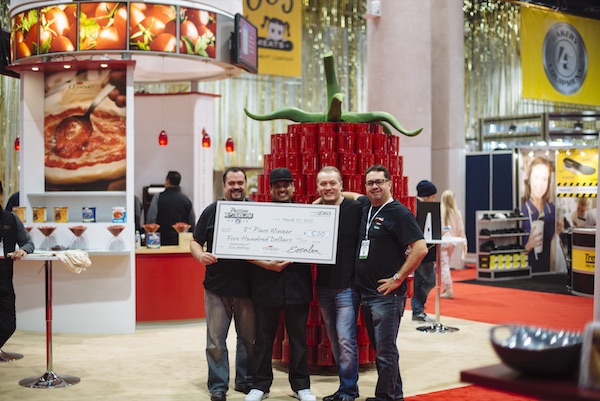 ESCALON, CA, April 11, 2016—One winner from this year's International Pizza Challenge saw his passion for quality ingredients pay even more. Tony Ganesh from Panino's Pizzeria placed 3rd in the Pan Division. He received $500 for winning the challenge. He also received an extra $500 from the Escalon Passion Pays Promotion, which offers International Pizza Challenge Winners additional prize money for using Escalon products in their recipe.
His winning pizza, Grandma Pizza Pie, is a thinner version of a Sicilian pizza that features stuffed green peppers with Italian Barese Sausage and rice, a cheese fondue base made of gorgonzola, fresh mozzarella and heavy cream, and an authentic sauce made with a combination of 6-in-1 Peeled Ground Tomatoes & Bontá Purée—both from Escalon.
Panino's may take this winning recipe to Parma, Italy when they travel in April for the 25th Annual World Pizza Championships with the US Pizza Team. Escalon plans to supply the product they need for this competition as well.
To learn more about the International Pizza Challenge and how contestants are judged, visit http://www.pizzaexpo.com/events/international-pizza-challenge.
About Panino's:
Since 1997, Panino's Pizza has offered both homestyle Italian and American cuisine in three locations throughout Illinois. Panino's is also a member of the U.S. Pizza Team. For more information, visit www.paninospizzeria.com
About Escalon:
A division of the KraftHeinz Company, Escalon produces fresh-packed California tomatoes and tomato sauces made especially for operators with an abiding "passion for better." Escalon's complete line of more than 30 products includes formats ranging from whole peeled pear tomatoes to fully prepared sauce to organic and Hispanic-style tomatoes. For more information or to sign up for Escalon's insight- packed Better Together newsletter, visit www.escalon.net.
July 19, 2018 | Pizza Headlines
CHD Expert releases its 2018 Takeout, Delivery and Catering 5-Year Outlook for North America This week, CHD Expert, a foodservice industry data and trends company, released its findings on off-premise sales 5-year projections. In the "2018 Takeout, Delivery, and Catering 5-Year Outlook for North America," researchers found that total off-premise restaurant sales will surpass $300… Read More ›
---
July 16, 2018 | Videos
Editor-in-Chief Jeremy White discusses what wines to pair with pizzas, pastas and desserts. Read More ›
---
July 11, 2018 | Pizza Headlines
Based in Belgium, unique library is dedicated to cataloging and saving sourdough from all over the world It's a Monday morning on Bainbridge Island in Washington State. The spring sun is trying its best to break through stubborn Pacific Northwest storm clouds and, except for the sound of commuters making their way to the Seattle ferry,… Read More ›
---