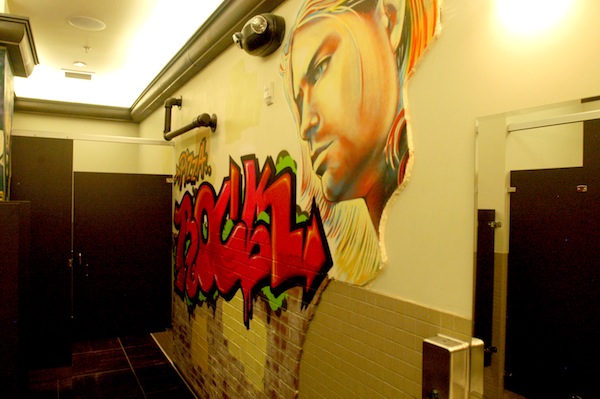 Sure it sounds strange but I meet pizzeria owners all of the time who want to give me a tour of their restrooms. That's a great sign to me. It tells me that the operation take great pride in every aspect of their restaurant. Cleanliness, I expect, but some are going well beyond to incorporate the look and the feel of their pizzerias in their restrooms. And I like it.
Take Pizza Rock in Sacramento. Murals line the restroom walls to give the impression that guests have stepped into a back alley (but a clean one with modern fixtures). It goes with the company's edgy, rock n roll theme.
The fresh, updated restrooms in Steel City Pizza Company in Charleston, South Carolina, carry the pizzeria's branding and theme with a poem scribed on its wall about the Pittsburgh working man.
On a recent trip to Phoenix, I received a grand tour of a 1950s style restroom with triangle tiles and mid-century fixtures and furniture — a perfect match to the ambiance that reverberates through the restaurant. You'll have to check out the July issue to see me on that pizzeria.
The common thread that these three pizzerias share is that a brand and associated themes and decor can carry right into the restrooms. Are there elements that can turn your stark, bland restroom into a conversation starter when a guest returns to their table from a restroom visit?
Think creatively and you can go beyond the boring, institutional restrooms. Bringing your theme into the restroom doesn't have to require a $20,000 makeover. Perhaps it's a mural on the wall, changing out fixtures or lighting. Here are some ways to incorporate design and décor themes in the restrooms:
Flow dining area color scheme into restrooms
Look to design styles that match the rest of the interior
Use colorful plants (real or silk) to bring in life and vibrancy
Bring appropriate wall art into the space
Use painted/stamped imagery that fits your brand, logos and/or customer base or neighborhood
Affix materials as trim or relief décor that are common in your interior (wood, metal, etc.)
Frame mirrors that coordinate with interior décor
If Pizza Today came to your restaurant today, would you want to show off your restrooms?
So let's see those restrooms!