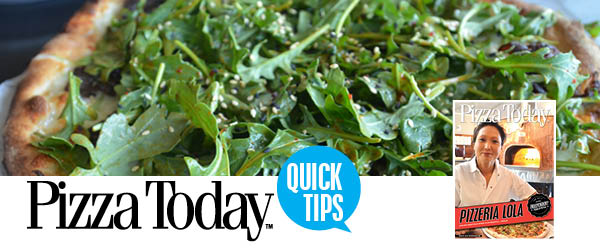 Industry Headlines for August 27, 2014
Preventing Cross-Contamination
Today's customers are more aware of food allergies than ever before. Advances in medicine as well as a growing attention to what we put into our bodies and how food impacts us has led us to be more cautious. And that translates into making us more demanding.
While no one can say for sure whether food allergies are on the rise, the awareness of them certainly is climbing. While milk, peanuts, eggs and shrimp are the big culprits, humans can be allergic to virtually anything. When a customer informs one of your servers that he or she is allergic to something, you want to have confidence that your pizzeria has taken the proper steps in terms of handling, storage and preparation.
Learn more about avoiding cross-contamination in your pizzeria here.
All Wrapped Up
Wraps are a delicious, quick and portable lunch option for your diners. For you, they're quick, inexpensive and easy to produce. Sounds like a win-win, right?
The beauty of wraps is that they are essentially a twist on the classic sandwich. Which means everything is fair game — from ham, cheese and mayo to pesto sauce, chicken and artichokes. There are no limits, so be creative.
Looking for some awesome wrap ideas? Look no further!
Calling All Winos
This isn't 1984. Wine has a place on your menu. In fact, nearly 40 percent of American pizzerias now serve wine. And, why not?
Wine can be a profit driver. Ask your distributor for tips on which varietals do the best in your area. Offer tasting events for customers and educate your servers on ideal pairings. A well-rounded wine program can make a big difference. Get started today.
Reputation Management
At the end of the day, your reputation is all you've got. Acquire a bad one and your doors won't stay open long. So, how do you manage and shape what is being said about you, especially since sites like Yelp! allow customers to critique you in real time?
First, monitor your online reputation. Be aware of the review sites that are prevalent with your customer base and know what is being said about you. Secondly, take the feedback to heart and work to correct any deficiencies.
Associate Editor Denise Greer looked into reputation management for our readers recently. To see what she discovered, check out her article here.
Hot on PizzaToday.com
Little Caesars rolls out pretzel pizza crust   //   Science confirms mozzarella to be optimal pizza cheese