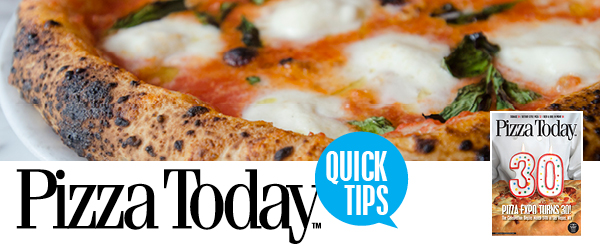 Industry Headlines
March 12, 2014
Upselling appetizers
Your appetizer lineup has the potential to be one of your more profitable menu sections. While many diners forgo dessert because they're full by the time the offer arrives, the reverse is true with apps — you have the chance to sell them while hungry patrons anxiously await their entrees.
Whether your offerings are basic (think garlic knots) or more upscale (artisan cheeses, olives and cured meats), gently leading your guest to spring for an appetizer is easier than you might think. We've got some expert advice on the matter for you.
Wine and pizza — people are digging the combination
Beer may be the preferred pizza beverage for many American adults, but there's no question wine's swooning popularity and Italian roots make it a great option as well. In fact, on PizzaToday.com we recently linked to a Los Angeles Times article that identified some ideal wine and pizza pairings.
The most important aspect of offering wine in your pizzeria? Knowledgeable servers. Take a look at how to bring your servers up to speed as well as how to market wine.
[http://www.pizzatoday.com/industry-news/pizza-headlines/wine-gaining-ground-pizza-companion/]
Calzone dough done right
Do you need to formulate special dough just for calzones? No! We're asked this question a lot by newbies, but the fact of the matter is that your pizza dough will do the trick just fine. That being said, some folks want to make their calzones stand out from their pizza and don't mind the extra labor. Hey, if you want to make a special calzone dough, who are we to stop you?
To see our Dough Doctor's take on the issue, as well as learn a calzone-specific dough recipe, check out this article.
Using incentives to curb turnover
While high employee turnover plagues the restaurant industry, we've visited hundreds of pizzerias over the years that have won the battle and are able to keep staff happy and in tact. While it's an art as well as a science, fighting turnover could be simpler than you think. We've found that a well-run incentive program can do wonders when it comes to giving employees a reason to stay.
"Too often, we become our worst enemy and assume turnover," says Robin DiPietro, associate professor at the School of Hotel, Restaurant and Tourism Management at the University of South Carolina. "We need to see staff as long-term employees before they do."
A positive work environment with competitive wages and benefits, advancement opportunities, responsive management and an incentive program forms a strong foundation for keeping employees.
Learn a little about incentive programs in this article.
Download the International Pizza Expo App Today — Free!
The "Show of Shows" is bigger and better than ever this year as the International Pizza Expo celebrates its 30th anniversary next month. Map out your show plan and schedule with the Pizza Expo mobile app — available for the iPad, iPhone, Android and Windows Phone devices.
The Pizza Expo mobile app features a tradeshow schedule that includes a list of events, speakers, exhibitors, sponsors, a shuttle bus schedule and maps. In addition, it gives you access to real-time event information and updates — and it even connects you with Twitter and Facebook right from the app.
Download the Pizza Expo app at iTunes for iPhone and iPads and Google Play for Android and Windows phones.
Hot on PizzaToday.com
800+ Business-boosting Recipes  //  How to get media coverage  //
Dough Doctor: How sugar affects dough