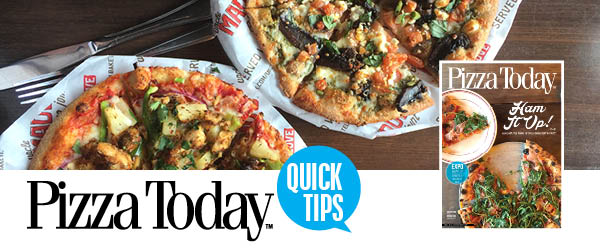 Industry Headlines for May 6, 2015

Cooking with Wine
Looking to build a unique pasta sauce? Venture no further than your wine list to pull off something bold, unique and complex.
Cooking down a sauce with wine will result in a bold flavor. The alcohol cooks out of the dish, but the remaining effects are palate pleasing. Avoid so-called "cooking wines" that are too salty and instead use an inexpensive drinking wine. The acidic touch it adds to the dish will be noticeable.

Burst the Bubble
Some operators don't mind serving a bubbly crust — they feel like it adds a rustic characteristic. Others hover over the oven and fret over any bubble that rises.
If they bother you and you want to prevent them, then you need to focus on dough temperature and fermentation time. As fresh dough ferments, the severity of its bubbling during baking decreases. Our dough doctor, Tom Lehmann, has addressed the topic for us on numerous occasions. He says proper storage steps can nearly eliminate the problem.
Learn what steps you can take to prevent bubbling — and more — here.

Clean Sweep
If your restaurant isn't as spic-and-span as it could be, then you're probably losing customers. There's nothing quite like a dirty facility to turn off would-be regulars. Customers notice everything about a pizzeria's public areas.
A clean restaurant, consultants say, fosters trust. Customers make the leap that food safety and dining room appearance go hand in hand. But they aren't just looking for dirty floors or unkempt restrooms. You need to be on your game in all facets.
"Menus that are sticky, have food between the pages, (or) are worn, torn or tattered offer the opportunity for you to not impress your guests even before they try your excellent cuisine," explains Alan Guinn, managing director and CEO of Guinn Consultancy Group.
What other areas are you possibly overlooking? Read up on some cleaning tips and make sure your customers only see you put your best foot forward at all times.
The Service Standard
Lots of places have great pizza, and that's clearly half the battle. But customers don't often return to restaurants where the service is poor — regardless of how good the food happens to be. Think your pizza is so spectacular that you can offer terrible service and still keep the masses happy? Think again.
Paul Paz, Founder of Waiter's World, has made a career of exceeding the expectations of his customers. He says operators need to "coach your staff on service standards … and the importance of positive service-sales execution."
How do you that, exactly? Click here to read Paul's article.
Hot on PizzaToday.com
Fast + Casual: The movement has legs, and here's why
In the Customer's Shoes     //   In Too Deep: How to avoid unwanted attention by the Department of Labor