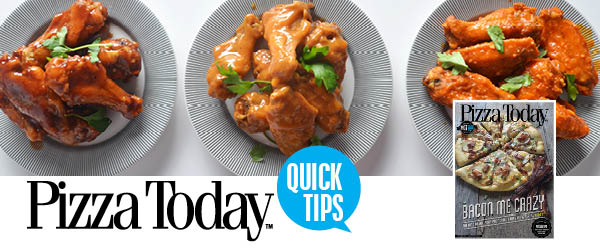 Industry Headlines for October 8, 2014

Who's HOT?
Pizza Today's ranking of America's 100 largest independent pizza operations (based on sales) is out. Who made the list?
Marco's Coal Fired Pizza in Denver, Colorado; Pies & Pints in Fayetteville, West Virginia; Pizzeria Lola in Minneapolis, Minnesota; Cane Rosso in Dallas, Texas; Master Pizza in Chagrin Falls, Ohio and Tomato Pie Pizza Joint in Los Angeles, California all climbed 10 or more spots from last year's list.
Explore the 2014 Hot 100 Independent Pizzerias list.
Make mine whole wheat
As Americans look to get more whole grains into their diets, whole-wheat crusts have become a "go-to" option on pizza menus.
To achieve a flavorful wheat crust, Dough Doctor Tom Lehmann suggests, "Use butter to replace the usual olive oil or vegetable oil in the dough. This imparts a wonderfully rich flavor to the finished crust. While not needed, if you opt to use sugar in your dough, try using either honey or non-diastatic (non-enzyme active) malt powder or syrup in the dough as this will provide for a very nice background flavor in the finished crust."
Check out more ways to handle whole-wheat dough.
Represent!
Associate editor Denise Greer's odd conversation with a pizzeria's publicist recently has prompted her to ask: Who speaks for your pizzeria? The spokesperson is an important role and it's a position that should be carefully considered. You want a charismatic person to be your restaurant's public face. That may be you or it might be a general manager, chef, kitchen manager or public relations professional.
A spokesperson should be able to clearly and enthusiastically state everything from your concept and its origin and history to the menu and points of separation from competitors. But, be warned, never disparage the competition or go "off the record." Everything you say to a reporter can be used.
Explore more spokesperson dos and don'ts.
Committed
Being a pizzeria operator can be a 24/7 business. But it doesn't have to be. You can free yourself up to work on your business, instead of spending all of your time working in your shop. This is where your trusted managers come into play.
Giving managers a greater role in the operation by increasing manager responsibilities and incentives can promote productivity, morale and free up valuable time for the operator. Have managers sign a "Manager Commitment Agreement," outlining your expectations.
Read Big Dave Ostrander's "Manager Commitment Agreement."
Hot on PizzaToday.com
You're bacon me crazy
The king of all pork products is tops in pizzerias
Places that Rock: Emily / Joe Squared / Transfer Pizzeria    //   Service: Is this going to be on the test?