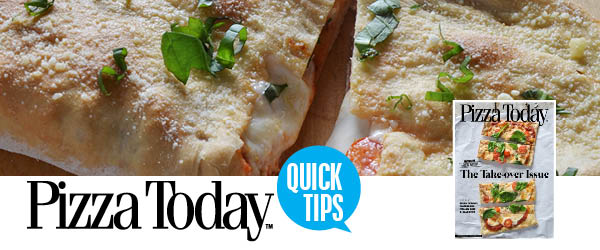 Industry Headlines for September 10, 2014

September is National Food Safety Month
Discussing food safety measures with your employees is something that should never go out of style. After all, constant vigilance is the name of the game. Building a safe food culture in your establishment takes work from you, your managers and your hourly employees alike.
Freelance writer Daniel Smith recently took a look at Food Safety 101. In the process he interviewed experts and operators alike. Click here to see what he learned and how it can help your pizzeria.

Pizza Today Collecting Recipes for Menu Guide
Last December's Menu Guide was such a hit that we're doing it again! In an effort to help our readers get creative with their 2015 seasonal menus, we're compiling top-notch pizzeria recipes from some of the industry's biggest names.
If you have a great recipe that should not escape our attention, e-mail it to Jeremy White, jwhite@pizzatoday.com.
Check out last year's menu guide here.
Do As the Romans Do
Roman-style pizza is quickly gaining in popularity across the country. Its resurgence is similar to the rise we saw in Detroit-style pizza just a couple of years ago. It's a fun style, to be sure. In fact, Respecting the Craft columnist Tony Gemignani says it's one of his personal favorites.
So, what exactly is Roman-style pizza? Find out here.
Should You Launch a Smartphone App?
An independent pizzeria with a mobile app? Seriously?
Those questions might come to your mind. This question comes to our mind: why not?
It's not as daunting a process as you think, and the rewards could be huge. Why let the large corporate chains dominate this territory?
For pizzerias, apps can actually be a cost-effective tool to stand out in a crowded marketplace and jumpstart sales. Talk about street cred!
Click here to learn more about why you should consider a mobile app.
Hot on PizzaToday.com
Dough Doctor: Cut it out      //     Farina Pizzeria, Albuquerque, NM — High Desert Destination