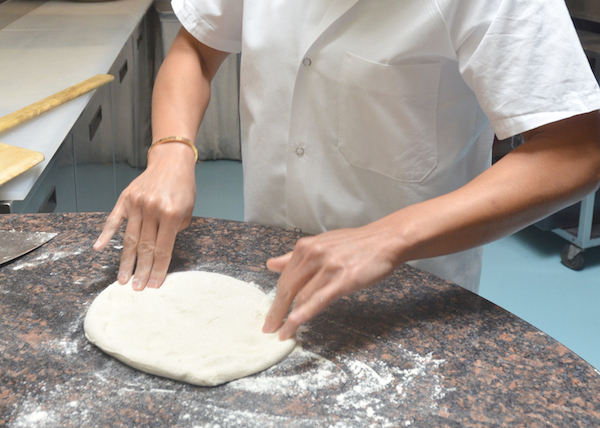 Handling your dough is so important when it comes to making breads and pizza. Your hands are the tools that help you achieve an amazingly light crumb structure in your bread or pizza. Unfortunately, we can screw it up very easily. In other words, all that work it took and all of those hours of making the very best dough can be gone if you are not good with your hands.
When making breads and handling your pizza, remember that the key is to be as soft and delicate with your dough as you can. Individual folding, shaping and transferring is so important for each and every type of bread. At the beginning of the process, after the mixing, you can be a little tough on your dough before you bulk ferment. Afterwards, when shaping a boule, baguette or batard, you can be semi-firm and let your table and hands do the shaping naturally as you work. But after you have your rest time and you do the transfer from the peel into your oven, you want to be sure to "treat it like a lady" and pay major attention so you don't mess it up! Easier said than done in the beginning, but stick with it and you will get the hang of it soon enough.
Here is a recipe to get you started on the quest of offering your customers artisan bread. It begins with mixing a poolish and letting it ferment 14-16 hours. The recipe is presented in "baker's percent," which I understand can be somewhat confusing to those who aren't accustomed to it. Thankfully Pizza Today readers have seen this format before in Tom Lehmann's "Dough Doctor" columns. Just remember that your flour weight, whatever it happens to be, is 100 percent. The amount of every other ingredient is expressed as a percentage of your flour weight. For the poolish, use 1.999 pounds of flour to start. For the final dough recipe, use five pounds of flour to start.
RESPECTING THE CRAFT features World Pizza Champion Tony Gemignani, owner of Tony's Pizza Napoletana in San Francisco and Pizza Rock in Sacramento.  Tony compiles the column with the help of his trusty assistants, Laura Meyer and Thiago Vasconcelos. If you have questions on any kitchen topic ranging from prep to finish, Tony's your guy. Send questions via Twitter @PizzaToday, Facebook (search: Pizza Today) or e-mail jwhite@pizzatoday.com and we'll pass the best ones on to Tony.