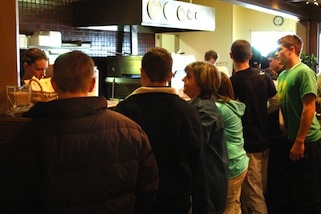 A "Seat yourself" policy works well for an average night's business at dine-in and counter-service pizzerias. As a customer, you get a nod from a cashier, server or bartender to sit wherever you'd like. The approach carries a casual vibe. And typically table choices are abound on off-peak nights. But that "seat yourself" style could turn into "fight for a seat" on high-volume, peak dinner or lunch rushes.
I absolutely love a certain restaurant in my city but if it's Thursday, Friday or Saturday evening, it goes on my "no visit" list. It has nothing to do with its food or staff — both are outstanding. My adamant refusal to step into the full-service restaurant on its busiest nights revolves around its seating policy. The small dining space has no waiting area. On busy nights awaiting patrons are crammed like sardines against a 12-stool bar and front door area. If I'm lucky, a bartender will notice I've entered and put my name on a loose list he keeps behind the counter. As a table opens, it becomes a running of the bulls to lock down the seating. That's no way to enjoy an evening out.
Two potential problems could arise from "seat yourself" when your dining area is at capacity and has gone on a wait:
Confusion: This can be on the part of the customers, as well as servers and food runners. Greeting new guests within moments of arriving to a table is critical. But when people are coming and going in an extremely crowded restaurant, it can be difficult for servers to address each new dining party in an acceptable time-frame.A crowded restaurant and no host can make a guest question, "what do I do," "it looks like they are all waiting too," or "we were here before them, right?"
Lack of structure: For customers, it can feel as if there is no structure to the functionality of the front of house area. A host(ess) can hold the whole rush together by being the focal point for arriving customers, keeping realistic figures on wait times, expediting the process for carryout customers and coordinating with servers or runner who deliver orders.
Consider a hybrid approach to seating. You can still maintain the casual "seat yourself" policy if target volume projections are under X number during a certain day part. If the volume exceeds that number, it's time to put in place a host(ess), a conductor to get the front of house through the rush. Your guests will thank you for it and it could increase your bottom line.