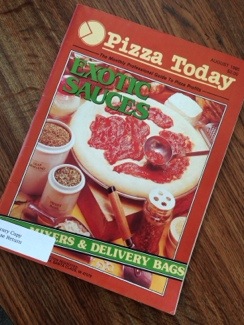 Throwback Thursday: In 1985, pizza was still very much traditional. Red tomato sauce, sausage, green peppers, pepperoni and mushrooms ruled the prep table.
Still, we saw a trend that year in artisan pizzas. Whole grain crusts, wood-fired ovens and sauces –– shocking! –– without tomatoes were meekly positioning themselves in the industry.
That issue, we took a look at sauces made primarily from pesto, garlic, salsa, refried beans (say what?) and Creole ingredients.
Today, Pizza Today's editors and photographers travel all over the country, and we've seen some straight-up crazy sauces. Many have made their way into the Pizza Today test kitchen, where I'm able to create some interesting dishes beyond the red pie. Most recently, a Thai Chicken Pizza recipe we created for the January issue had a peanut base.
These pizzas are more mainstream than not now. What is your best-selling non-traditional pizza?