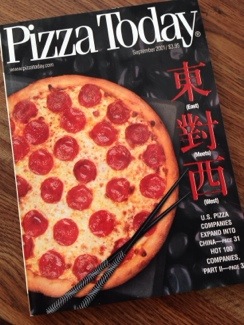 In September 2001, then-Managing Editor Jeremy White (yes, he's been here THAT long) took a look at China as an emerging market for the pizza industry.
At the time, Pizza Hut was the first to enter China in 1990, bringing Western pizza to the East. (Hence, our cover by Creative Director RIck Daughtery –– yes, he has ALSO been here that long!). Today, Pizza Hut boasts more than 900 units across 225 Chinese cities. Domino's has web pages for its international units, making online ordering a global phenomenon. Papa John's can be found in 35 countries.
But international expansion isn't limited to the big dogs. When I traveled to NYC last month with Art Director Josh Keown to visit Neapolitan pizzeria Motorino, I was surprised that the independent pizzeria has expanded its offerings outside the US rather than open more stores domestically. Motorino has one store open in Hong Kong and another is set to open early next year. With the right systems and training, even a small company can become an international brand.
(Sidebar: Check out this story on why Pizza Hut removed salad bars from its Chinese stores. Trust me. I am totally trying salad stacking the next time I go to a salad buffet.)