The education schedule at International Pizza Expo is second to none. We take great pride in providing our attendees with comprehensive, topical seminars and break-out sessions that cover everything from marketing to financials. Some even say our business-boosting seminars are the primary reason they return to International Pizza Expo year in and year out.
We've once again lined up an impressive array of speakers for 2016. Names like Mark Dym (Marco's Coal Fired Pizza in Denver), Keith Coffman (Lost River Pizza Co. in Bowling Green, Kentucky), Tony Gemignani (Tony's Pizza Napoletana in San Francisco) and more will draw upon their knowledge and expertise to provide you with real-life solutions that will positively impact the success of your business.
This year's International Pizza Expo runs March 7-10, 2016, at the Las Vegas Convention Center. Visit PizzaExpo.com today to register and to check out the seminar schedule.
As I mentioned last month, PizzaExpo.com is newly designed and contains all the information you need to prepare for the world's largest and most prestigious pizza industry event.
Don't delay — register today. We'll see you in Vegas!
Best Regards,
Bill Oakley
---
Course Changes at the School of Pizzeria Management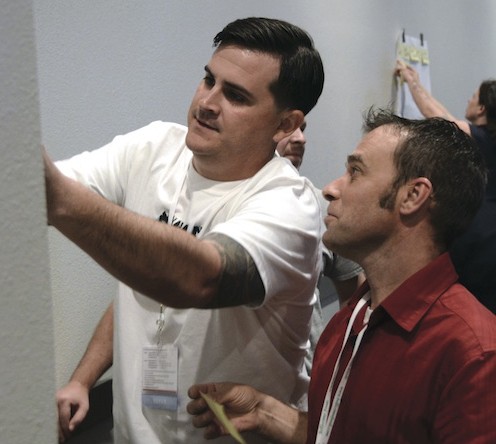 We're constantly expanding and upgrading the options in our advanced-training workshops that take place on Sunday and Monday of Pizza Expo week. Where the courses — taught by pizzeria and restaurant industry professionals with in-depth knowledge to share — remain on target, we're bringing them back from our 2015 School of Pizzeria Management and updating them as market conditions evolve. But some classes have changed significantly as we grow the program. Among the new four-hour workshop offerings in 2016 are:
Growth & Expansion, Parts I & II. With veteran instructors Dan Collier and Glenn Cybulski — both experienced pizzeria owners with experience developing new concepts — we've refocused the two days into fundamental parts of business growth: sales-building and multi-unit systems. On Sunday, workshop participants will be given the tools to build revenues and prime their units for profitability and growth. On Monday, they'll learn what it takes to gross $1 million-plus in one pizzeria and then repeat that figure with multiple units.
How to Unleash the Power of Culture in Your Restaurant. Highly-sought restaurant industry consultant Jim Laube (RestaurantOwner.com) has taught the power of positive culture on staff and customer development to a growing number of clients in recent years — and he's prepared a workshop that offers a culture-building system any pizzeria owner or manager can follow, regardless of their leadership skills. You'll understand how to identify the biggest driving force in restaurant success and put it in play in your own company.
A Coordinated Marketing Plan for Pizzerias. Clayton Krueger and Eric Shepherd occupy unique positions in regional chains with eight to 10 units — as directors of marketing for Farrelli's Wood Fired Pizza in Tacoma, Wash., and Otto Pizza in Portland, Maine, respectively. They're collaborating to break down what they do full time into a three-month marketing plan any pizzeria or group of pizzerias can follow to grow awareness and sales, expand customer bases and increase repeat business.
Check out all 10 of the Sunday-Monday workshops at this year's Pizza Expo by visiting PizzaExpo.com and searching for the School of Pizzeria Management. You must be a registered attendee to take these courses.
July 19, 2018 | Pizza Headlines
CHD Expert releases its 2018 Takeout, Delivery and Catering 5-Year Outlook for North America This week, CHD Expert, a foodservice industry data and trends company, released its findings on off-premise sales 5-year projections. In the "2018 Takeout, Delivery, and Catering 5-Year Outlook for North America," researchers found that total off-premise restaurant sales will surpass $300… Read More ›
---
July 16, 2018 | Videos
Editor-in-Chief Jeremy White discusses what wines to pair with pizzas, pastas and desserts. Read More ›
---
July 11, 2018 | Pizza Headlines
Based in Belgium, unique library is dedicated to cataloging and saving sourdough from all over the world It's a Monday morning on Bainbridge Island in Washington State. The spring sun is trying its best to break through stubborn Pacific Northwest storm clouds and, except for the sound of commuters making their way to the Seattle ferry,… Read More ›
---