If you haven't already registered for Pizza Expo, now is the time to go online at PizzaExpo.com and do so. This is your only chance this year to join more than 12,000 pizza professionals from around the globe to SEE, SHOP, NETWORK and LEARN at the World's largest all-pizza conference and tradeshow. With an exhibit hall the size of nearly six football fields, Pizza Expo becomes a giant face-to-face marketplace for independent and chain restaurant owners seeking show specials and discount pricing on the latest and greatest ingredients, equipment and technology.
Attendees are truly eager and motivated to get into discussions about new products, emerging trends and what's working for their pizzerias, as well as hot-button industry issues. This year at Expo you'll be able to experience more than 1,200 booths, 500 exhibiting companies and 90 seminars, demonstrations and networking events all devoted to pizza. In fact, there is so much to experience that you should bring key members of your team, so you can divide up the education program and products you want to see and compare. The interaction with our attendees, exhibitors and industry experts is sure to have a positive and lasting effect on your pizzeria for years to come.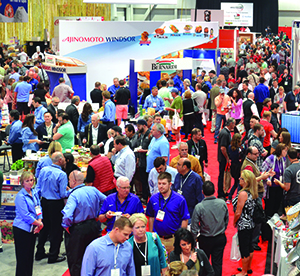 We're expecting another record-breaking attendance with more international visitors than ever, offering you an immense opportunity to network and establish connections with top suppliers and thought leaders from the U.S. and around the world. Where else but Pizza Expo would you have the chance to learn from a super-successful group of fellow pizzeria operators? I'll tell you: nowhere. In fact, I like to think our pizza-focused education program alone is worth the price of admission. The bottom line is there's always something new you can learn or see at Pizza Expo that will improve your pizzeria and boost your bottom line, whether you're an industry veteran or just opening your first store halfway across the world.
Here are four tips to a successful show:
Get connected. Download the Pizza Expo 2017 app. The Pizza Expo mobile app helps you plan your entire show to personalize your show agenda. Search Pizza Expo 2017 in your app store to download this FREE resource today. Use Pizza Expo Connect to network with exhibitors and colleagues before, during and after Expo.
Plan your show agenda in advance. Sign up for seminars and the School of Pizzeria Management, check out the keynotes and special presentations, as well as our demonstration schedule.
Map out your floor plan. Take time to review the exhibit hall floor plan and exhibitor list before mapping out your itinerary. You can find a listing of new exhibitors and products in the Pizza Expo Show Guide, as well as on our mobile app and Web site.
Enjoy Las Vegas. When the show floor closes, take advantage of all Vegas has to offer. Use the Pizza Expo mobile app to book tickets to a popular show, make restaurant reservations or check out other popular local attractions. Las Vegas will be bulging at the seams with NCAA basketball fans, Spring Breakers and pizza professionals, so it's always a good idea to make your plans prior to your arrival.
We're always striving to improve the show. With that in mind, I welcome any suggestions that would enhance the show and experience. Drop me a note or post your thoughts on our Facebook or Twitter pages. It's your show — we want it to be the best you can imagine.
It's ALL pizza and it's all for YOU!
Sincerely,
Bill Oakley
Show Director
May 22, 2018 | Pizza Headlines
Game On! Caputo Cup at a Glance For the second year in a row, contestants will vie for the coveted Caputo Cup and the 2018 Pasta Showdown at the Pizza & Pasta Northeast (PPNE) show in Atlantic City this October. The Caputo Cup pizza challenge had been held independently before partnering with PPNE, owned and… Read More ›
---
May 21, 2018 | Videos
The Pizza Today team made the The Big Southwest Beef and Corn Pie with Pepper Jack Recipe by John Gutekanst in our test kitchen. The pizza features bechamel, a mix of fior di mozzarella and pepper jack, Southwest-seasoned beef, corn, cilantro and crushed tortilla chips. Get the recipe now. Watch a quick how-to video: Read More ›
---
Look for Signs that Event Planning May Go Awry Pizza festivals in U.S. and U.K. have experienced major issues in the past month. Whether it's logistical problems or running out of pizza, some pizza-specific festivals just don't deliver. Albuquerque's Viva Pizza Fest failed to hit the mark of its anticipated 30+ pizza vendors, which caused… Read More ›
---