Notes From Emcee John Gutekanst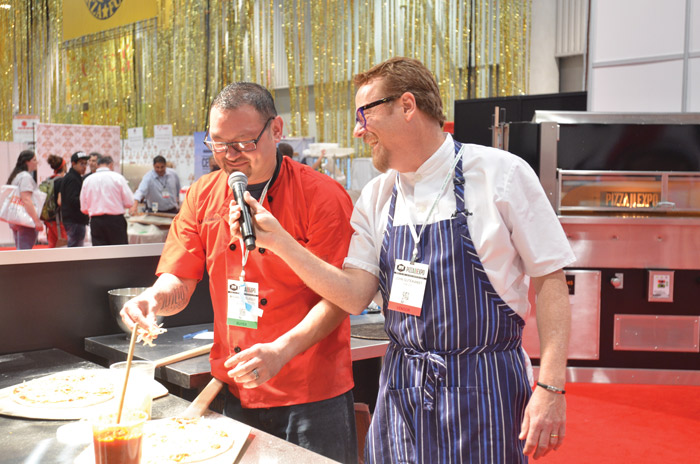 I'm big into innovative crusts and was bowled over during the Non-Traditional Division bake-offs by Tony Vacchio's crust from Zolas in Ottawa, Canada. He used Indonesian coconut husk ash dough, which he added to his regular crust for a beautiful pie. Louie Bossi from Fort Lauderdale really brought it on with an "Arso Nero" crust, which is a Puglian specialty originating from when the peasants went into the wheat fields after they were burned to collect the tiny charred wheat berries. Ground into flour, it elevates a crust to a caramel wonder. Matt Molina of Capo's in San Francisco really had a great cast-iron pan pizza crust that was simply hard to beat; in fact, he won the Best of the Best competition with it.
Rick Means showed a great way to keep his chicken moist and add flavor by placing sliced lemon on each slice. It's no wonder that he and his wife Jane always win. She made some cool hearts out of roasted red peppers and mozzarella and flowers with pepperoni. In 2015 I saw blowtorches used to brûlé, or caramelize, bananas by the Brazilian competitors. Another competitor combined strawberries and mascarpone cream, bacon and basil for a pie that looked and tasted fantastic. A lot of outstanding seafood pizzas have scored big time, such as the one made by Andrew Scudera from Goodfella's Pizza in Staten Island. His crab and lobster pizza with raspberry and dill was killer! Luigi Vianella from Venice, Italy, had a smoked salmon, shrimp and carrot topping with stracciatella di bufala cheese and endive.
It's been very interesting to see more after-oven flavors being used in competition pizzas. It isn't just arugula and fig jam that that are being used to finish pizzas these days. Sliced chorizo, soppresatta, spicy salami and even duck prosciutto were used last March to gently melt on hot pizzas. I saw some edible flowers, pea shoots, mizuna, radicchio and watercress on top of some pies. Some competitors had very nice fruit compotes to create that "agrodolce," or sweet and sour, effect with sour cheeses like Gorgonzola. A few put some pickles on pizzas, like the sweet-spicy Peppedew or even dilled cucumber.
There were some interesting ways that the Traditional Division competitors manipulated their limited toppings to get high scores: using different types of mushrooms, pepperoni puree, cracklings and pepperoni roses on one pizza, or pickled, roasted and fresh sweet peppers on another. One guy had a spoke-wheel of roasted ancho chiles around his pie that melted into the cheese; that defintely turned my head.
I started competing in Las Vegas in 2004. I remember the work that Pat Bruno put into making us all feel welcome then because we had to present our pizzas personally to a group of nine very intimidating judges. I've made some very good friends every year at the competition, and it's gotten better and better. Right now, the competition is streamlined so that every competitor gets enough time to shine and plenty of prep help from Jeremy Galvin and his crew. The judges are unafraid to ask the tough questions about dough, sauce and flavor profiles, and they know which oven produces the best qualities for the pizza on hand. I am excited to return in March 2017 as the emcee of the International Pizza Challenge so I can participate and learn more ways to make my own pizzas better.
As an independent pizzeria owner myself (Avalanche Pizza in Athens, Ohio), I know that this business can make you feel very lonely sometimes. You may have other pizza shop owners in your town, but they are your competition. It's great to come to Pizza Expo and share —and watch — other pizza makers from across the world making pies that are way out of your menu-mix comfort zone. I love to see a competitor's pizza come out before the judges, followed by a wave of spectators leaving the stands to taste the pie and ask questions while it is being cut. In fact, that's exactly how I got a fantastic sausage recipe from DeMarco Jenkins of Houston, Texas! (Don't tell him. . .)
September 19, 2018 | Videos
Josh Keown takes a look at the workshops offered on October 3rd and 4th at Pizza & Pasta Northeast. Read More ›
---
September 18, 2018 | Pizza Headlines
America's Favorite Pizza Topping Has its Day National Pepperoni Pizza Day is Thursday, September 20. Let's celebrate a beloved pizza topping that has reign supreme for the past several decades. What's in pepperoni? Typically cured pork and beef seasoned with paprika, other chili pepper, anise, garlic, salt and sugar. The Look Standard size, thin-sliced Large… Read More ›
---
September 17, 2018 | Pizza Headlines
Educational program kicks off Pizza & Pasta Northeast before show floor opens We are a few weeks away from Pizza & Pasta Northeast in Atlantic City. It's time to start planning your schedule. The Exhibit Hall opens at 11 a.m. on both days of the show, Wednesday and Thursday, Oct. 3 – 4. But opportunities… Read More ›
---