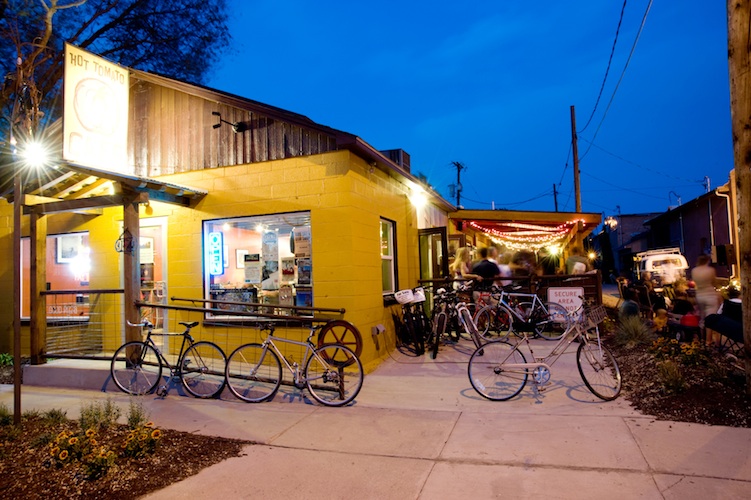 By Anne Keller and Jen Zeuner
It is a gorgeous Saturday in October. The temperatures have been a perfect 65 degrees and sunny all week. The golden autumn sun sets on a bluebird sky as the changing leaves scatter in a light breeze.
Our day is exceptionally busy one. Lines form from the register to the door as groups of local residents and mountain bikers analyze the menu and hover near the beer taps deciding what cold, frosty pint they'd like to have in their hands. The talk around the room is that of post-ride story trading: How many miles? What trail? Any good crashes?
Moms and Dads with gaggles of little ones enjoy the patio out back, their kids free to roam around and play. The day crew has been short a key employee, but no one seems to be hindered by this, as they have all brought out their 100 percent A-game. Everyone is hustling and picking up the slack when another employee needs help or when they see a hole that needs to be filled. Our day staff is competent, efficient, and has taken it upon themselves to act as they see fit, not wait for direction to be given. Not a single order has been messed up, all the pizzas have been beautiful, and customers walk out the door happy.
Now it is nighttime. The restaurant is filled to capacity inside, and packed on the side and back patios as well. Throngs of hungry bikers line the bar in puffy down jackets and beanies, knowing that it will be cold outside, but also knowing that their dinner will be worth it. We are currently having our busiest night to date for the fall season. The pizza station is running full throttle with three pizza makers, and the ovens at one point need three people just to keep up with the flow.
We have a live band playing on the back patio. They have a decent local following and have brought out a great crowd. We have a fire pit lit outside, and folks are packed around it, drinking beer and listening to live music. Inside the restaurant things are running amazingly smooth. Beers get into people's hands in quick order, keeping them happy despite the line, and pizzas are never more than 30 minutes out. Our loyal regulars who have placed to-go orders are successfully recognized, plucked from the line and taken care of so they don't have to wait. Our staff is smiling. Everyone in the place seems to be having a great time.
The best part of this scenario? We as owners have been able to spend the entire evening out in the dining room, conversing with our friends and customers. We have, in a sense, not been needed. The crew has handled this crazy evening entirely on its own. We are able to watch them with a great sense of accomplishment and feel proud of their achievements and ability to work together as a team. We finish the night with record numbers.
Let me guess: This sounds like an unrealistic scenario for most of you reading this. You are probably wondering if we A) are smoking crack (we're not), or B) so head-in-the-sand oblivious that we don't notice what is actually going on in our restaurant. We're not doing that either.
What we're doing, have been doing for awhile, and hope to show you that you can do as well, is create a capital V vision of your ideal business scenario that in turn helps you achieve your own goals.
What is your dream scenario for your business? Do you have a sound and well-crafted Vision to help you get there? And what, exactly, is a Vision? You all have an idea, of course, of what you want your business to be like. Most likely, this is residing in your head, possibly only to be examined during difficult moments (such as while wishing for reliable people after yet another employee no-shows). Your dream scenario, elevated beyond the level of disgruntled yearnings, is, in short, your Vision.
This dream scenario might be a question that you ask yourself everyday, or it might be a question that you've never even thought about asking. Let's face it: Most of us as employers spend much of our time working on a day-to-day or even minute-to-minute basis. When do we find the time to think about a Vision, much less create one? As it turns out, understanding what a Vision is, and actually taking the time to create one, can be one of the most dynamic and transformative undertakings you can take on to elevate the future of your business.
We would like to share the definition of Visioning from Zingerman's CEO and founder, Ari Weinzweig. Based in Ann Arbor, Mich., Ari is widely considered the Grand Poo-bah, the OG, the Godfather (the what have you) of Visioning. Zingerman's has used the approach in every facet of its numerous successful businesses.
"What is a vision?" Weinzweig has written. "It's not as mystical or out there as it sounds. A vision, quite simply, is a picture of what success will be at a particular time in the future. It encompasses answers to an array of questions: What does our organization look like? How big is it? What are we famous for? Why does anyone care about what we do? How do people who work here feel about their jobs? How do I, as the founder, feel about the business? What's my role in it? Complete the visioning process, and you'll have a clearly articulated end for your organization—something that won't change every time the market or your mood shifts."
In the book "Zingerman's Guide to Good Leading, Part I: A Lapsed Anarchist's Approach to Building a Great Business," he adds, "A great vision is inspiring. It gets you and everyone in the organization excited to come to work; it's the cathedral everyone is coming to work every day to construct. This is not mere wishful thinking. A vision must also be strategically sound. You have to have a reasonable shot at getting there.
"To be clear, a vision is not a strategic plan. The vision articulates where we are going; the plan tells us how we're actually going to get there. We start that planning work only after we've agreed on the vision. Creating a plan without a vision… Well, I just can't quite figure how one does it. Imagine asking MapQuest to give you directions but not plugging in your desired destination.
"This probably sounds silly and New-Agey to people who aren't into hearing it. It did to me when I first started learning about it. But there's just no way around it—the power that comes out of this visioning stuff is huge. When we do effective visioning, we're moving toward the future we want, not just reacting to a present-day reality we don't like. If we do our job well in this regard, I believe that we keep our competitors reacting to what we're doing, instead of the other way around."
We, the owners of Hot Tomato Pizza in Fruita, Colo., accept this as a good short definition of what Visioning is about.
We have taken to heart the Visioning structure and ideals from "Zingerman's Guide to Good Leading, Part I: A Lapsed Anarchist's Approach to Building a Great Business." It has been monumental for us. The perfect day at our pizzeria shared above is simply our "Crazy-Insane Day Vision," and believe it or not, it's a legitimate picture of how our busy days now run. We have an amazing staff, and they take pride in showing up at their best. (And no, we're not smoking crack.) That being said, we don't believe that we could have gotten to the point we have without our Vision, a Vision that guided us through all the creation and implementation steps of running a thriving business.
And the best part? All of this Visioning stuff is relatively easy to do! You already know what you want, of course, or you probably would not be running your own business. That tantalizing "what you want" just might not be down on paper in an effective way, and therefore you've lost it as a tremendous guiding principle.
We would like to invite you to join us at the 2014 Pizza Expo for a step-by-step breakdown of how Visioning has changed our business for the better and how to create a winning and dynamic Vision that will help your own business grow. We hope to show you how you can harness this powerful tool.
Anne Keller and Jen Zeuner co-own and -operates the Hot Tomato in Fruita, Colo. Anne is a former professional photographer for the cycling industry and Jen was a professional mountain biker. They made the leap to restaurant entrepreneurship eight years ago, with Anne supervising the marketing and "lifestyle" branding efforts for the thriving independent business and Jen brings her skills in leadership, management and a winning attitude to the restaurant. They will speak at Pizza Expo Thursday, March 27, on Creating a Dynamic Vision for Your Business.
This Pizza Expo Exclusive is part of a continuing series leading up to the International Pizza Expo at the Las Vegas Convention Center on March 24-27, 2014. Seminar speakers and demonstrators will provide professional advice on their area of expertise.
CLICK HERE to read more Pizza Expo Exclusives.
To Learn more about International Pizza Expo, visit www.pizzaexpo.com.
July 11, 2018 | Pizza Headlines
Based in Belgium, unique library is dedicated to cataloging and saving sourdough from all over the world It's a Monday morning on Bainbridge Island in Washington State. The spring sun is trying its best to break through stubborn Pacific Northwest storm clouds and, except for the sound of commuters making their way to the Seattle ferry,… Read More ›
---
July 10, 2018 | Pizza Headlines
Go inside the anti-plastic straw trend Starbucks is the latest company to announce that the coffee giant will eliminate single-use plastic straws in all of its stores by 2020. That adds up to the elimination of more than one billion plastic straws per year. In Starbucks' official release, President and CEO Kevin Johnson said, "For… Read More ›
---
July 1, 2018 | Pizza Headlines
Don't let 'em sleep on you — shake things up from time to time If you enter your restaurant through the front door every now and again, instead of the back door, you'll probably see a litany of things you want to change: how the front door is cleaned, how the lights hit you when… Read More ›
---