International Pizza Expo Preview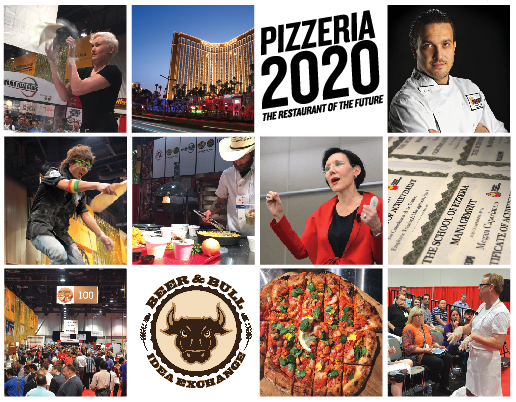 You can rely on the fact that every year International Pizza Expo will be the largest, most-dynamic gathering of industry professionals in the world. You can count on seeing nearly every product or service necessary for running a successful pizzeria and being able to sit in on business-building seminars, panel discussions and networking events. But Pizza Expo never stands still. We've added several new features to the March show that every attendee should note, including:
80-plus new exhibitors. The equipment and services needs of today's pizzeria are constantly evolving, and the Exhibit Hall vendors keep pace with your current best options for upgrades.
Pizzeria 2020. This special area on the Exhibit Hall floor, new this year, showcases state-of-the-art products from selected exhibitors that can be expected to inhabit the pizzeria of the future.
Beer & Bull topic tables. Our Tuesday early evening networking event — known for refreshments and casual conversation among pizzeria professionals from all over the map — introduces an added dimension with tables designated for problem-solving discussions on specific topics. Four of our seminar speakers anchor the discussions and offer their expertise. They are: Scott Anthony, Punxsy Pizza (marketing); Roy Bullard, Pizza Guys (POS and technology); Keith Coffman, Lost River (operations and sales) and Tom Lehmann, the Dough Doctor (dough and baking issues).
Hotel and casino options. For this March's show, Pizza Expo has negotiated reduced-rate hotel rooms at The Venetian, Treasure Island, Flamingo and The Linq in addition to many of the favored properties from our 2015 event.
Thursday keynote and super-seminars. We've added a third morning session to inspire you and kick off the day's activities. Our Thursday keynote is one you won't want to miss: Tony Gemignani. A bona fide star in the industry, Tony will share some of his passion and knowledge, and hand out a free trip to the World Pizza Championship in Parma, Italy, to one lucky attendee. After his keynote, two of the most accomplished speakers we've ever had at our show, Big Dave Ostrander and Eric Chester, will deliver big-picture seminars that summarize important lessons in running a pizza business.
Christina Shaw and Vegas AM. Technically, the return of this dynamic songstress, backed by a talented group of musicians, is more a revival of our 2014 party band than a first-time appearance. Christina and company rock the house at our block party on Wednesday evening, followed by the ever-popular finals of the Freestyle acrobatic dough-tossing event from the World Pizza Games.
Revised workshops in the School of Pizzeria Management. For the third year of these half-day, intensive-training sessions we've tweaked the courses to better fit your needs. Among the offerings in these half-day workshops designed to take your business to the next level are: A Coordinated Marketing Plan for Pizzerias; Joining the Million-Dollar Club and Unleashing the Power of Culture in Your Restaurant.
First-time Expo speakers and topics. The ever-improving Pizza Expo education program features several new industry experts and pizzeria professionals delivering on-target information to improve your operations and profits. First-time sessions include, among others, The 10 Most Important Customer-Service Touchpoints, 90 Modern Era Promotional Tactics, Making the Transition to Fast Casual, The Secrets Behind Great Growing Restaurant Brands and 10 Steps to Sales Growth That Lasts.
A Better You. You'll be glad you came!
More Pizza Expo 2016 Preview…
Keynote: A Minute With Adam Goldberg, Fresh Brothers, L.A.
Keynote: A Minute With Tony Gemignani
5 ways to use Pizza Expo to achieve next-level sales and profits
They Attend Every Year — Brianne Chrisenberry and Mike DeNunzio
An Invitation From Big Dave Ostrander
July 20, 2018 | Videos
Pizza Today's 2018 Young Entrepreneur of the Year Sammy Mandell shares how his two-unit Greenville Avenue Pizza Company in Dallas, TX, uses content to attract top talent. Read our feature story on Sammy, The Original Pizza Slayer. Read More ›
---
July 19, 2018 | Pizza Headlines
CHD Expert releases its 2018 Takeout, Delivery and Catering 5-Year Outlook for North America This week, CHD Expert, a foodservice industry data and trends company, released its findings on off-premise sales 5-year projections. In the "2018 Takeout, Delivery, and Catering 5-Year Outlook for North America," researchers found that total off-premise restaurant sales will surpass $300… Read More ›
---
July 16, 2018 | Videos
Editor-in-Chief Jeremy White discusses what wines to pair with pizzas, pastas and desserts. Read More ›
---