… and here are the top 10 things you can't miss this year
International Pizza Expo will celebrate its 30th birthday this year, and it has come a long way since its inception. The show has celebrated events in Las Vegas, Orlando, Chicago, New York City and Atlantic City before finding a permanent home each March at the Las Vegas Convention Center. This year's show will be held March 24-27 and is slated to be the biggest one yet with more than 1,050 booths and more than 450 exhibiting companies. If you're new to the show, we've put together a Pizza Expo Top 10 list of events and topics not to be missed:
10. New Operator Monday. On Monday, March 24, show management has put together a number of new operator and early-bird attendee sessions aimed at those in their fledging years of business or who are considering launching a pizzeria company. Among the day's topics are: branding; first-year marketing and common start-up mistakes, plus roundtables and Q-and-A sessions led by some of the industry's most successful independent operators.
Hot tip: The day is capped off with a free reception for show attendees to meet vendors, network with peers and meet the Pizza Expo and Pizza Today staff. It begins at 6 p.m.
9. School of Pizzeria Management. Those attendees looking for a more intensive educational experience are invited to attend special pre-show workshops on Sunday and Monday, March 23-24. These small-group, advance-track sessions cover topics ranging from growth and expansion to hiring and building the perfect team and managing your finances and operations. School instructors include some of the biggest and most knowledgeable professionals in the pizza industry, including consultants Big Dave Ostrander, Jim Laube and Joel Cohen, and successful operators Dan Collier (PizzaMan Dan's), Glenn Cybulski (Persona Neapolitan Pizzeria), Anne Farrell (Farrell's Wood Fired Pizza) and Michael Shepherd (owner of three pizzerias in Ohio). All have long histories of successful restaurant operations and can offer a wealth of knowledge for both new and experienced operators.
Hot tip: These sessions are available at an additional fee, and attendees who attend two same-track sessions will receive certificates of completion.
8. Craft Beer Pavilion. It's a fact that pizza and beer go hand-in-hand. Last year, Pizza Expo officials added a Craft Beer Pavilion to give craft breweries a venue to showcase their offerings. This year, even more labels have been added. Craft beer will also be topics of discussion during panel events in the seminar hall on Wednesday.
Hot tip: There will be samples at the pavilion. And everybody loves free beer tastings!
7. Beer and Bull Idea Exchange. On Tuesday and Wednesday evening, March 26 and 27, this Pizza Expo tradition brings together show attendees and vendors to address critical issues facing today's attendees. Pizza Today Publisher Pete Lachapelle will host the event. Past topics include gluten-free pizza, adding delivery to an existing pizzeria, unorthodox marketing techniques and how to manage food costs. Attendees are invited to share a beer and their industry concerns.
Hot tip: Bring a list of questions and find a Pizza Today staffer with a microphone during the event.
6. Demonstrations. In the past, Pizza Expo officials have included a handful of informative demonstrations, but this year the offerings have been amped up to meet the excitement of the 2014 anniversary. Sessions will be held throughout the show on the demonstration stage on the show floor. Among the demo topics are: making dough and creating different pizza styles with master pizzaiolo Tony Gemignani; cross utilizing common ingredients across your menu with Pizza Today chef-expert Jeff Freehof; creating memorable seafood pizzas with Pizza Expo master competitor Theo Kalogeracos and pan pizza creation with Jeff Smokevitch, International Pizza Challenge winner and owner of Colorado-based Brown Dog Pizza.
Hot tip: Don't be afraid to stick around after the demonstrations. Most of the speakers are willing to answer questions and hand out contact information.
5. Keynote speakers. In the past, Pizza Expo keynote speakers have included some big names in business and food. This year is no exception. Perhaps you've seen Donatella Arpaia as a judge on Food Network's "Iron Chef" shows. But she is also a successful restaurateur, with several titles to her resume, including an upscale pizzeria that bears her name. Arpaia has studied at both the French Culinary Institure and the Italian Culinary Academy. She will speak to Pizza Expo operators on Tuesday, March 25 at 7:45 a.m.
The second keynote address on Wednesday, March 26, will be led by Sal Basile and Francis Garcia. Basile and Garcia host Cooking Channel's "The Pizza Cuz" travel show, where they visit pizzerias across the country for an intimate look at the product that makes them so successful. In addition, they own and operate several successful NYC-area pizzerias. Their presentation begins at 7:45 am.
Hot tip: Get there early. The room fills up quickly. You'll find the keynote
addresses in Room N245 on the second floor.
4. 30th Birthday Bash. If you've attended Pizza Expo in the past, you probably didn't miss the Wednesday night party. This year will be bigger than ever as guests are invited to enjoy live music, entertainment, contests and demonstrations with food and drink stations throughout the block-party style event. The finals of the Freestyle Acrobatic Dough-Tossing competition from the World Pizza Games will culminate the free event.
Hot tip: Two words –– martini bar. There will also be a craft beer stand and other libations.
3. Competitions. There are more chances to win than ever before at International Pizza Expo. Taking center stage is the 2014 International Pizza Challenge. Categories include: traditional division (red-sauced pizza with an approved list of toppings); non-traditional division (any sauce or mixture of toppings); American-Pan; Italian-style division and gluten-free, a new category at this year's event. Competitors bake in regional heats, with winners from each category squaring off for ultimate bragging rights and the title of 2014 Pizza Maker of the Year.
The World Pizza Games return this year with six categories: Freestyle acrobatics (masters and novice levels); largest dough stretch; fastest dough stretch; fastest box folding and the Pizza Triathlon (a combined event with box-folding, dough-tossing and stretching skills).
At the end of Pizza Expo, officials will give away a cash prize in the $20,000 MEGA BUCKS giveway. To win, attendees must visit sponsoring booths, have their game piece stamped and return it to the designated booth.
Hot Tip: Attendees must be present to win at the end-of-show event on Thursday, March 27, at 2:45 p.m.
2. Seminars. Many Pizza Expo attendees cite the educational seminars held throughout the show as their No. 1 reason to attend. Over the years, show officials have listened to attendee feedback and have brought in more successful operators to offer their expertise. Topics on Tuesday, Wednesday and Thursday cover the gamut of issues facing pizzeria operators, including: healthcare, catering, reducing labor costs, branding, social media, building employee relationships and growing your concept. There are more than 90 educational opportunities throughout the show.
Hot Tip: If you are bringing more than one person with you, it's beneficial to spread out and attend several of the concurrent seminars for maximum effect.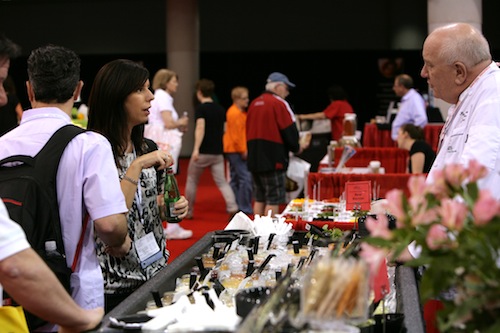 1. Pizza Expo show floor. There are more than 1,000 booths in this year's exhibit hall, making it the largest ever. That's the equivalent of more than five football fields. If you're looking for a new product or service this is the place to find it. Come with a game plan. Know the products you're looking for and the company booth numbers you want to visit. (To find the exact aisle number, take a look up over your head while on the show floor. The aisles are numbered.)
Hot Tips:  Download the Pizza Expo app in iTunes or Google Play for Android. And wear comfortable shoes!
Mandy Wolf Detwiler is managing editor at Pizza Today.
August 14, 2018 | Pizza Headlines
A dog-friendly patio is more than a checkbox I take my hound dog everywhere. At least once a week or so, you can find me and my Beagle having dinner at one of Louisville's dog-friendly patios. In fact, I keep a running list of the best patios with the best food and craft beer. After… Read More ›
---
August 9, 2018 | Videos
Watch our first episode of the Pizza & Pasta Northeast Update Show. Time to get excited about PPNE in Atlantic City October 3-4! Read More ›
---
New Port Richey, FL. – August 9, 2018 – Welbilt, Inc. (NYSE:WBT), announced today that Hubertus M. Mühlhäuser is resigning as a Director, President and CEO of Welbilt, effective August 31, 2018, to become the Chief Executive Officer and a Director of CNH Industrial N.V. (NYSE:CNHI), a $27 billion global manufacturer of capital goods comprising… Read More ›
---