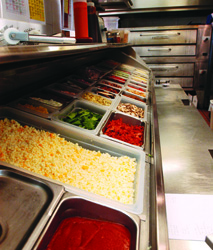 By David Scott Peters
Turning a profit in the pizza business is tough and pizza operators are always looking for ways to control costs. While there is a laundry list of systems you can use to reduce your food cost — such as engineering your menu for greater profitability and using labor controls, both of which I'll talk about at the upcoming International Pizza Expo in Las Vegas in March — there are two simple systems you can put into place tomorrow to start saving. Really. Together they give you a quick and powerful one-two punch to control your food costs.
Key Item Report
The key item report is a daily tracking tool. Its primary purpose is to place your most expensive items — specials or other costly ingredients that you want to really control — into a vice grip. This tool helps prevent and identify theft, but most importantly, it gets your kitchen team to treat these products as the precious commodities they are.
Before every day starts, or at the beginning of each shift (depending on how much control you wish to place on your selected items), take a count of each of the items you wish to track. In the beginning, you may only be looking at five to 10 items. Over time, that number may grow to as many as 40 items or more. Put this number in a column for each item titled "Opening Inventory."
If you prep more or take a delivery of more of these items, you will place that in another column titled "Prepared/Purchases." Next, total them up and write that number in a third column titled "Total Available." This represents the total number of those items you could potentially sell that given day or shift.
Assuming you have everything entered into your point of sale system (POS), at the end of the shift, run an item or PLU report on your POS system to see how many you sold of each of the items you are tracking. Write that number on your paper in a fourth column titled "Ideal-Ending Inventory."
Take a physical count of what remains of each product you are tracking and write that in an "Actual–Ending Inventory" column. Next, compare the "ideal" and "actual" numbers and write in any discrepancies you find in a column designated as the "Over/Short" column.
It's that easy, and you can put this system into place in the next five minutes!
Waste Sheet
The waste sheet tracks waste in the kitchen (and behind the bar).
When an ingredient or item is double-ordered, overcooked, spoils or just can't be used anymore for any reason, it MUST be recorded on the waste sheet. Use a new form each day. You'll want to create five columns named "Time," "Item/Description," "Amount/Quantity/Weight," "Reason for Waste" and "Employee Initials." (Templates for this form and the abovementioned Key Item Report are also available on my website at TheRestaurantExpert.com)
As soon as a product is wasted, write in the time the product was wasted in the Time column. Write a description of the item wasted in the Item/Description column, in terms such as an "order of chicken wings" or "order of milk." Write in the amount, quantity or weight of what was wasted in the Amt/Qty/Wt column, with entries such as "12," "1 pound" or "3 gallons."
Next write in the reason for the waste. This will help you identify problems in your operations that can be corrected with tracking. For example, if you list that you lost three gallons of milk because the reach-in cooler was out of temperature, you can get the cooler fixed. If you list that it was because Sally, the new server, keeps double-ordering product, she can be retrained or let go. If your list shows that Joe the cook is burning pizzas left and right, he can be retrained or let go. Using the waste sheet provides you with the data to devise actionable fixes.
To finish off the form, the employee who is writing in the waste should write in his or her initials.
If your operation is too busy during a shift to track waste as it happens, just place each of the items in a clear Lexan tray when the waste happens and then at the end of the rush, go through and record each item wasted.
To make sure the waste sheet is effective, your kitchen manager or chef should value out each item wasted and initial that they did so. This figure will be very important when comparing actual and ideal food cost at the end of the period.
It's that easy, and you can put this system into place in the next 5 minutes as well!
Using Them Together for Results
The real magic is when you use these two very simple systems together. At the beginning of the shift, start off using the Key Item Report to record what you have on hand to sell. At the end of the shift, take your actual and then compare it to your ideal count.
Let's say you are off by 12 chicken wings. Your next step is to go to your waste sheet. You should see it there and the reason it was wasted (which means you can fix the problem from happening again in the future). If you don't see it listed, one of two things has occurred.
Either someone has stolen it, or worse yet, management is not using the system. When it comes to theft, these systems together virtually eliminate theft of each of the items you are tracking. Managers on the floor and systems in place discourage theft.
These two simple systems will take you only 10 minutes to put in place. But in the end they can save you a lot of money and streamline your operations.
David Scott Peters is a speaker, coach and trainer for independent restaurant owners. He is the developer of SMART Systems Pro, an online restaurant management software program helping the independent restaurant owner remain competitive and profitable in an industry boxed in by the big-chain restaurants. His website is TheRestaurantExpert.com. He'll give two seminars at International Pizza Expo on Tuesday, March 25: Menu Engineering for Top Profits and 7 Ways to Reduce Labor Costs.
September 19, 2018 | Videos
Josh Keown takes a look at the workshops offered on October 3rd and 4th at Pizza & Pasta Northeast. Read More ›
---
September 18, 2018 | Pizza Headlines
America's Favorite Pizza Topping Has its Day National Pepperoni Pizza Day is Thursday, September 20. Let's celebrate a beloved pizza topping that has reign supreme for the past several decades. What's in pepperoni? Typically cured pork and beef seasoned with paprika, other chili pepper, anise, garlic, salt and sugar. The Look Standard size, thin-sliced Large… Read More ›
---
September 17, 2018 | Pizza Headlines
Educational program kicks off Pizza & Pasta Northeast before show floor opens We are a few weeks away from Pizza & Pasta Northeast in Atlantic City. It's time to start planning your schedule. The Exhibit Hall opens at 11 a.m. on both days of the show, Wednesday and Thursday, Oct. 3 – 4. But opportunities… Read More ›
---