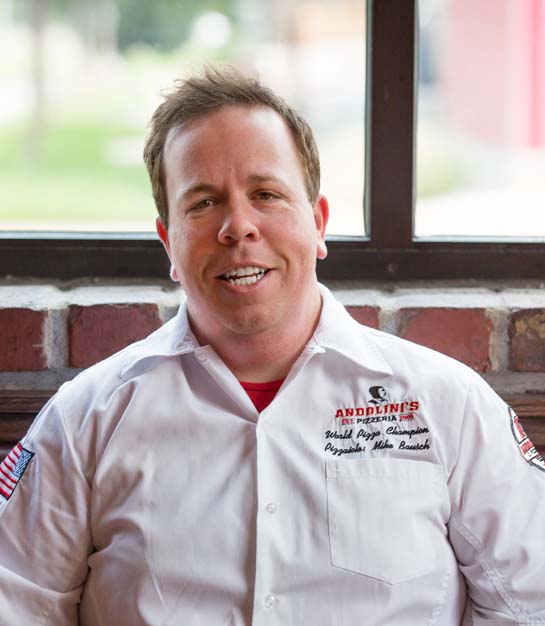 And Started Building the Andolini's Brand
By Mike Bausch
I was in denial about ravioli. Frozen, fun, simple, add it to your menu — why not ravioli?
I was two years into owning a pizzeria, only 24 at the time, and thought, "Pizza is what we hang our hat on, but a little frozen ravioli doesn't hurt anything, especially if it's a ravioli that no one else has. My customers seem to really dig it."
I figured we could doctor it with a great sauce and we'd be unique. I was an ostrich with my head in the sand. What yanked my head out of the sand? I went to a local food show and saw that same "unique" ravioli on display — a display with a bunch of other restaurant owners trying it and nodding in agreement that it was a quality product, something they might want to add to their menus.
I realized they were just like me, and we were all traveling the same path toward a dying business. That day I gave the rest of our frozen ravioli to the homeless shelter and sold the freezer. As a result, I found myself fielding angry emails and posts from customers because we'd taken their fan favorite, frozen ravioli, off the menu. But it was the right decision.
This might seem harsh, but it underscores an epidemic in this industry. Too often we accept apathy and mediocrity. I've been to a lot of independent restaurants and pizzerias that might as well have been named (insert owner's first name here) Pizza, where the menus are identical and the only differences are the photos on the wall. Some places even display the same generic stock photos!
When I run into a place like that, the service can be great, and the pizza might even be decent, but I'm not coming back. When I meet people who own places like this, they always seem surprised they're not rolling in sales. "We've done everything right, made a good product, We have a varied menu, We never run over 20 minute ticket times. Why are customers not catching on to how great we are?"
This type of restaurant is actually a chain restaurant. It's a chain of independents, buying the same stuff and calling themselves unique because the name on the building is different than the next guy down the road.
It's been said a ton of times by a many people before me that every restaurant needs a "USP," or "unique selling point. I fully agree with part of that. However, it can't be just one point that is unique anymore. Being labeled the "Home of the (fill in the blank)" is not your key to success.
Your whole restaurant entity needs to be unique. Your ambiance needs to be unique. Your message, your style, and especially your food should be one of a kind.
If a customer is in the mood for basic, character-less meal, he or she can sift through tons of advertising fighting over that segment of the market. You and I will never beat the chains on their playing field of mediocrity and lowest cost. We can only win on a playing field where chains can't compete — being a unique experience. Offering a truly unique experience adds value to the dollars people spend with you beyond just the cost of the food. It also elevates your game.
The game changer for me came when I realized that everything at my pizzeria needed to be unique. We made a sea change to fashion our restaurant into our individual concept rather than another one of the usual pizza places doing above-average pizza and not much else worth a hoot.
That food show filled with other restaurant owners – just like me –about to buy the exact same frozen ravioli – just like me – showed me we were on a path – just like them – to exist but never to thrive.
Now, we make every salad dressing, all the sausage, the sauces, whole-milk mozzarella, everything, in house. It didn't happen overnight, but creating systems for each item, crafting and relentlessly testing recipes, and pursuing it all with a sincere desire to make each and every dish on the menu a experience is what turned the tide for Andolini's.
Finding ways to make not only the food from scratch, but everything else as well — and making it make sense for your bottom line — is what my speech at 2015 Pizza Expo is all about. It will not be boring and I will not talk slowly, so keep your Thursday morning free Expo Week and we'll get to work at 9 a.m. envisioning a new you.
Mike Bausch, owner-operator of Andolini's Pizzeria, with three locations in and around Tulsa, Okla., will give the seminar "Made From Scratch Makes Sense" on Thursday, March 26, at Pizza Expo 2015 in Las Vegas.
July 19, 2018 | Pizza Headlines
CHD Expert releases its 2018 Takeout, Delivery and Catering 5-Year Outlook for North America This week, CHD Expert, a foodservice industry data and trends company, released its findings on off-premise sales 5-year projections. In the "2018 Takeout, Delivery, and Catering 5-Year Outlook for North America," researchers found that total off-premise restaurant sales will surpass $300… Read More ›
---
July 16, 2018 | Videos
Editor-in-Chief Jeremy White discusses what wines to pair with pizzas, pastas and desserts. Read More ›
---
July 11, 2018 | Pizza Headlines
Based in Belgium, unique library is dedicated to cataloging and saving sourdough from all over the world It's a Monday morning on Bainbridge Island in Washington State. The spring sun is trying its best to break through stubborn Pacific Northwest storm clouds and, except for the sound of commuters making their way to the Seattle ferry,… Read More ›
---