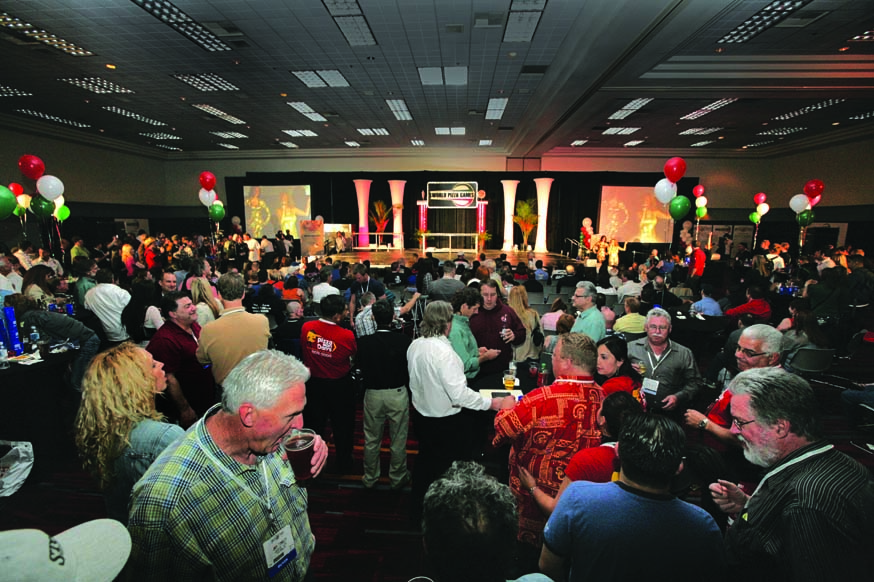 In today's business climate, it's not just about knowing how to produce a quality pizza and understanding your customers' needs and wants if you want to maintain and grow your pizzeria. Attending an industry trade show can be the best vehicle to obtain new knowledge, insight and ideas that can help you position your pizzeria for future growth. At International Pizza Expo you'll find new opportunities and solutions that will produce bottom-line results.
Below are a few tips that will ensure that you get the most out of your trade show experience:
Time is at a premium. Come prepared with a plan of attack. Download our new Pizza Expo 2014 mobile app from the Apple and Android stores. Schedule appointments with your key contacts and companies you want to meet with. Make a list of what you want to learn and see. Review the seminar program and pre-show workshops to see what's being offered that will have the greatest benefit and impact on you and your business.
Take charge! You may want to arrange to meet with your suppliers and/or other pizzeria operators to find out what they're doing and what they see happening in the future. Make plans to attend the Beer & Bull Idea Exchange for great networking opportunities.
Take time to walk the show floor thoroughly and completely. Jot down the products, companies and booth numbers that grab your attention. Pay particular attention to new products being offered at the show, as well as any new exhibitors.
Knowledge is pizza power! Gather as much information as possible while at the show. Find out what products, services and techniques are available to you that will improve your menu, productivity and best of all, your bottom line.
Take time to talk to industry consultants and experts and find out what they're thinking and doing. What are the new trends and how can they help or hurt your business? Attend seminars on business-building strategies.
This may be one of the best times ever to purchase new equipment. It is certainly a buyer's market. The fact of the matter is that no one wants to take their equipment and products back to the warehouse. Take advantage of show specials and steep discounts being offered by our exhibiting partners. You may not have an opportunity like this again this year.
What are your peers doing, and how does your pizzeria compare? Can you leverage vendor/supplier expertise? Is there an opportunity to expand your menu? What can you do differently to outshine and outperform your competition?
Finally, write down what you learned at the show and rethink or analyze your business strategy and philosophy. How can you better position your pizzeria in the marketplace? What new ideas can you implement to achieve your goals?
There will always be winners and losers, but only those pizzeria owners and operators who arm themselves with industry knowledge and are willing to take action toward positive change will have the ability to profit and win. At International Pizza Expo you'll gain new industry insights and knowledge that will help you strategize, improve operations and make the right decisions that will allow you to COMPETE and WIN!
Save time and money by pre-registering now at www.PizzaExpo.com.
We mean business!
Bill Oakley
Executive Vice President
July 19, 2018 | Pizza Headlines
CHD Expert releases its 2018 Takeout, Delivery and Catering 5-Year Outlook for North America This week, CHD Expert, a foodservice industry data and trends company, released its findings on off-premise sales 5-year projections. In the "2018 Takeout, Delivery, and Catering 5-Year Outlook for North America," researchers found that total off-premise restaurant sales will surpass $300… Read More ›
---
July 16, 2018 | Videos
Editor-in-Chief Jeremy White discusses what wines to pair with pizzas, pastas and desserts. Read More ›
---
July 11, 2018 | Pizza Headlines
Based in Belgium, unique library is dedicated to cataloging and saving sourdough from all over the world It's a Monday morning on Bainbridge Island in Washington State. The spring sun is trying its best to break through stubborn Pacific Northwest storm clouds and, except for the sound of commuters making their way to the Seattle ferry,… Read More ›
---